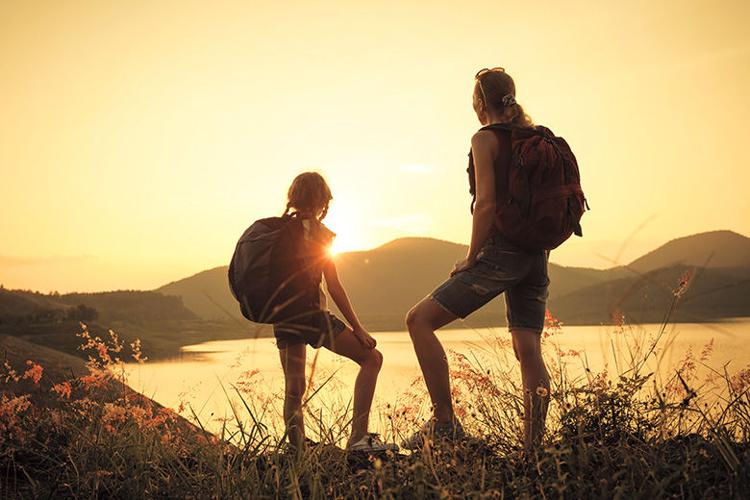 About four years ago, when my big kids were still in elementary school, we completed what was—up to that point—our longest hike. Under the beating sun, we hiked more than five miles in Morgan Territory Regional Preserve in Livermore. We killed that hike and celebrated with a round of soft serve.
It was then that I realized how much I loved being outside with my kids. What made me really happy was knowing they wanted to be outside, too. I started a blog, Raising Kids Wild, to record our adventures and to inspire others to join in the fun.
Here are seven of my favorite outdoor East Bay adventures designed to create quality family time.
---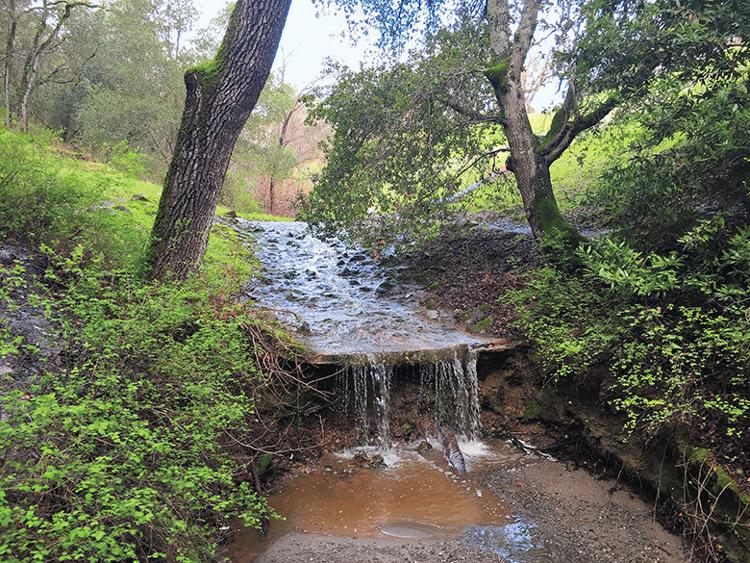 Have a Splash
We spend a lot of time playing in the water, and one of our favorite spots is in Berkeley's Tilden Regional Park. You might know the popular Jewel Lake, but just across from it is rocky Lake Anza. The best part of this watering hole is where Lake Anza Trail descends to a stream—the perfect area to climb on rocks and make noise. The whole hike is about a mile long and takes anywhere from 20 minutes to an hour—depending on how many times your kids stop to splash around.
Directions: Leave your car in the Lake Anza parking lot, accessible via Lake Anza Road in Tilden Regional Park, then hit the Lake Anza Trail, heading toward the lake, and cross a bridge. Directly to your left is a hidden waterway. Continue on the trail around the lake for some rock climbing or stream fun. ebparks.org/parks/tilden.
Forage for a Snack on an Urban Stroll
Whenever we pick fruit or find berry bushes on a trail, we get absolutely giddy. And having your own foraging adventure is easy. Falling Fruit is a website that provides urban maps detailing where you can find food to forage, like on fruit trees, and we've used it often. If there is honeysuckle anywhere near a trail, our kids are sure to fight over the little ripe straws of sweet syrup.
Directions: To find the best places to forage before you go, visit the website's map, type in your address, and have your kids help plan the route. Remember to bring a bag for all the goodies. fallingfruit.org.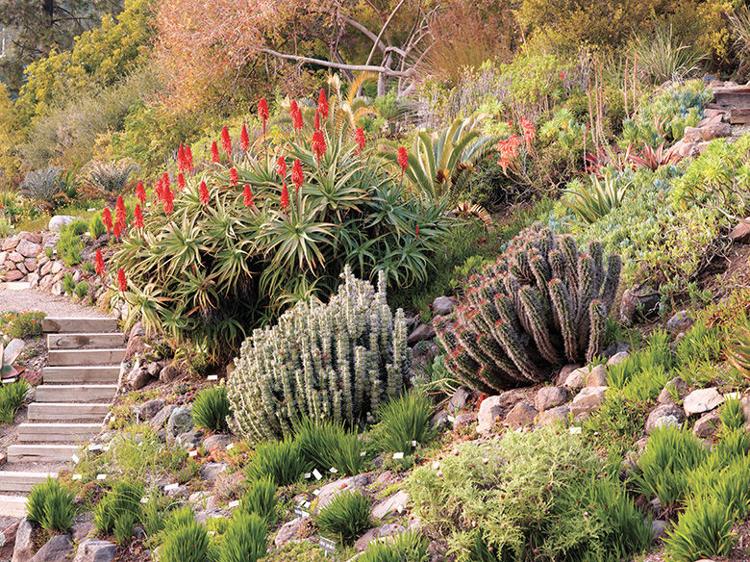 Get Lost Among the Native Plants
The last time we were at the UC Botanical Garden in Berkeley, we walked along the tree-lined trails and came upon the Tropical House, where we watched bees come and go through a unique bee-colony installation. The Arid House (a cacti and succulent glasshouse) was a surprising treat, and we enjoyed trying to figure out which succulent had the biggest spikes. With the UC Botanical Garden housing more than 13,000 different types of plants, being in this massive green space is an adventure in itself.
Directions: The UC Botanical Garden is just off Grizzly Peak Boulevard on Centennial Drive. Parking costs $1 per hour. Stop at the plant deck on your way out, and let the kids buy a plant to take home. botanicalgarden.berkeley.edu.
Climb Trees
Our kids climb trees to challenge themselves, and one of their favorite spots is San Ramon's Bishop Ranch Regional Preserve. Enter the park via the Grey Fox Trail, which is pretty steep and will get your kids' hearts pumping. At the top, you'll find vast open views and the signpost for the Stream View Trail, where older kids can climb oak trees with reachable limbs. At the end of the trail is a steep but walkable spillway, which leads you back to the beginning of the Grey Fox Trail and the entrance.
Directions: From San Ramon Valley Boulevard, turn onto Morgan Drive. The entrance is about a block up on the left. Plenty of street parking is available. The whole loop from the start of the Grey Fox Trail to the end of the Stream View Trail is a little more than two miles long. ebparks.org/parks/bishop.
Go Geocaching
Whenever we're outside, we check our Geocaching app to hunt for nearby geocaches. Geocaching uses GPS to help you locate hidden containers filled with small trinkets. One of our favorite spots to look for caches is on the East Shore Trail at the north end of Lake Del Valle in Livermore, accessible from the Arroyo Road staging area. Make it a day trip, and continue hiking on the trail, which loops around the entire lake, or head back the way you came to the staging area for a moderate three-mile hike.
Directions: Download the Geocaching app, and enter your city or location to reveal the nearest geocaches. Once you've located a geocache, sign and date the logbook, and rehide the container exactly how you found it for the next geocacher to find. Del Valle Regional Park can be accessed via the Arroyo Road staging area at the north end (no parking fee) and Del Valle Road at the south end ($6 parking) in Livermore. geocaching.com/play, ebparks.org/parks/del_valle.
Head to the . . . Lagoon?
We love how secluded Cull Canyon Regional Recreation Area in Castro Valley is. The lagoon at Cull Canyon is nestled among the trees, with trails for hiking, grassy hills for climbing, and even horseshoe pits. Check out Cull Creek or the Chabot-to-Garin Regional Trail nearby. If all that isn't enough to get your kids tired by the end of the day, there are geocaches in the area that need finding.
Directions: Cull Canyon Regional Recreation Area is a short drive from I-580, on Cull Canyon Road, with a $2.50 fee for kids and seniors, and $3.50 fee for adults. Children under one year old are free. The Chabot-to-Garin Regional Trail is 14 miles long, but smaller trails around the lagoon are perfect for shorter treks. ebparks.org/parks/cull_canyon.
Make a Nature Mandala
Making nature mandalas has been wonderful for our two-year-old because she loves gathering materials and helping to build the work of art. We start by collecting fallen flowers, leaves, rocks, and sticks. A great place to do this is Donner Creek Fire Road in Clayton on the north side of Mt. Diablo State Park. Find a flat surface on the ground, and make a circle of one element, such as sticks, then make another ring around that one using another material, and so on, until you've created a pattern.
Directions: Park at the end of Regency Drive in Clayton, where you can access Mt. Diablo State Park via the Back Creek Trail. Take a left onto Donner Creek Fire Road, and continue on a one-mile loop, collecting mandala materials as you go, by taking a right on Tick Wood Trail, then a right on Back Creek Trail, which will return you to Regency Drive. parks.ca.gov.  
---