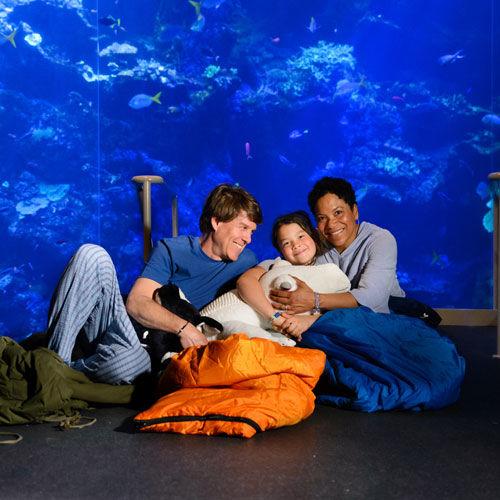 Roll out your sleeping bag and see what 38,000 live animals are up to—overnight!
Why count sheep when you can count geckos, butterflies, fish and penguins? At a California Academy of Sciences' Penguins+Pajamas sleepover, kids and families can spend a night at the museum enjoying one of the most adventurous sleepovers on earth!
As the only place in the world where you can explore an aquarium, planetarium, natural history museum, and four-story rainforest all under one living roof, sleepovers at the Academy are a one-of-a-kind way to experience one of San Francisco's most family-friendly museums. Great for a gift, a birthday party, or for a memorable experience and some extra bonding time!
Grab your pajamas and kick off your evening with special penguin talks, stargaze during an after-hours planetarium show, and chat with Academy scientists as they share their favorite scientific specimens. Explore all of the exhibits and see them in a whole new light!
Before bedtime, grab a snack of cookies and milk, settle in for "science story time", and then unroll your sleeping bag in African Hall or in the aquarium. In the morning, it's time to rise and shine, then head over to the Academy Café for breakfast before the sleepover event ends.
For those with more to explore, a sleepover ticket also includes next-day admission to the Academy, complimentary breakfast and evening snack, and overnight parking to make your trip to the Academy easy as can be.
Upcoming events in 2019: Friday, May 10 and Saturday, June 8. For additional dates and details, visit www.calacademy.org/sleepovers.
Penguins+Pajamas is a program for children between the ages of 5 and 17; children must be accompanied by a chaperone who is 25 or older.