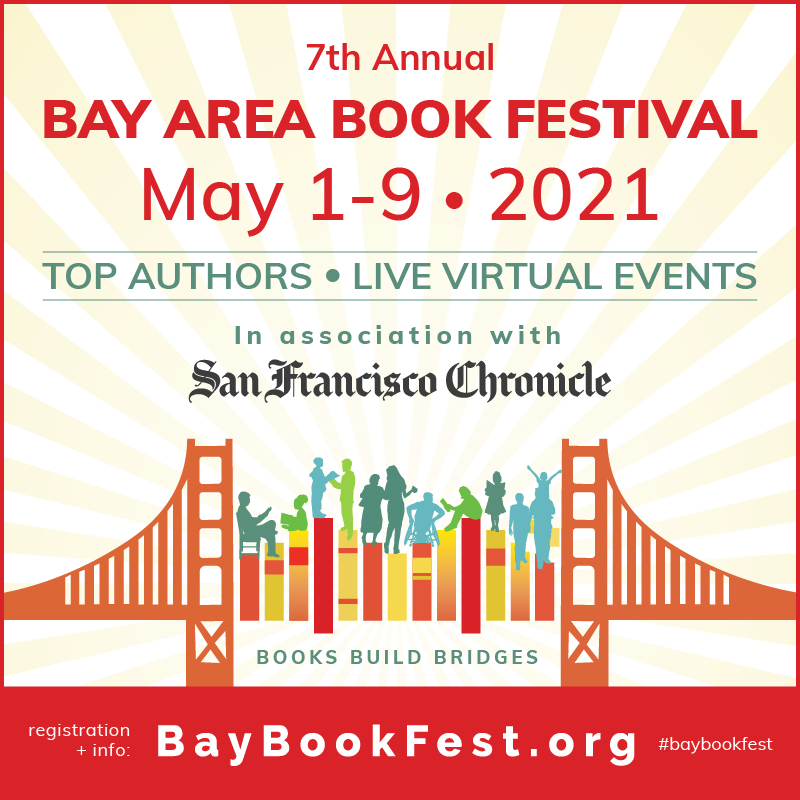 See and interact with some of today's most interesting and important authors – top award winners, bestsellers, opinion-leaders – at this year's Bay Area Book Festival, May 1-9, LIVE online. Some programs are free; others are ticketed or covered by an economical Festival Pass. If you can't make the scheduled time, no worries: Registrants can watch for 10 days! Who can you see? Read on for authors and books about:
Love, connection, and what makes us human
· Can human connection be replaced by machines? Not so fast, says Nobel Laureate Kazuo Ishiguro in the most raved-about novel this spring, Klara and the Sun. With Yaa Gyasi (Transcendent Kingdom). Sat., May 2, 1pm.
· Another must-read: the wrenching, beautiful Shuggie Bain, winner of the Booker Prize (world's top literary award), Douglas Stuart's masterpiece about the survival of a boy in poverty in 1980s Glasgow with an alcoholic mother. Thurs., May 6, 7pm.
· World-renowned therapist Irvin Yalom talks with legendary author Joyce Carol Oates about love, loss, and living a life without regrets. Sun., May 9, 1pm.
Being a powerful woman
· Bay Area novelists Vendela Vida (We Run the Tides) and Carol Edgarian (Vera) discuss girls coming of age during the 1906 earthquake and pre-tech 90s in San Francisco. Tues., May 4, 7pm. FREE.
· Mother's Day special: Three top female international novelists (all finalists for the Booker Prize), joining us from Dubai, New York, and Santiago, write about women daring to "be dangerous" in India, Ethiopia, and Chile. Sun., May 9, 7pm. FREE.
Achieving social justice
· It's truly possible to stop hate crimes and other injustices, says Sikh activist, attorney, interfaith leader, and viral TED speaker Valarie Kaur, who uses motherhood as a metaphor for changing the world in See No Stranger: A Memoir and Manifesto of Revolutionary Love. Sat., May 1, 7pm. FREE.
· Who can speak the unsayable events of 2020? Some of our nation's best poets: Pulitzer winner and past U.S. Poet Laureate Tracy K. Smith, Reginald Dwayne Betts and Camille T. Dungy, with Oakland's Ismail Muhammad. Sat., May 8, 7pm.
Envisioning the future
· Climate change is no longer a future scenario; it's here. How do we cope? Join science journalists Annalee Newitz (Four Lost Cities) and Nathaniel Rich (Second Nature) for a fascinating conversation about how past civilizations fell, and what science is doing to try to save ours. Wed., May 5, 7pm.
· For wilder visions, see bestselling "prophet of climate fiction" Jeff VanderMeer (Southern Reach series, which became the film "Annihilation") and Nnedi Okorafor, who taps African mythology to craft her massively popular novels. Fri., May 7, 6pm.
· Plus more programs! And, if you'd like informal, intimate conversations with authors, join an Afterparty with no more than 10 other guests. It's a perk for a $100+ donation.
FOR THE KIDS: Middle-grade and teen programs, entirely FREE, include Oakland's hip hop historians Davey D and Jeff Chang, master chef Kwame Onwuachi with his new cookbook/memoir for teens, and YA and middle-grade bestselling authors! Registration required.
Go to www.baybookfest.org