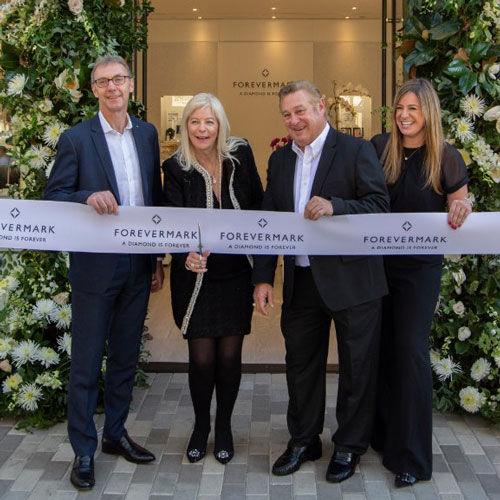 Forevermark celebrated the grand opening of its first Forevermark boutique in the US, located at Broadway Plaza in Walnut Creek, CA. Charles Stanley, Forevermark US President, cut the inaugural ribbon, kicking off the weekend-long celebration offering unique experiences for guests as they shop the brand's responsibly sourced diamonds.
"In opening our first Forevermark boutique, consumers will be able to more deeply experience and appreciate the full journey of a Forevermark diamond. Forevermark diamonds are the most carefully selected diamonds in the world, and we applied the same rigorous standards when selecting our partners and the location for our very first Forevermark boutique. We are thrilled to bring Forevermark diamonds, diamonds that you can feel proud to own and wear forever, to Bay Area shoppers." said Charles Stanley.
Bay Area natives, the Padis family are partners with Forevermark on the Walnut Creek boutique. Jewelry industry experts, the Padises have been in business for 45 years owning and operating three other Padis Jewelry store locations in San Francisco and one in Napa Valley have been Authorized Forevermark jewelers since 2012.
ABOUT FOREVERMARK
Every Forevermark diamond undergoes a journey of rigorous selection. Our unique inscription is an assurance that every Forevermark diamond meets the exceptional standards of beauty, rarity and is responsibly sourced.