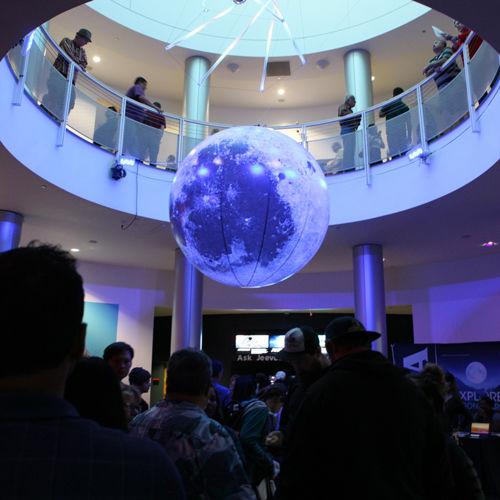 The Apollo 11 Moon landing was one giant leap for mankind that brought us further than ever before. 50 years later, we are still marveling at this feat in space exploration. July 20, 2019 marks the 50th anniversary of the first humans landing on the Moon as part of NASA's Apollo 11 lunar mission.
Here's a list of ways to celebrate and remember this important milestone. Check off everything on this list at Chabot Space and Science Center. Chabot will celebrate the first moonwalk with an Apollo 50th Anniversary Celebration from 10 a.m.–5 p.m. and an adults-only Apollo Party from 6-10 p.m.
11 ways to celebrate Apollo 11:
Countdown to the first steps on the moon
Countdown to 7:56 p.m., the moment a human being took the first step on the lunar surface.
See a Moon Rock
Did you know there's a bit of the Moon in the Bay Area? Check out Moon rocks from Apollo 15 and 16 missions at Chabot Space and Science Center.
Get a glimpse of the Moon through a telescope
Check out Earth's closest neighbor up close and personal through a telescope. If you don't have one of your own, you can go to Chabot Space and Science Center to take a look at the Moon through their three historic telescopes.
Enjoy a Moonlit Hike
There are lots of great hiking trails in the Bay Area, and Chabot is taking you through a Redwood Forest for an adults-only Full Moon Hike and Sip. This is the perfect date night!
Drink a Moon-themed cocktail
Raise a glass, and let's toast to this accomplishment! Chabot's Apollo Party will feature special drinks like the first cocktail the Apollo 11 astronauts sipped upon their return to Earth. 
Dance in the moonlight
Bust a move under the full Moon! This is the perfect time to dance like no one's watching. Luckily, Chabot Space and Science Center has a dance floor.
Write a poem about Moon
Roses are red, violets are blue… Show the Moon some love with a poem about its' beauty.
Do a lunar science activity
Kids and adults alike can enjoy a fun craft. Simulate the surface of the moon and learn about craters by dropping marbles and other home material into a container of flour, topped with cinnamon.
Croon your favorite moon tune
When the Moon hits your eye like a big pizza pie - that's karaoke! Jam out to a lunar hit like Dancing in the Moonlight, Bad Moon Rising and Dark Side of the Moon.
Launch into lunar photography
Get lost in beautiful photos of the Moon. Chabot has a new lunar exhibition featuring 50 high resolution photos from NASA astronauts, the Lunar Reconnaissance Orbiter and Chabot's own telescopes.
Learn about how we're going back to the moon
NASA has recently announced that it is sending the first woman to the Moon through Mission Artemis 2024. Learn more about the agency's plans with a talk from NASA Ames' Dr. Amanda Cook on upcoming lunar missions and the history and future of lunar science.
For more information, click here.