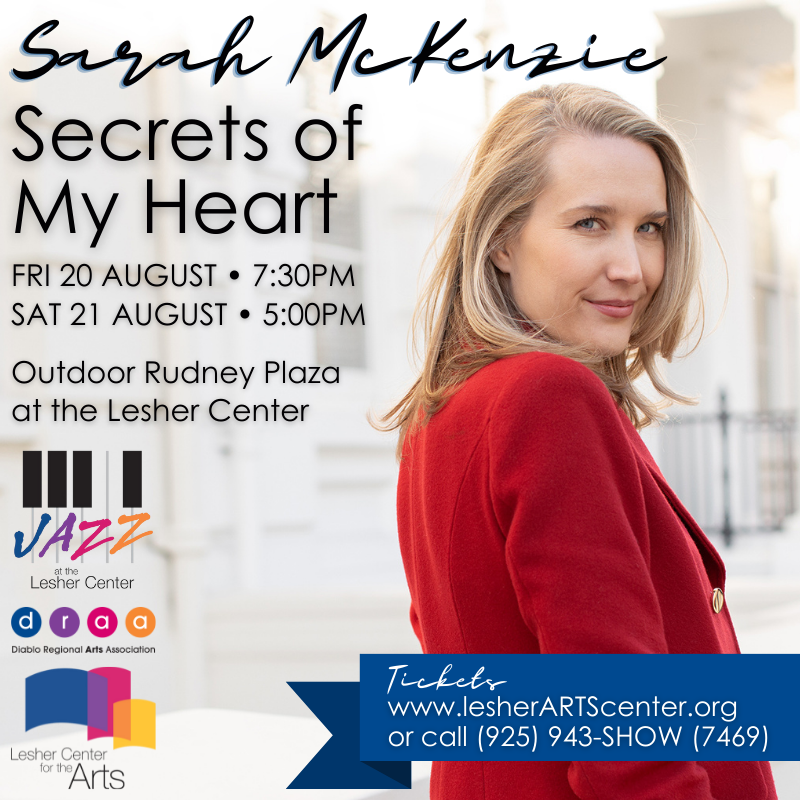 After the great success of Sarah McKenzie's 2017 album, Paris in the Rain (Impulse! Records), the 31-year-old pianist, singer, and composer returns with the poignant, Secrets of My Heart. Paris in the Rain opened more opportunities for her to perform around the world in such faraway places as Brazil, Korea, Japan, and established her in the United States. Diablo Regional Arts Association is thrilled to present Sarah McKenzie at the Lesher Center for the Arts this August.
Secrets of My Heart documents McKenzie's burgeoning brilliance interpreting 20th-century jazz standards with her penchant for crafting sterling compositions that will surely become jazz standards in the 21st century.
"Ultimately, this album is about me embracing the unknown and going with love," McKenzie explains.
In addition to performing songs from her latest album, Sarah will also be showcasing pieces from Music Connects Our World - a production that Diablo Regional Arts Association was proud to commission in October 2020 amidst the global pandemic .
Two Outdoor Performances at the Lesher Center!
Friday, August 20 at 7:30 pm
Saturday, August 21 at 5:00 pm
The Lesher Center for the Arts​ is accessible via BART​ and free public bus. Tickets are available at lesherartscenter.showare.com/SarahMcKenzieSecretsofMyHeart or by calling the Ticket Office at (925) 943-SHOW (7469). 
All ages are welcome. Use code WELCOMEBACK for $10 off all ticket prices!
Adult - $45 | Senior - $40 | Youth - $20 
This concert is presented as a part of Walnut Creek Downtown's Arts Around August, a month-long celebration of the arts in our town. See the full schedule for all the participating events and programs!