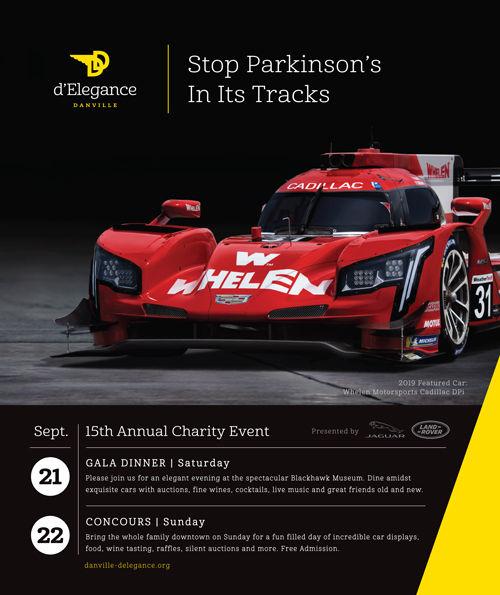 Danville d'Elegance is celebrating our 15th anniversary with a weekend long series of events taking place September 21 and 22nd in Danville CA to raise money for Parkinson's research and patient care, presented by Jaguar Land Rover.  Danville d'Elegance has donated over $6 million dollars to help Stop Parkinson's in its Tracks!
Saturday September 21
The weekend starts Saturday morning with the sold out Tour d'Elegance.  Tour participants meet at Cole European in Walnut Creek and take a scenic drive to Napa for lunch. 
Saturday evening is the Gala Dinner d'Elegance at the Blackhawk Museum. Guests arrive at 5:30pm for a fun evening of cocktails, dinner, live and silent auctions, and finish by rocking the house with Dave Martin's House Party Band!
Sunday September 22
Bring the whole family to Hartz Ave in picturesque downtown Danville.  Join us for a day of exotic, classic, and luxury vehicle displays, National Anthem and fly-over, a racecar parade, vintage wooden boats, wine tastings, raffle, award ceremony and more in a relaxed environment all to support the fight against Parkinson's disease.
Proceeds from the events will be donated to The Michael J. Fox Foundation and the Parkinson's Institute and Clinical Center.
For more information, click here.