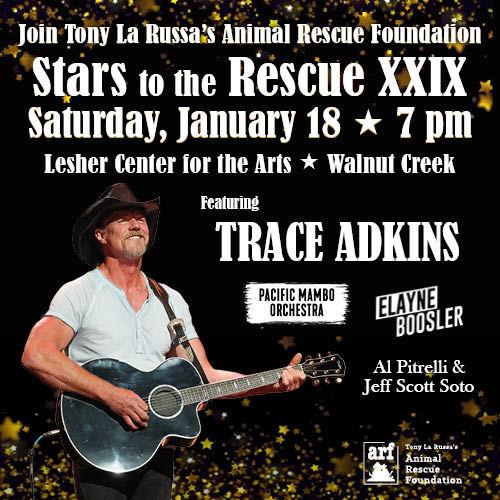 Tony La Russa's Animal Rescue Foundation (ARF) once again brings a dynamic mix of talent to Walnut Creek with Stars to the Rescue XXIX at the Lesher Center for the Arts in Walnut Creek on Saturday, January 18, 2020 at 7:00 pm.
This year's star-studded variety show features Nashville icon Trace Adkins, Grammy-winning Pacific Mambo Orchestra, comedian Elayne Boosler, and Al Pitrelli and Jeff Scott Soto of Trans-Siberian Orchestra!
Stars to the Rescue provides essential support for ARF's life-saving mission of People Rescuing Animals … Animals Rescuing People®.  In addition to the rescue of more than 42,000 cats and dogs since its founding in 1991, ARF has expanded its educational programs and national outreach by becoming a leading voice in animal welfare. Programs include free service dogs for veterans, low-cost spay neuter services, humane education for children of all ages, and more.
"It doesn't seem like we've been doing this for 29 years, because each show highlights such a variety of outstanding talent," says ARF co-founder Tony La Russa. "While each lineup is unique, the excitement of people coming together to support a fabulous cause is the one constant."
Tickets on sale now at lesherartscenter.showare.com/ordertickets.asp?p=9541 or call (925) 943-SHOW. Seats range from $100 to $125. VIP tickets with prime seating are available for $275 and include an after-party at Maria Maria restaurant. Visit www.arflife.org for more information.            
About Tony La Russa's Animal Rescue Foundation (ARF)
ARF's core mission is the rescue of dogs and cats who have run out of time at public shelters, giving them a chance at life until a new home can be found. ARF couples this focus with innovative programs strengthening the human-animal bond for children, seniors, veterans, and people in disadvantaged circumstances. Through ARF, people experience the unconditional love and acceptance of dogs and cats to fulfill a mission of People Rescuing Animals … Animals Rescuing People®. www.arflife.org