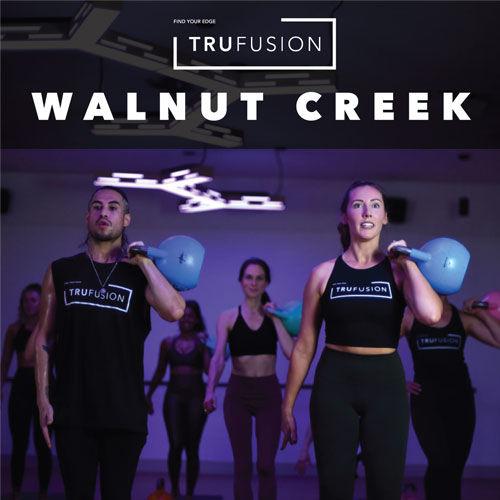 TruFusion is an all-encompassing fitness and yoga boutique located in the heart of Walnut Creek. Since opening doors in September 2019, the studio has gained its popularity in Northern California by offering the largest array of training, workshops and group classes taught by reputable fitness and yoga professionals. As a part of the fitness franchise disrupting the industry nationwide, owner Kate Loughlin and team have placed hospitality at the forefront of their studio, creating an unparalleled member experience for each person who steps foot through their doors. 
TruFusion has revolutionized group fitness with unlimited yoga, Pilates, kettlebell, cycle, barre, bootcamp, boxing and more, for one monthly membership price. Since opening its first location in Las Vegas in 2013, the nationally recognized brand has garnered the attention of members, rock star trainers and high-profile celebrities, including NFL quarterback Russell Wilson and MLB All-Star Alex Rodriguez. Rodriguez quickly became an advocate for the brand and committed to TruFusion's growth by becoming an equity partner, board member and franchisee in 2017. Since then, TruFusion studios have made a name for themselves in top cities nationwide, with expansion plans to key markets including Denver, Colorado; West Hollywood, California; Houston, Texas; Ballard, Washington and more. With the success of her first studio in Walnut Creek, Loughlin is currently working to open her second TruFusion franchise in the Financial District of San Francisco.
Walnut Creek's very own five-room-under-one-roof studio features voluminous spaces for heated fitness, unheated fitness, cycle, heated yoga and unheated yoga. The goal of the studio is to encourage both fitness fanatics and yogis alike to discover new modalities to add to their wellness routine, as a comprehensive, full-body one-stop-shop. The hospitable staff is solely focused on providing a seamless experience to members, offering everything you could possibly need to workout, so "all you have to do is bring your body." Cycle shoes, boxing gloves, mats, towels and more are all available to rent upon arrival. Catering to all possible member needs, the studio even offers "Tru Tots" childcare so parents may fully focus on themselves during class. 
With an emphasis on community, variety and "fusion" of workout styles, TruFusion Walnut Creek offers up to 120 classes per week, in over 35 different styles. The location also highlights state-of-the-art amenities, including spa-like locker rooms with complimentary toiletries, showers and lockers. The wellness sanctuary also displays an in-house juice bar, so guests may properly fuel with healthy bites and drinks before and after class. Be sure to browse through the studio's extensive retail space, displaying equipment, wellness products and luxury athleisure from some of the hottest brands on the market. Before you leave, download the TruFusion app so you can schedule your next class. Trust us, you won't be able to wait to go back. 
For more information, click here.