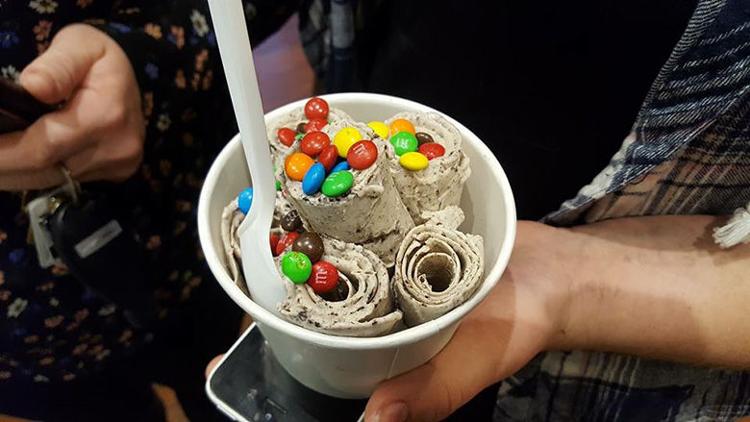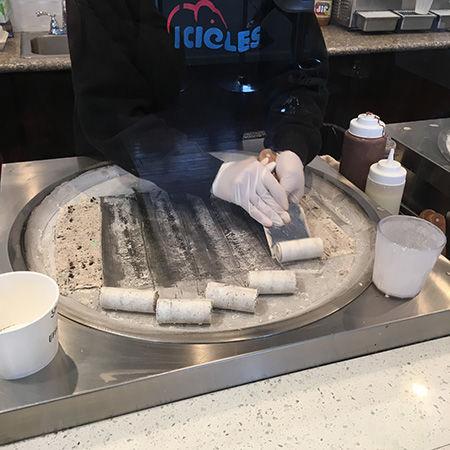 Cool Ice Cream Trend on a Roll
It's hard to go wrong with ice cream. From classic sundaes to nitrogen-frozen scoops to milkshakes—it all works for us. But now there's something new to get excited about: rolled ice cream.
Originally from Thailand, the latest frozen-dessert craze involves pouring milk onto a large and very cold plate, adding fresh fruit or other ingredients, spreading the mixture smooth, and finally removing it from the plate in long, thin curls using a scraper. The ice cream rolls take just a few minutes to make, and they can be topped with various fruits, candies, and syrups.
You can try the delicious treat at the new Icicles in Pleasanton, BlooGrape Organic Sworls in Danville, and Chalogy Tea Bar in Walnut Creek.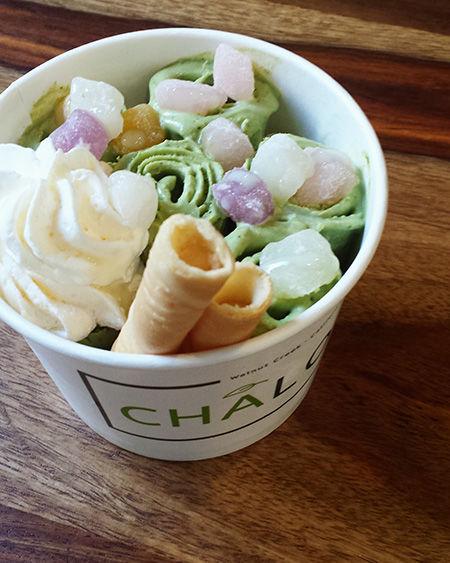 And considering how fast this trend is spreading, you'll probably be able to find rolled ice cream in five more places by the end of the week. But we're not complaining. After all, you can never go wrong with ice cream.
Sláinte Brings More Good Cheer to Jack London Square
For those who want to celebrate Ireland more often than just on St. Patrick's Day, there's now Sláinte (which means "good cheer" in Gaelic). The Irish pub will open in Jack London Square on Saturday, April 8, offering traditional Irish dishes as well as local and imported Irish beers.
Of course, there will also be a well-stocked collection of whiskey and craft cocktails, as owner Jenny Schwarz (who also runs Hopscotch in Uptown Oakland) is in charge of the bar. And to make sure the Irish feel is authentic, Irish-born chef Jackie Gallanagh will supervise the kitchen, which will serve classic dishes from her homeland and breakfast all day.
And if you really want to celebrate, head to the restaurant on its opening day for the Grand Opening Party. The fun will begin at 2 p.m. with a performance by McBride Irish Dancers alongside musicians playing the uilleann pipes (Irish bagpipes), fiddle, and bodhrán drum. The celebration will continue late into the evening with plenty of Guinness, festive cocktails, and traditional Irish fare. This event is open to the public, and no tickets are necessary.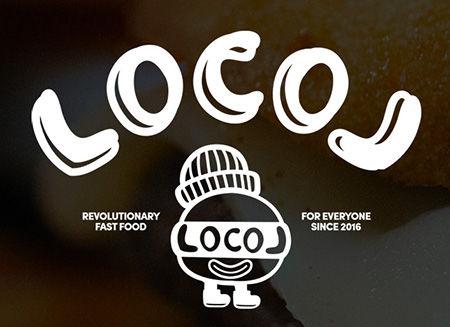 Locol Branches Out With a Bakery
Oakland's Locol, the innovative fast-food creation of Daniel Patterson and Roy Choi, is expanding its offerings on Friday by opening a bakery on Market Street in Oakland.
The first Locol Bakery will specialize in "bunzz," which can be enjoyed plain, with honey nut or garlic herb butter, or with egg and cheese. And the word "bakery" may not quite cover the gamut, as the menu will also feature chili, pizza, and salad. Locol's signature agua fresca, $1 coffee, and green juice will be available as well.
All the food will be as fresh, local, and sustainable as possible—and if the offerings at Locol are of any indication, it will be really, really good.
As Locol's motto goes: "Get ready to eat."
​A New Beer Garden in Oakland
MacArthur Annex is a new urban mixed-use space in Oakland made up of retail stores, offices, and restaurants—which are all housed in stacked, converted shipping containers. The development may be a radical concept, but Arthur Mac's Tap and Snack will offer a familiar combination: pizza and beer.
The casual restaurant and beer garden is run by the same Berkeley-based restaurant group that operates the popular Drake's Dealership, East Bay Spice Company, Tigerlily, and Westbrae Biergarten.
Arthur Mac's is set to open later this month, so you won't have to wait much longer before you can enjoy a slice and a pint.
Oakland Brews With Oakland Pride
Linden Street Brewery, which originated in 2009 as Oakland's first craft brewery in more than 50 years, has evolved into Oakland United Beerworks—and the word "Oakland" is integral to the name.
Owner John Karnay and award-winning brewmeister Shane Aldrich are committed to Oakland—unlike a football franchise that will not be named—and they are busy placing their four core beers (a black lager, pilsner, common lager, and IPA) in local restaurants. Juhu Beach Club, À Côté, and George and Walt's are just a few of the eateries offering Oakland United's brews, but expect more soon.
"Oakland United Beerworks is born and bred in Oakland," says Karnay. "From the beginning, our mission has been to bring Oaklanders—old and new—together with great brews. Oakland has evolved and grown, and so have we. Our new brand and our brews reflect this city's authentic and eclectic personality."
Aldrich adds, "Oakland's diversity, artistry, and authenticity inspires me and our recipes. We love this town, and we're excited about growing an Oakland community of beer drinkers and beer makers."
Oakland United is also building a brewery and tasting room on Second Street near Jack London Square. The new taproom is slated to open in late summer, offering Oakland United beers and other local brews. 
Just don't expect a Silver and Black special …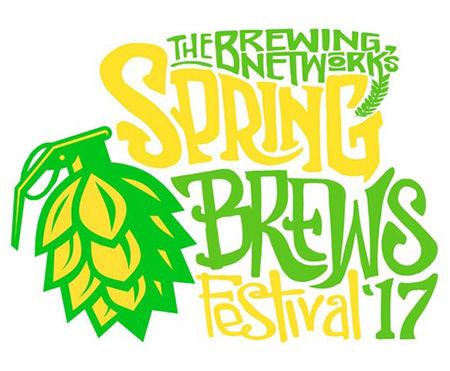 A Craft Beer Fest to Celebrate Spring
If beer is on your mind now, you can get your fill this weekend at the Brewing Network's Spring Brews Festival. The eighth annual craft beer fest will take place on Saturday at Todos Santos Plaza from noon to 4 p.m.
The 50 or so breweries involved are a who's-who of Northern California breweries, including such familiar names as 21st Amendment, Drake's, Calicraft, Farm Creek, E.J. Phair, Sierra Nevada, and Triple Rock.
Tickets cost $40 in advance ($50 at the door) and will benefit the Todos Santos Business Association Arts Foundation, which helps fund the summer music program in Todos Santos Park, as well as youth music programs around Concord.
Drinking brews for a good cause? We'll cheers to that!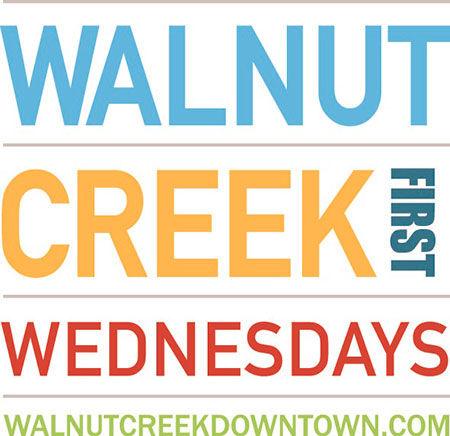 Walnut Creek First Wednesdays Return Next Week
The 2017 iteration of Walnut Creek First Wednesdays will begin on April 5 with Mid-Week Motown, featuring music, food trucks, and shopping on Cypress Street, between North Main and Locust Streets.
Sponsored by Walnut Creek Downtown, the festivities begin at 5:30 p.m. There's also plenty of fun for the little ones, as the Kids' Fun Zone offers games, face painting, and an interactive art booth. There's even free parking next to the Lesher Center on Civic Drive, above Lark Creek on Locust Street, and near Il Fornaio on Broadway Street.