Sobre Mesa Brings Afro-Latino Flavors to Downtown Oakland
Those seeking Caribbean flavors with an African twist need look no further than Franklin Street in Oakland, as Sobre Mesa—with its Afro-Latino food and drink—is now open.
Though the buzz has been focused on the bar and craft cocktail list, don't forget that there's also a full-service dining area with a seasonal tapas menu—plus La Sala, a reservation-only space for special tastings. Sobre Mesa is the brainchild of Nelson German, the chef-owner of the popular Alamar Kitchen and Bar, which is also in uptown.
Middle 8 to Bring the Bar Experience to Pleasanton
Rick Dobbs, whose The Last Word in Livermore has been a popular success story, is planning a late spring opening for Middle 8 on Main Street, with live jazz and blues to go along with a '70s theme.
And the name? "Middle eight" is a musical term for the eight bars after a song's chorus that provide a contrast with the body of the song. In the same way, Dobbs hopes his Middle 8 serves as a contrast with the full-service and fast-casual restaurants in Pleasanton and develops the same niche that the Last Word did in Livermore.
Final Notes Coming Soon for Danville's McGah's
McGah's Pub and Pianos will close the lid on the keyboard after more than a decade of delivering games, sports, and beer to Danville—and its Prospect Avenue dueling pianos will also disappear.
But fans of piano punchouts don't need to despair, as the owner of Tommy T's Comedy Club in Pleasanton plans to take over the location and keep the keys tinkling with its own version of a piano bar.
Livermore Vintners Culminate Years-long Project
Back in 2017, six Livermore Valley winemakers banded together to form the Livermore Valley Vintners' Collective (LVVC), and their first project was for each winery to create a red blend based on merlot and syrah.
The results will be unveiled this weekend and are available for purchase ($42) at the six LVVC wineries: 3 Steves Winery, Fenestra Winery, John Evan Cellars, Las Positas Vineyards, Page Mill Winery, and Wood Family Vineyards.
Daon Dives Into the Danville Dining Scene
There are plenty of Korean options at Daon in the Danville Town and Country shopping center, from the familiar barbecue to soondubu (a tofu stew) to bibimbap (rice with egg, meat, and vegetables).
Daon has taken over the old Fish on Fire spot, which opened back in 2007 before shutting down last year.
Get a Taste of Taste of Temescal
There's always something bubbling up in north Oakland's culinary hub of Temescal. Saucy Oakland (sake bar and pan-Asian restaurant); Magpie (pizza and beer hall); and North Light (cocktail bar with all-day food menu) are three of the latest additions. They'll be joining 25 other eating and drinking establishments, including popular standbys Homeroom, Marufuku Ramen, and Burma Superstar, for the 11th annual Taste of Temescal on Tuesday, March 17. A mere $40 gets you a bite or small plate from each of the participating restaurants, and proceeds go toward supporting local schools and nonprofits.
Click here for all the information and to purchase tickets.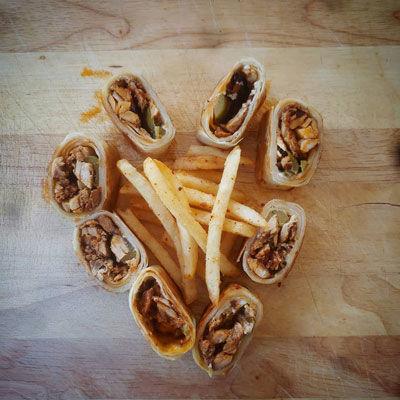 More Mediterranean Food Comes to Oakland's Uptown
Shawarmaji draws on the background of owner Mohammed Abutaha to create Jordanian-style street shawarma, thinly-rolled wraps with minimal toppings to allow the slow-roasted meat sliced from the signature vertical spit to shine. For now, Abutaha is operating out of the Forage Kitchen incubator on 25th Street.
Shawarmaji is open from 11 a.m. to 5 p.m. Monday through Wednesday and extends its service to midnight Thursday through Sunday.
It's a Revolving Door at Ygnacio Valley and Oak Grove Road
There's a lot going on at that Walnut Creek intersection all the time—with shopping centers full of restaurants and stores on three corners—so it's not surprising that there's news to report.
First, Quizno's in the Citrus Marketplace has closed, and second, Antojitos Taqueria has opened in the Orchards at Walnut Creek. Finally, Ginger's Gelato in the Citrus Marketplace has changed ownership and now includes a coffee bar, Contra Costa Coffee.
Copper Spoon Adds and Subtracts From Food Offerings
Oakland's Copper Spoon is enhancing its menu with Taste of the Season options that will feature local meat, produce, and more wide-ranging items. And of course, its high-level bar program is still in effect.
On the flip side, though, chef Tu David Phu's pop-up, Banhmi-Ni, has shut down its lunch service after just four months.
Jack London Square's Lungomare Has Closed Down
After seven years, Lungomare has called it quits in Jack London Square, but expect the Waterfront Hotel to open another restaurant in the same space this summer.
Pleasanton's Vic's All Star Kitchen Has New Owners
Vic Malatesta was the name, face, and personality behind Main Street stalwart Vic's All Star Kitchen for 26 years. But earlier this month, he handed the reins over to Ernesto and Laura Castro—who promise to keep the train rolling.
In other words, expect the sports theme to remain, and though there will be additions to the traditional breakfast and lunch menu, look for classic breakfast combos and plenty of burger options.
Homegrown Hangs It Up in Danville
Finally, Homegrown, the Seattle-based chain featuring healthy sandwiches and bowls with ingredients from sustainable sources, shut down its Danville location after three years. The only Bay Area spot still open is in San Francisco.
---
Got Dish? Send an email to dish@maildiablo.com.