Shelter In Place and Celebrate Cinco de Mayo
Some of us might irreverently refer to Cinco de Mayo as "Cinco de Margarita," and others might even take the "five" literally when Happy Hour arrives, but Tuesday's celebration of the 1862 Battle of Puebla is also one more chance to support your local chefs by ordering take-out.
A brand-new option is Comal Next Door, the quick-and-easy next-door offshoot of the near-legendary Comal, as pickup and delivery are now available every day from 11 a.m. to 8 p.m. Yes, there are margaritas, but the Caviar delivery service is limited to west of the Caldecott Tunnel.
Chevys Fresh Mex in Emeryville has taco ($50) and fajita ($60) kits—plus a pitcher of margaritas included in both—on offer, while Lafayette's Rancho Cantina has an a la carte menu, with a pitcher of margaritas for $44. Danville options include Cocina Hermanas and Cielito Cocina Mexicana, as well as The Peasant and The Pear. All have margaritas too, if you were asking for a friend.
Also note that C Casa just opened its San Ramon City Center location for pickup and delivery from 4 p.m. to 8 p.m. Monday through Friday, from 11 a.m. to 8 p.m. Saturday, and noon to 8 p.m. Sunday. And yes, they do have margaritas.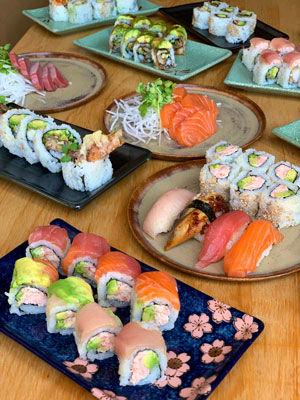 Nikkei Sushi Brings Affordable Sushi to Uptown Oakland
Kyle Itani, owner of Hopscotch and Itani Ramen, has branched out during the coronavirus crisis and opened Nikkei Sushi in the Itani Ramen space. Itani's goal is to not only give customers a chance to enjoy quality sushi but also, of course, to keep his staff employed and his business viable.
Nikkei Sushi will be open every day from 11:30 p.m. to 8 p.m., and until 9:00 p.m. on Fridays and Saturdays. (Itani Ramen is also still open and operating under the same roof and with the same hours as the sushi spot.) The menu also includes beer, wine, sake, and cocktails. But since Nikkei Sushi uses Caviar for delivery, it will be pickup only for those living east of the tunnel.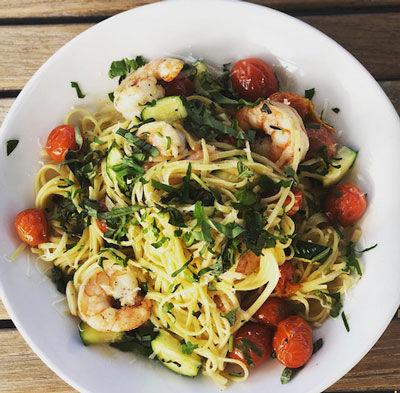 Postino Tweaks Its Take-out Menu As Shutdown Continues
As chefs adjust to which dishes taste best when reheated, Postino, like many others, has reshaped its menu as a result.
Postino also offers a separate lunch menu (from 11 a.m. to 3 p.m.) to go along with its more comprehensive all-day menu (11 a.m. to 8 p.m.). Bottles of wine are 25 percent off, and the cocktail menu has also been expanded for one of Lamorinda's most popular restaurants.
Walnut Creek Small Businesses Make Mother's Day Easy
We know it's hard to go wrong with chocolate, but Walnut Creek's Love and Chocolate is taking the traditional Mother's Day staple one step further—and also making it easy to keep mom happy while both of you still shelter in place.
There are four Mother's Day care packages available, which pair chocolate with Heritage shortbread, books from Flashlight Books, and self-care specialties from Wish. All are available for shipping on the Love and Chocolate website.
Lalime's, Benchmark Pizzeria, and Tartine Berkeley Go Dark
Lalime's has been an East Bay go-to for quality dining in a comfortable atmosphere for 35 years, but the pandemic put an end to a great run for the Gilman Street institution. Sadly, there are more than a few restaurants that won't come out the other side of COVID-19, so make sure to help out any that you can.
A couple of other notable closures. Downtown Oakland's Benchmark Pizzeria, housed in a lovingly restored building across from Swan's Market, called it quits with the pandemic again the issue. Note, however, that Benchmark Pizzeria— in the original location—is still open for take-out. And San Francisco's famed Tartine Berkeley bakery shuttered its East Bay outpost in the Graduate Hotel after just seven months in business.
Nyum Bai Goes Fast Casual
Another trend stemming from the coronavirus-fueled shutdowns that we'll likely have to get used to: more fast-casual restaurants tailored to takeout. A good example is nationally acclaimed Cambodian restaurant Nyum Bai in Oakland's Fruitvale neighborhood. Nite Yun plans to pivot away from family-style home cooking and towards "takeout-friendly Cambodian street foods" with fast-casual service when she reopens in a couple of months.
Concord's Crowne Plaza Steps Up To Help the Less Fortunate
Crowne Plaza has begun preparing and delivering 100 meals a day to a variety of Concord organizations that serve those in need. Beneficiaries will include the Monument Crisis Center, Unity Council's Head Start, and Contra Costa County's C.O.R.E.
During these unprecedented times, Diablo Dish will be keeping a running list all the local restaurants that are still serving food to-go during the Bay Area–wide shelter-in-place order. Support our local restaurants!   
---
Got Dish? Send an email to dish@maildiablo.com.