Virus Or No Virus, It's Still Mother's Day This Sunday
Mom isn't going to accept any excuses for not giving her the credit she deserves, so here are some ways to make the day special, even during a pandemic.
The Peasant and The Pear: A Mother's Day brunch that can be picked up Saturday between 2 p.m. 4 p.m. will feature quiche, salad, French toast pudding, and a pound of sausage. The meal for four will be $80.
Lake Chalet and Honor Kitchen: To make it even easier, Lake Chalet Seafood Bar and Grill in Oakland and Honor Kitchen and Cocktails in Emeryville will both be pickup sites for a three-course Mother's Day meal that includes a salad, cheesecake, and a choice of four entrées. Cocktails are also available.
Smitten Ice Cream: Order by Wednesday, May 6, and Smitten will deliver up to six pints of ice cream this weekend that will keep mama sweet. There's even a vegan option.
Miette Patisserie and Confiserie: Candy is always dandy, but Miette—a Bay Area patisserie and bakery favorite—has more than candy ready for delivery. There are a variety of gift boxes to choose from that of course include candy but also available are cakes, cookies, and even the ingredients for a Mother's Day picnic.
54 Mint Forno Italiano: Walnut Creek's 54 Mint Forno Italiano has several family-style options available, plus mimosas. But orders must be in by Friday, May 8 for Sunday pickup.
Eureka!: With shopping limited, maybe the toughest assignment for Mother's Day is the card—but Eureka!'s Berkeley and Concord locations have you covered, as they add a card to each take-out order. The menu includes family-style meals, à la carte orders, and a mimosa kit.
Postino: Is brunch the big meal for your mom? If so, Lafayette's Postino has the solution with a "Brunch in Place" box that includes everything from deviled eggs to curry cashew chicken salad. The cost is $100 to feed between two and three people, though a bottle of prosecco is an extra $25. Orders must be in by Friday, but note that there's also a prime rib dinner ($55) and the usual take-out menu also on offer.
Esin: Danville's Esin has a large special Mother's Day menu but you do have to call in (rather than order on line) to reserve a Sunday pickup. It's possible, if not likely, that the Mother's Day menu will sell out, so it might be wise to call early.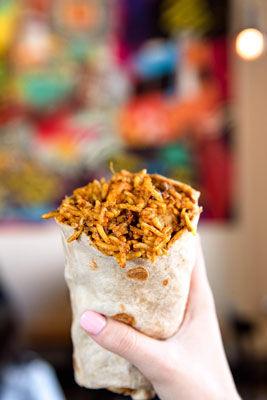 Curry Up Now Adds a Food Truck in San Ramon's City Center Bishop Ranch
In a time when most restaurant groups are contracting, Curry Up Now has added to its East Bay footprint—which already includes Oakland and Alameda—by bringing a food truck to San Ramon. The menu is a bit more limited than the other two locations, but there will some of the favorites plus heat-and-serve family-style meals. The truck will be open every day from 4 to 8 p.m.
In addition, Curry Up Now is hoping to encourage more help for health-care workers by offering Donation Meals: For $12, people can get a meal for delivery to a provider, and Curry Up Now will match that donation with a second meal delivery.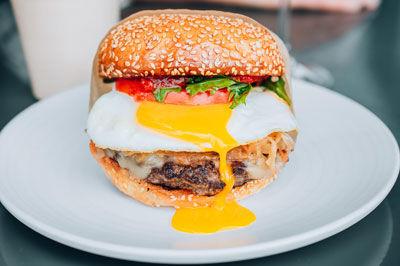 Lafayette's Roam Artisan Burgers is Now Back in Business
Here's some good news for burger lovers: Roam Artisan Burgers in La Fiesta Square has reopened, so the locally sourced burgers, fries, shakes, and sides are all now available. And even better, the pickup and delivery items are all contactless, so safety issues are less of a concern.
Comal Reimagined: Berkeley Standby is Now Comal To Go
With a focus on family-style meals, Comal is now open for delivery and take-out from 4 p.m. to 8 p.m. every day. And not only are cocktails available, Comal also will be offering pantry supplies, including chips, salsas, and soups.
And remember that Comal Next Door has burritos, tacos, and tortas available every day from 11 a.m. to 8 p.m. And yes, it is actually next door to Comal on Shattuck.
Lafayette Landmark El Charro Open For Take-out
Since 1947, El Charro has been serving its distinctive brand of Mexican food to generations of loyal customers, but until May 1, those lusting after the blue cheese butter, salty margaritas, and unique chili rellenos were left hanging—but no more. El Charro is back in business, and all the favorites are available.
Oakland's Friends and Family Debuts At a Tough Time
A Scottish poet pointed out long ago that "the best laid schemes o' mice an' men gang aft agley," which not only speaks to the situation at the newly opened uptown bar Friends and Family, but also might not flow as trippingly off the tongue after several samples of the to-go bottled cocktails available Fridays, Saturdays, and Sundays from 12:30 p.m. to 5 p.m.
Friends and Family—on 25th Street between Telegraph and Broadway—also has snacks and cake by the slice available, but the drawing cards are cocktails such as Don't Text Your Ex, which is even more true if you've been dipping into the Melon Mezcal Marg, which serves five for $45.
2020 James Beard Nominees Announced
Along with letting people know the unsurprising news that the 2020 James Beard Awards will be held remotely, the foundation also released its finalists in a variety of categories.
As usual, San Francisco establishments dominated the Northern California nominees, though Berkeley's Chez Panisse was named a Design Icon and Lance Winters of Alameda's St. George Spirits was once again nominated as an Outstanding, Wine, Beer or Spirits Producer.
The media winners will be announced later this month, but the restaurant and chef category honorees will have to wait until September to find out who won—and we all have to wait and hope that all these restaurants will still be open then.
East Bay Finalists 
Outstanding Wine, Beer or Spirits Producer: Lance Winters, St. George Spirits
Design Icon: Chez Panisse
San Francisco Finalists
Best New Restaurant: Verjus
Outstanding Bar Program: Trick Dog
Outstanding Hospitality: Saison and Swan Oyster Depot
Outstanding Pastry Chef: Juan Contreras, Atelier Crenn
Outstanding Restaurant: Quince Restaurant
Rising Star Chef: Gaby Maeda, State Bird Provisions
Best Chef in California: Brandon Jew, Mister Jiu's; Mourad Lahlou, Mourad; Joshua Skenes, Angler; Pim Techamuanvivit, Kin Khao
Leadership Award: Caleb Zigas, La Cocina
During these unprecedented times, Diablo Dish will be keeping a running list all the local restaurants that are still serving food to-go during the Bay Area–wide shelter-in-place order. Support our local restaurants!   
---
Got Dish? Send an email to dish@maildiablo.com.