More Dining Options at Todos Santos Plaza
Always one of our favorite places to find quality food at reasonable prices, Concord's Todos Santos Plaza will be adding four new restaurants and a cinnamon roll bakery this year.
The first to open was the burrito chain Chipotle this past Friday. Followed by Burgerim and its mix-and-match packs of three-ounce, customizable burgers on Saturday, February 16.
Ramen 101 (I think we know what will be served here) and Fire Wings (not hard to figure out either) are on tap for debuts later this year, as well as Cinnaholic—a national operation featured on Shark Tank—that will serve vegan, lactose-, egg-, and cholesterol-free cinnamon rolls to those who want to combine guilty pleasures and healthy eating.
Thai Soul Food Comes to Berkeley's Elmwood District
We have to confess we're not exactly sure how to process the name Gai Barn Thai Soul Food, as it seems to promise everything from Thai food to pancakes to collard greens, but gai does mean chicken and Nosh reports there will be an emphasis on khao mun gai, the poached chicken and rice dish that seems to be everywhere right now.
But despite the word barn, there's nothing farmhouse on the menu, and the "soul food" just means that Gai Barn Thai Soul Food offers food for any soul—Thai, Southern, or otherwise.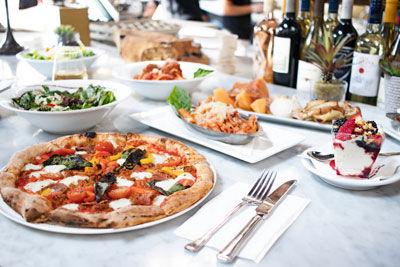 MidiCi's Italian Food Arrives in the Willows Friday
MidiCi Neapolitan Pizza, a nationwide chain specializing in Neapolitan pizza and pasta, will open its first East Bay restaurant Friday, February 15 in the Willows Shopping Center. The open-concept layout includes a live tree, and serves up local wine and craft beer.
The pizza dough is made in-house daily, and the goal is to deliver an upscale experience at an affordable price—and that's a goal we can all get behind. 
Walnut Creek Gets Dim Sum
It may be hard for nonlocals to find, as the Creek House Dim Sum Restaurant is tucked away on Parkside Drive between North Civic Drive and North Broadway, but classic dim sum offerings are available. Open for lunch and dinner, Creel House's menu also features the usual Chinese food mainstays.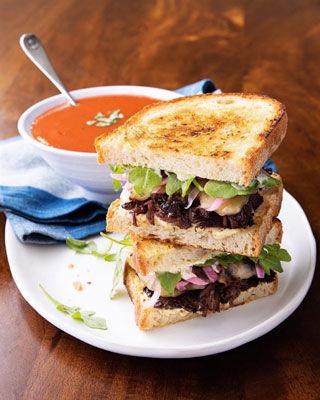 City Center Bishop Ranch Adds Two More Options
City Center Bishop Ranch just keeps making it harder to stay away, with upscale burgers, sandwiches, and salads on the way.
First up is Roam Artisan Burgers, which opened Monday, and its staple grass-fed beef burgers. Also available are patties made from bison, free-range turkey, pasture-fed lamb, and organic veggies.
When Mendocino Farms opens March 14, it will be a kind of homecoming for Ellen Chen, cofounder of the rapidly expanding chain (along with her husband, Mario Del Pero). Chen grew up in Lafayette, and the Contra Costa County location is a natural fit for the high-quality salads and sandwiches on the menu.
Sabio on Main Turns Pleasanton into San Francisco
Well, not exactly; even though the crawl down Main Street can be slow, it's nothing like driving in the city. But what Sabio on Main has imported is the celebration of San Francisco Beer Week, and on Sunday, February 17 from 11:30 a.m. to 3:30 p.m., Sabio and Livermore's Shadow Puppet Brewing Company will add a little punch to brunch.
The house-made Jagerwurst sausage with sauerkraut on a sourdough roll will be paired with Shadow Puppet's Meyer lemon shandy (made with Livermorium IPA). For $20 you get a meal, a drink, and a Shadow Puppet pint glass.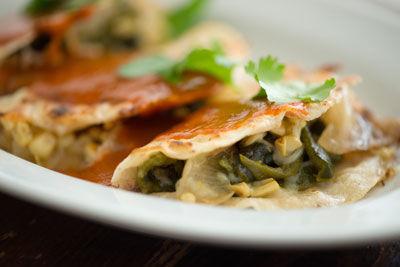 Doña Tomas Extends Its Oakland Restaurant Week Special
The Temescal stalwart will extend restaurant week into restaurant spring by continuing to offer its $30 three-course special (which is regularly priced at $47) until summer arrives—a great excuse to use all that saved money to sample one of Doña Tomas' tasty margaritas.
Steven Kent Winery and Filipino-Inspired Desserts Pair Up
Livermore's Steven Kent Winery is hosting pastry chef Melody Anne Lorenzo of Sweet Condesa Pastries for a Sunday night (February 17) wine-and-dessert pairing. For $50 indulge in guided tasting beginning at 5:30 p.m.
---
Got Dish? Send an email to dish@maildiablo.com. Or follow me on Twitter @DiabloDish.