Casual Italian Joins the Crowd in San Ramon
The third Delarosa—and the first outside San Francisco—greeted its first customers last week in City Center Bishop Ranch in San Ramon, bringing its reputation as a casual but quality pasta and pizza restaurant along with it. Delarosa also has a full bar to accompany the craft beers and California wines.
For now, San Ramon's Delarosa is only open for dinner (Wednesday through Sunday), but expect lunch service to be added soon.
And San Ramon's sparkling new commercial hub isn't yet complete: Bamboo Sushi, billed as the world's first certified sustainable sushi restaurant, is set to open a new branch on December 2.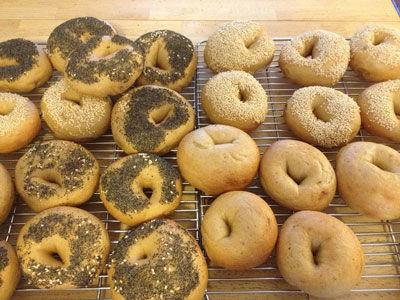 Boichik Bagels Will Be Boiled and Baked in Berkeley
It's been a long time coming, but the eagerly anticipated opening of Emily Winston's New York-style Boichik Bagels at College and Alcatraz in Berkeley is nearly upon us. A soft opening is set for Friday, November 29, at 7:30 a.m.
Classic bagels are boiled, then baked, and Winston's goal of replicating that particular New York flavor prompted one potential customer to ask if she was shipping in water from the Empire State to ensure that old-school flavor. Winston isn't pushing it that far, but if there are any doubters, her simple response is to come by the new store and have them taste for themselves.
Toyosu Now Open on Locust Street in Walnut Creek 
If you like Japanese food, you can eat dinner at a different Walnut Creek Japanese restaurant every day of the week—but if you still need more options, help has arrived. A new Japanese restaurant—named for the famous Toyosu Market in Tokyo—will open next to Massimo Ristorante on Locust Street in Walnut Creek, where Kurumi closed earlier this year. 
Considering there are only two steak places left in the city, it's fair to say that times have definitely changed …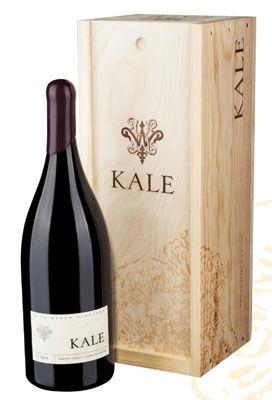 Kale Wines Glide Into Danville's Albatross for 10th Birthday
No, the wines aren't made from kale—though with the way modern menus are going, with kale apparently a requirement in at least two dishes, it wouldn't be that big of a surprise.
Kale Wines is actually an award-winning vineyard that specializes in Rhône wines and draws its grapes from several Northern California locations. On Thursday, December 5, Kale Anderson will come to Albatross for a special six-course, prix fixe meal ($256.50). The 6 p.m. event celebrates the 10th anniversary of the winery, and Anderson will there to present each wine. (Note that reservations must be made by Friday, November 29.)
Preeti Mistry to Narrow Her Focus at Oakland Assembly
The Juhu Beach Club chef and owner will resurface next summer at the Oakland Assembly (if the Jack London Square project stays on schedule) with two separate restaurants—which doesn't sound like simplification, but bear with us.
The two food court restaurants will each zero in on a particular style of cooking, allowing Mistry to work her magic without getting distracted by too long of a menu. Juhu Chinese's menu will, oddly enough, draw its inspiration from Kolkata in India, though from the Chinese immigrant community there—and thus will have an Indian twist to Chinese dishes. Juhu Snacks and Sweets, however, will be more purely Indian, with samosa, dosa, and other familiar items.
Given Mistry's talent and track record, those two outlets alone will make the trip to Jack London Square worthwhile, but that's only the tip of the iceberg.
Celebrity Chefs Struggle in the Competitive East Bay Dining Market
There was a time when Daniel Patterson and Charlie Hallowell were riding high as chefs and owners of wildly popular restaurants (Patterson with San Francisco's Coi and Hallowell with Oakland's Boot and Shoe Service)—but in the rapidly shifting dining landscape, both have taken a step back.
Patterson's latest venture, Dyafa, was originally a partnership with another star chef, Reem Assil, but that quickly unraveled (though the restaurant remains open), and his earlier East Bay ventures have faded from the scene. Now, he has sold Plum Cocktail Bar (it was also known as Ume and Plum Bar) to a pair of local bartenders who will eventually open Viridian at the Grand Avenue and Broadway location.
Hallowell was the focus of the sexual harassment scandals that blew through the Bay Area in 2017, and after some time in semi-exile, he emerged with Western Pacific in Berkeley late last year. But the San Francisco Chronicle, among others, refused to review the new venture, and diners seemed unwilling to give him a second chance, so he recently announced plans to sell the restaurant. Pizzaiolo in the Temescal, however, will remain in business.
Oakland's Shiba Ramen Turns Black Friday into Bar Friday
Whether or not you actually go out and shop this Friday, you can still reward yourself from 4 to 9 p.m. at a special bar night at Shiba Ramen. The Downtown Oakland Shiba (there's one in the Public Market Emeryville, as well) will be offering premium sake, bar bites, and the regular bar menu—though note that not all ramen options will be available.
---
Got Dish? Send an email to dish@maildiablo.com. Or follow me on Twitter @DiabloDish.