Eating Out While Staying In: Keep Our Restaurants Alive
It's amazing how quickly our certainties about the world can be undercut. And as all of us grapple with COVID-19, the comforting ritual of going out for a good meal at a nice restaurant is no longer available—at least for a while.
But if we want to have the same diversity and deliciousness when the pandemic passes, we really need to make a concerted effort to keep our favorite restaurants in business. So, make it a priority to have meals delivered, or take a brief trip for takeout (some spots are offering this), because that's the only way the workers and owners will have a chance to survive what could possibly be a long dry spell.
In fact, you could start tonight by ordering something from the eatery you would miss the most if it closed—and you know, there's no corkage fee at home.
In addition, delivery companies such as DoorDash, Grubhub, and Postmates have started offering "contactless" or "no contact" service to alleviate social distancing concerns. See Eater's roundup and details here.
Consider a Gift Certificate
We also saw this suggestion floating around social media under the tagline #supportsmallbusiness and thought it was a good one. Provided, of course, that you have the means, consider buying a gift certificate from a favorite restaurant with the idea that you can help your local eatery weather the next couple months—and then use it in person once restaurants reopen.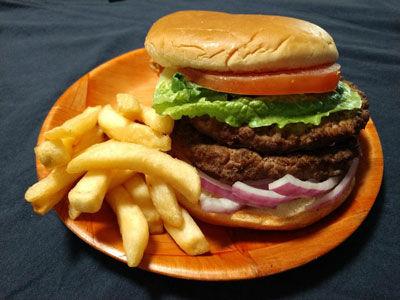 Whiz Burgers Brings a San Francisco Tradition to Dublin
Sixty-five years is a long time to survive in any industry, but especially in the restaurant business. But that's how long Whiz Burgers has been serving burgers, hot dogs and old-fashioned milkshakes in San Francisco.
Though obviously people can't sit down at the newest Fallon Gateway shopping center dining option, ordering to go is certainly a good way to go.
Sesame Tiny Bakery Will Open This Summer, Without the "Abracadabra"
Well, maybe there will be a little magic in Marykate McGoldrick's Sesame Tiny Bakery, which will open inside the second location of the Kebabery on Shattuck Avenue in Berkeley sometime this summer.
Sesame Tiny Bakery will feature, according to the website, "clouds of meringue, crunchy cookies, and thoughtful cakes showcasing seasonal fruits and organic ingredients." Couldn't have said it better ourselves, and we can't wait to check out the cozy space McGoldrick and her goodies will occupy.
New Noodles Fresh Debuts in Berkeley
Another quick option for Chinese food has landed on Shattuck Avenue, but this isn't the first rodeo for Noodles Fresh—well, maybe there aren't rodeos in China—as its El Cerrito original has been thriving since 2015.
And though there will be similarities between the two outposts, the dinner menu in Berkeley will have more options.
---
Got Dish? Send an email to dish@maildiablo.com.