Valentine's Day Already? It'll Come Sooner Than You Think
If you haven't made reservations, there's likely still time—but trying to come up with a reason that you're going out to dinner at 5:15 p.m. is always a difficult question to answer. Here are some great options:
Sabio on Main: The four-course prix fixe in Pleasanton is $85 per person with a $37 optional wine pairing—but note that the green garlic and chili donut choice might not be the best for romantic moments later on in the evening.
Range Life: Livermore's Range Life will offer a three-course prix fixe Valentine's meal for $90—the regular menu will not be available, by the way.
The Peasant and The Pear: The Danville restaurant has an $85 four-course prix fixe scheduled for Valentine's Day.
Homestead: There's nothing like a fireplace for a romantic evening, but Oakland's Homestead is taking it one step further by cooking its rib eye in the fireplace on Valentine's Day. That's one of several choices in the $130 prix-fixe menu (wine pairing for $75 more).
The Terrace Room: The Oakland spot will offer a $68 four-course prix fixe menu.
Duende: One of the meanings of "duende" is spirit, and in the spirit of Valentine's Day, the Spanish-inspired Oakland restaurant will add several specials to its menu—including a 48-ounce, bone-in rib eye steak for those wishing to bolster their macho credentials.
La Marcha Tapas Bar: Tucked away along San Pablo Avenue in Berkeley, La Marcha is a hidden gem—and the six-course, $65 prix fixe is a "Mar y Montaña" special. That is, it's a Spanish surf and turf with a lobster, chicken, and rabbit paella as the centerpiece.
Plāyt: Hayward's "Sideways Southern" specialists will host a $75, four-course prix fixe with seatings at 5, 7, and 9 p.m. There's also an optional $30 wine pairing.
Rockridge Ice Cream and Gelato Tour: Sweets for your sweet is the goal here, as Local Food Adventures has a one-hour, three-stop walking tour from 4 to 5 p.m. that will, as promised, deliver ice cream and gelato. The cost is $15 for children and $20 for adults.
Chocolate Lovers Should Flock to Market Hall Foods
Pre-Valentine's Day festivities, anyone? The 11th annual For the Love of Chocolate celebration is scheduled for this Saturday, February 8 at Market Hall Foods on Berkeley's Fourth Street, featuring numerous chocolatiers, special treats at the bakery and cheese counter, and a duck mole.
There's no charge, and there will be a 10 percent discount on select chocolate products.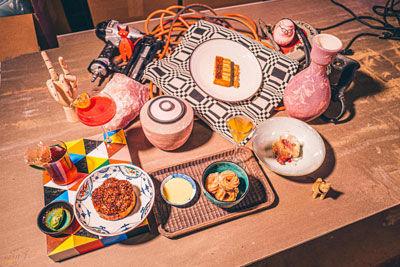 Viridian a Colorful Addition to Oakland's Bar Scene
A quartet of high-powered and experienced bar managers has combined to open Viridian at West Grand Avenue and Broadway (former home of Plum Cocktail Bar) and plan to deliver innovative craft cocktails that combine serious technique and California produce. In addition, there will be small bites, desserts, and dim sum sweets in an atmosphere that reflects both classic R&B album covers and a Hong Kong vibe.
In short, Viridian will be a cutting-edge experience that highlights both Oakland and the Asian roots of its founders.
The Broadway Club Carves Out a New Niche in Walnut Creek
Sure, there are plenty of restaurants, but what Walnut Creek hasn't had is a nightclub with live music, dancing, and a vibrant bar—and that's just what The Broadway Club will be.
It will be located in the old Corner's Tavern space in Broadway Plaza and should give a shot in the arm to the Walnut Creek nightlife scene. 
Koja Kitchen Closes in Downtown Walnut Creek
Despite a prime location at the corner of Mt. Diablo Boulevard and Locust Street, Koja Kitchen has closed its restaurant in Walnut Creek. Koja Kitchen is a Bay Area fast-casual restaurant group specializing is mix of Korean (thus the "ko") and Japanese ("ja") meats and sauces.
Fear not, East Bay diners, you can still get your bulgogi taco fix at locations in Alameda, Berkeley, Dublin, Emeryville, and Fremont, which remain open.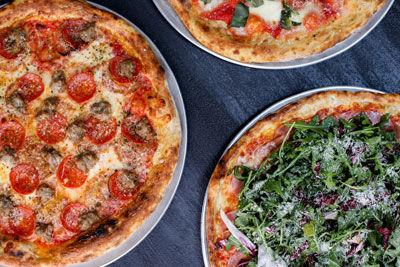 Patxi's Pizza Picks Up On National Pizza Day By Cutting Price
Of course, to get the $9 deal on the 10-inch specialty thin-crust pizza, you have to order another pizza as well. But it's National Pizza Day, so why wouldn't you? The offer is good at all Patxi's, including Lafayette, Dublin, Livermore, and just in case you're traveling, Denver and Seattle as well.
Comal and Fieldwork Brewing Company Join Forces
Comal's special partnered meals are always popular, and when the partner is craft beer favorite Fieldwork Brewing Company, expect tickets for the $75 February 11 and 12 events to go quickly. Alex Tweet of Fieldworkwill be on hand to answer questions about the beers and why they were chosen to go along with the special menu.
Comal Owners Branch Out to the Grand Lake District
Speaking of Comal, the celebrated downtown Berkeley Mexican restaurant is quietly planning a new concept in the former Barlago space on Oakland's Grand Avenue that could be open fairly soon. Fortunately, the owners have some experience to lean on after the success of Comal Next Door, a small take-out spot next to the Shattuck Avenue main restaurant, and The Advocate, the much less successful Mediterranean concept that lasted just over a year in Berkeley's Elmwood district. 
The talk is that their new opening is set for late March or April, and the justified expectation is that more top-shelf food and drink will soon be available—although the exact concept and menu details are still murky.
Albany Brewery to Celebrate Second Birthday
Ocean View Brew Works has become a part of the Albany community in its two years on San Pablo Avenue and will host a free party from 1 to 5 p.m. Saturday, February 8. There will be music by the Seadogs and nautically themed fun to go along with Ocean View's brews and gelato from the Oakland Gelato Company.
Jordanian Street Food Comes to Uptown Oakland
Shawarmaji will, not surprisingly, be serving several varieties of shawarma, including shawarma fries, starting Saturday, February 8. But also expect other traditional street foods from Amman, Jordan, the home of owner and chef Mohammad Abutaha.
Shawarmaji will primarily be a lunch spot Monday through Wednesday (11 a.m. to 5 p.m.) but will offer late-night service Thursday through Saturday (open until midnight).
One Door Closes, and Two More Open
Berkeley's Flavia Osteria didn't have far to go to find a new home—350 feet, according to Google Maps—as the pizza and pasta restaurant simply moved from Center Street to Oxford Street and is now back serving its reasonably priced food.
At the same time, Yin Ji Chang Fen, an international chain with an outpost in Pleasanton, will take over the Center Street space. Yin Ji Chang Fen focuses on rice noodle rolls that are filled with pork, shrimp, or other goodies.
---
Got Dish? Send an email to dish@maildiablo.com. Or follow me on Twitter @DiabloDish.