Make Easter Easier—And Support Your Local 

Chefs

You can still make Easter Sunday special by choosing from an array of takeout options that will remove some of the sting from social distancing—and make your taste buds happy at the same time.

 

Esin Restaurant and Bar: The Danville spot will take phone orders from 10:30 a.m. to 12:30 p.m. through Saturday, April 11 (925-314-0974) for pickup on Sunday between 11:30 a.m. and 3:30 p.m. The à la carte menu has lots to choose from: five starters, six main courses, and four desserts. Regular takeout is available Tuesday through Saturday from 4:30 p.m. to 7:30 p.m. as well.

 

The Peasant and The Pear: Orders for the $75 (serves four) meal (with ham as the main course) must be submitted to the Danville restaurant by Wednesday, April 8, and pickup is Saturday, April 11 from 2 to 4 p.m. Takeout from the regular menu is also available Tuesday through Saturday from 12:30 p.m. to 7:30 p.m.

 

Postino: Lafayette's Postino has a $60 per person prime rib meal on offer, though orders have to be in by Friday, April 10 for pickup on Easter Sunday between 2 and 6 p.m. Takeout meals (and cocktails) are available seven days a week from 11 a.m. to 8 p.m., though note that this Sunday, only Easter meals will be available.

 

Bierhaus: On top of the Home Essentials program that offers food and other items for pickup, Walnut Creek's Bierhaus will prepare either planned menus or à la carte choices for Easter—but orders must be in by Friday, April 10 at 10 a.m. Pickup will be available Saturday, April 11 from noon to 7 p.m. Otherwise, takeout can be ordered Tuesday through Sunday from noon to 7 p.m.

 

54 Mint Forno Italiano: Walnut Creek's 54 Mint Forno Italiano will take email orders for Easter (orders@54mint.com) through Thursday, April 9, with pickup to be arranged by phone.

 

Rockridge Market Hall: While pre-ordering for Market Hall's impressive menu of Passover and Easter dishes is sold-out, items will be available in-store (Rockridge only) on a first come, first served basis. Click here to check out the full menu.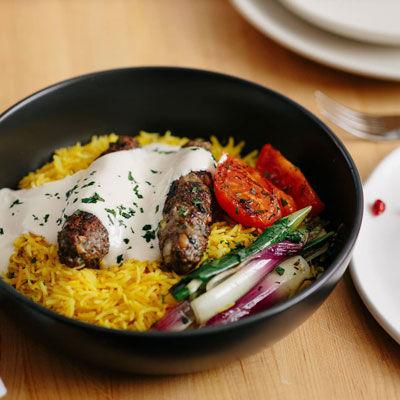 Pomella Takes the Plunge Despite Shelter In Place
A lot of foodies were excited by the prospect of Pomella opening on Piedmont Avenue in Oakland this month, and even though some unexpected issues popped up, Mica Talmor still went ahead with the opening.
Naturally, the successor to her wildly popular Ba-Bite is only offering some of its Israeli-based prepared dishes to take home Thursdays, Fridays, and Saturdays from 2 p.m. to 5 p.m.
Samin Nosrat's Podcast Is a Lifeline For Home Cooks
Samin Nosrat burst onto the public scene with her Netflix series, Salt, Fat, Acid, Heat, and now she's returned to the airwaves with Home Cooking, a podcast about, not surprisingly, home cooking.
Hrishikesh Hirway, who created previous podcasts such as Song Exploder and The West Wing Weekly, is the host. He and Nosrat are joined by special guests who explore basic cooking questions—such as whether or not to soak beans.
The podcast is available through the usual outlets, and the first two episodes—"Bean There, Done That" and "Here's What You Knead to Know"—are already on the air.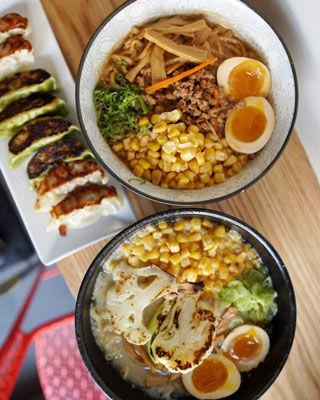 Public Market Emeryville Update: Not Dark Yet
First, Super Duper Burgers is open seven days a week (10:30 a.m. to 8 p.m.) for takeout and delivery, and Minnie Bell's Soul Movement has weekend service from 11 a.m. to 3 p.m. for pre-orders. And Peet's Coffee is also in seven-day-a-week mode, but only from 7 a.m. to 2:30 p.m.
And though Shiba Ramen's outpost inside the Public Market Emeryville has closed, takeout and delivery is still available at the Oakland location—but attention is required to make it work. The Broadway restaurant is open five days a week from 11:30 a.m. to 7:30 p.m., but just to keep you alert, the five days are Monday, Tuesday, Thursday, Friday and Saturday.
During these unprecedented times, Diablo Dish will be keeping a running list all the local restaurants that are still serving food to-go during the Bay Area–wide shelter-in-place order. Support our local restaurants!   
---
Got Dish? Send an email to dish@maildiablo.com.