Let the Revels Begin in Lafayette
"We've been looking for a space in Lafayette for a couple years," says executive chef and owner Curtis DeCarion about plans for a third restaurant in the Esin/Revel family, The Social Bird. When Yankee Pier shut down, that space was located.
The Social Bird—named for "the person who walks around the party, talks to everyone, and has a good time"—is scheduled to open in September on Mt. Diablo Boulevard, but will resemble Danville's Revel Kitchen and Bar much more than Esin. Expect the craft cocktails, small plates, and other touches that have made Revel so popular, as well as a "pretty major remodel" of the space. The new bar will be considerably larger, with horseshoe booths. Overall, it will be a whole new look.
Postino Starts to Repair Fire Damage
It's still too early to tell when Postino will reopen after a fire on April 16 damaged the iconic building. But according to executive chef Stewart Beatty, it will be at least a month and probably longer.
The "probably longer" part comes because "there will be no shortcuts," according to Beatty. Lafayette's Postino will reemerge with the same look and feel as before, even if it takes a little more time.
Most of the damage occurred in the attic and dry wall, but while repairs are happening, the dining room and kitchen will be given a "refresh," to use restaurant lingo. But don't expect major changes. After all, Postino has survived in the sometimes-cutthroat restaurant market for more than 20 years—no need to fix what isn't broken.
We'll keep you posted on how the work is going, and when to expect a reopening.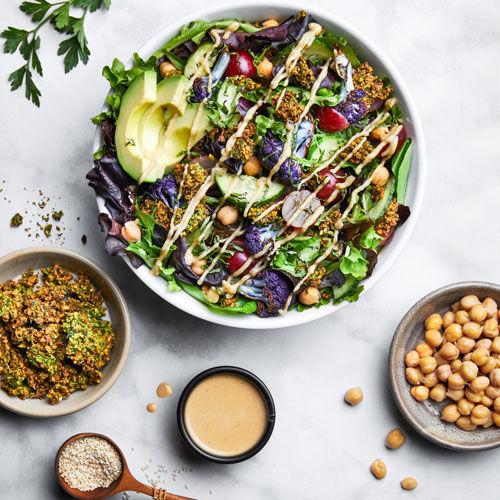 Mixt Makes It Official in San Ramon's City Center Bishop Ranch
Though the salads, sandwiches, and grain bowls that have made Mixt so successful have been available in San Ramon for a couple weeks thanks to a soft opening, the grand opening celebration will be this Saturday, April 27.
This is the second East Bay Mixt. The first opened in Oakland (at Broadway and 23rd) earlier this month. 
Super Duper Burgers for Free? Yes, Please!
Though 100 burger-hungry folks will get a free mini-burger (four ounces) at each of the three East Bay Super Duper Burgers on Monday, April 29, they will have to stand in line for the privilege—and since the annual giveaway starts at 3 p.m., it may take up a bit of the afternoon.
If you're a teacher, though, you don't have to play hooky. The Concord, Berkeley, and Public Market Emeryville eateries will give all teachers (with valid school ID) a free mini-burger or veggie burger from 5 to 8 p.m.
Sounds better than an apple, don't you think?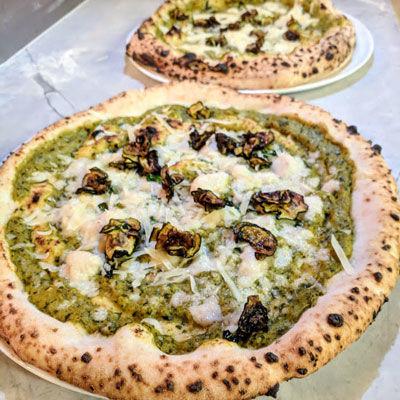 Lucia's Celebrates Gluten-free Pizzas—Plus Gluten-free Beer
Though gluten-free options are always available at Lucia's in Berkeley, the Shattuck Avenue Italian spot will focus solely on gluten-free pizzas and pastas on Monday, April 29.
And to make those pies go down even easier, Lucia's is rolling out some gluten-free beer for the 5 to 9:15 p.m. event.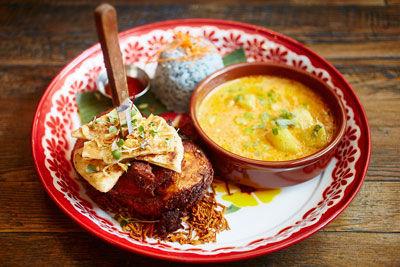 Focus on Southeast Asian Cuisine in Jack London Square
Though Songkran, the Thai New Year celebration, was technically April 13 through 15, Farmhouse Thai Kitchen and Jack London Square are teaming up to bring a slightly tardy version of the festival to Oakland on Saturday, April 27, from 9:30 a.m. to 10 p.m.
The event is free, and there will be plenty of Southeast Asian fare available—Daughter Thai Kitchen, U Dessert, Lapats Thai Noodles Bar, House of Thai, Tycoon, Lapisara, and Pintoh are just a few of the participants—plus beer, wine, and cocktails.
Also look for lots of events, including our favorite: The Som Tum Dancing Competition, which will feature contestants making the traditional Thai salad while dancing. (It might be worth practicing, by the way, as first prize is $1,000 and even the third-place finisher gets $500.)
The day will conclude with a screening of traditional Thai movie Ong-Bak: The Thai Warrior (with English subtitles) on the Harrison Street lawn at sunset.
Share Some Secrets at Alameda's Award-winning St. George Spirits
Lance Winters is always on the James Beard Awards list, and the evening of Sunday, April 28, he will be joined by Christiaan Rollich, author of Bar Chef, for a conversation, cocktail demo, and book signing.
Tickets are $10 for the 6 p.m. event, which promises to be a rare window into one of the East Bay's best-kept secrets.
Of course, St. George Spirits would rather not be that much of a secret, so new tasting room hours have been announced (effective May 1). Visitors to the distillery on the old Alameda Naval Weapons Station site will be able to come Thursday through Saturday from noon to 7 p.m. and Sundays from noon to 5 p.m. 
Smokin' Woods Adds Barbecue to the Menu
After popping up now and again in the Second Half Sports Bar at 43rd and Telegraph in Oakland, Smokin' Woods is taking over the kitchen—which means ribs, brisket, chicken, and links will be available while watching the Warriors try to survive their playoff run, the A's bash home runs, and the Giants just attempt to score a run. 
---
Got Dish? Send an email to dish@maildiablo.com. Or follow me on Twitter @DiabloDish.