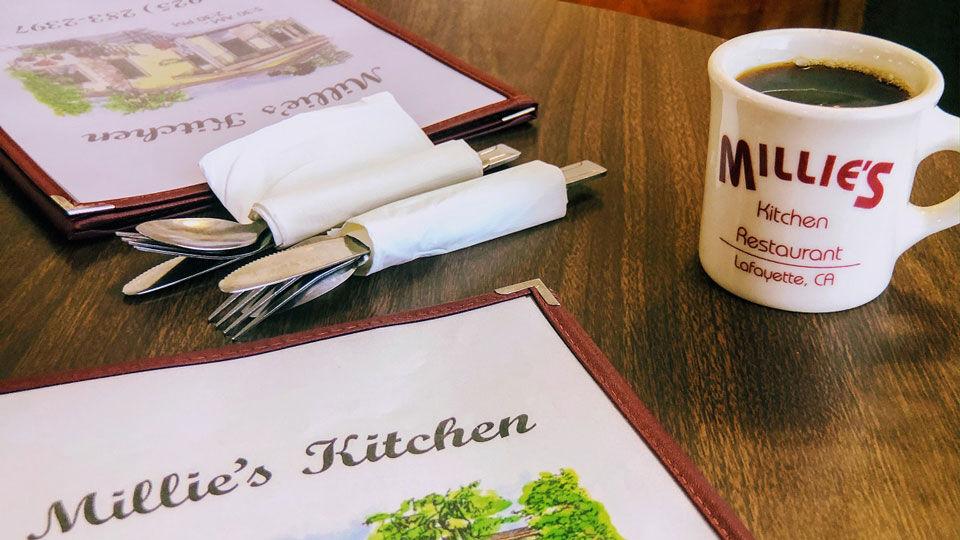 Millie's Kitchen, a Lafayette Institution Since 1967, Changes Hands
The conversation at Millie's Kitchen always seems to start with the coffee cake, but the pancakes were something. And the omelets? And the old-time feel?
Millie and her daughter Eva ran this Lafayette standby since 1965, first in a hole-in-the-wall next to the Park Theater, and then on Deer Hill Road in an old house that became a Lamorinda icon with lengthy lines every Saturday and Sunday morning. Last week, however, customers discovered via a note posted on the door that Millie's had closed—but that it may reopen as soon as January under new ownership.
"To our valued Millie's family," the note read. "With great sadness, Millie's has decided to retire. We have appreciated all of your patronage, friendship, and loyalty over the years."
It's unclear who will take over the restaurant, and whether any of the staff will return, but we know it just won't be the same. Well, maybe if they have that coffee cake ...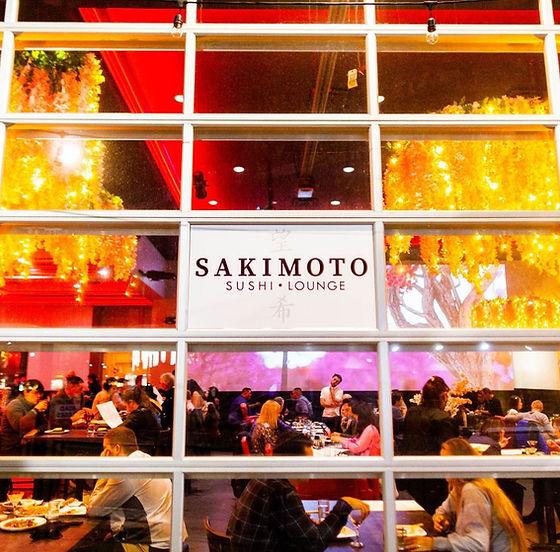 Sakimoto Sushi Lounge up and running in Broadway Plaza
Dish reported earlier this month about Sakimoto Sushi Lounge, a new upscale Japanese sushi and steak concept coming to the former Corners Tavern space. The restaurant is now officially open. Click here to check out the menu, which looks pretty tantalizing filled with special rolls, wagyu beef, Japanese small plates such as poke, karaage fried chicken, and okonomiyaki. Word is that the location's visibility has been impacted by the closure of Broadway Plaza's main thoroughfare (implemented after the high-profile flash mob–style robbery that occurred last month), so make sure to seek this one out.
Lafayette Lands the Fifth Lilikoi Boba
Lilikoi Boba has opened its fifth location in Lafayette, featuring horchata, milk tea and smoothies. Lilikoi—which is the Hawaiian word for passion fruit—emphasizes its use of fresh fruit, and drinks can be ordered with varying degrees of sweetness.
Just across the street from the Lafayette Library on Mt. Diablo Boulevard, Lilikoi is in prime position to not only attract boba lovers, but also students from Stanley Middle School searching for something sweet to drink after the last bell.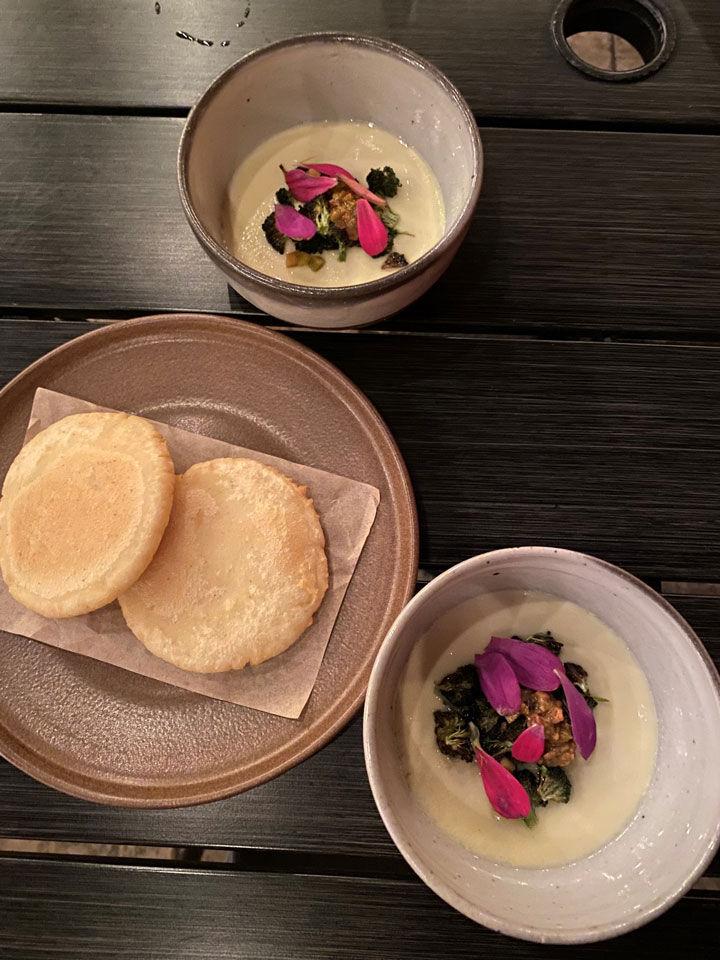 Saying Goodbye to 2021 Won't Be That Painful
Of course, we had hoped we would have at least said goodbye to COVID by now, but no such luck—that means, though, that 2022 is bound to be better. So here are some celebratory options as we wave farewell to 2021, and hope for better news in '22.
Alley and Vine: Alameda's fine-dining spot will go all out on New Year's Eve, with a Glitz and Glamour Gala aimed at bringing back a swinging past. Look for a four-piece band to play those old favorites from Hollywood to a crowd (hopefully) dressed to the nines.
Copper Spoon: The fun begins at 4 p.m. at Oakland's Copper Spoon, and the laughs start at 10 with live comedy from HellaFunny. And if you need a cure for the morning after, chef Lala Harrison from Roux40 will whip a brunch from 11 a.m. to 3 p.m., featuring bottomless mimosas.
Duende: Oakland's Duende will ring in the New Year with some special additions to its usual a la carte menu.
Mägo: A flavorful multi-course meal ($120) with an optional $65 beverage pairing at Oakland's Mägo should help celebrate better days to come.
Sabio on Main: One of the Tri-Valley's best, Sabio on Main will offer a four-course New Year's Eve menu that features seasonal ingredients alongside its usual top-shelf menu choices.
Telefèric Barcelona: Walnut Creek's Telefèric Barcelona will serve special tapas to go along with its a la carte menu, sangria and drinks from 4 p.m. to 10 p.m.
Farmhouse Kitchen Thai Cuisine Spawns Japanese Offshoot, Noka Ramen
Farmhouse Kitchen Thai Cuisine has become one of Jack London Square's favorite spots, and now owner Kasem Saengsawang will add a Japanese restaurant to the Jack London Square mix when Noka Ramen opens early next year.
There will be a rainforest-themed dining room, colorful noodles, and a full bar at the corner of Franklin Street and Embarcadero West.
Babette to Bounce From BAMPFA to the Former Lanesplitter Space
Lanesplitter Pizza and Pub has been serving pizza near the intersection of San Pablo and University avenues since 1998, but that long run will soon end. Babette, which was the café inside the Berkeley Art Museum and Pacific Film Archive (BAMPFA), will leave that location and take over the Lanesplitter spot.
Babette, though, will not be serving those Neapolitan pizzas when it opens in early March, according to Nosh, and will keep the soup, salad, and sandwich menu it offered at BAMPFA.
Roasted and Raw Finds a New Roost in Oakland
After finding an audience as a plant-based pop-up, Roasted and Raw will go brick-and-mortar in early 2022 on Jefferson Street (near 14th).
The eclectic menu will be served in fast-casual format and the health-focused menu should help relieve the stress of working in the nearby high-rises.