OMCA Ups Its Food Game: Tanya Holland On the Way
It won't be until late summer, but when Town Fare—Oakland Museum of California's new café—opens, all of a sudden there will be another reason to visit OMCA (one of our favorites).
Expect Tanya Holland's high-level California soul food (with a vegetable emphasis) to be served in a fast-casual community space. And Town Fare will stay open until 10 p.m. during the justifiably popular Friday Nights at OMCA, when the museum stays open late and hosts live music and food trucks.
All in all, the new spot is a big win for OMCA and another way for folks to experience Holland's celebrated food.
Berkeley Icon Saul's Deli to Change Hands
Saul's Restaurant and Delicatessen, a Shattuck Avenue landmark since 1986, will have a new owner. But at this point, that's about all we know. Presumably the menu—filled with traditional Jewish dishes that have been staples of the North Berkeley experience—won't change much, but we will see.
Concord's Lima to Shut Down Next Month
Another standalone restaurant is closing in Concord's Todos Santos Plaza, as Lima and its authentic Peruvian food will call it quits sometime in March. Sultan's Kebab, which has three other locations (Danville, Pleasanton, and San Francisco), is the likely replacement.
Though there are still some local restaurants—Luna Ristorante is celebrating 20 years—the character of Todos Santos Plaza has slowly been shifting to more regional and national brands in the past year or so. Danville native John Marquez opened Lima to celebrate his Peruvian roots after a successful run in Lafayette with the upscale Artisan Bistro.
Taste of the World Market Returns to Orinda
It's food truck heaven every Thursday night at Orinda Community Center, as Taste of the World has returned to its familiar 5 to 8 p.m. time slot. Along with wine, beer, music, and other fun, look for five different food trucks with lots of international options. 
Oakland's Sobre Mesa Set For Early March Opening
Carving out a niche in a crowded bar market is important, and Alamar Kitchen and Bar owner Nelson German has clearly done his job. Sobre Mesa, which will open in early March in downtown Oakland, will be an Afro-Latino cocktail lounge that will also feature chef-driven bar bites. Sounds like a niche worth exploring.
Ramen Options Arrive in Pleasant Hill
This isn't your typical ramen, but a subgenre called hakata ramen, which is a specialty of Fukuoka, in the south of Japan. No, that doesn't mean you get grits, but rather that hakata ramen has a more limited list of additions to the broth and noodles than other styles.
Haya Ramen will open soon in the downtown Pleasant Hill shopping center.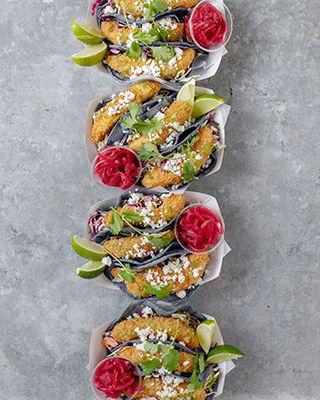 Gott's Roadside Travels in a New Direction
The original Gott's Roadside was, essentially, a burger place—a really good burger place with wine, beer, and quality ingredients. Over time, the menu has expanded beyond burgers, fries, and hot dogs, and now Gott's is going taco.
With the introduction of the avocado tacos at all seven locations on March 6, Gott's will have five tacos on the menu (note that the Walnut Creek branch is already serving the avocado tacos). We have one question, though: Do those rich, thick milkshakes go as well with tacos as they do with burgers? The only way to know, most likely, is to just give the combo a try.
Berkeley Bowl Founder Glenn Yasuda Dies at 85
Founded in 1977, Berkeley Bowl has become so renowned for its wide selection of fruits and vegetables that its two Berkeley stores actually serve as draws for regional and international tourists. The pioneering founder of these iconic stores, Glenn Yasuda, passed away on February 14.
Click here to read a profile from Berkeleyside about this legendary East Bay grocer.
Calabash to Bring a Potpourri of Cuisines to Oakland
What do Caribbean, Iranian, and Malaysian food all have in common? Well, not that much, really, except that the three somewhat-hard-to-find cuisines will all share a home at Calabash later this year.
The restaurant (located on Valdez Street just behind Alamar Kitchen and Bar in downtown Oakland) will feature these three distinct styles of food made by three different chefs sharing a kitchen and a menu.
Eureka! A New Brunch Spot in Berkeley
Eureka! (yes, the exclamation point is part of the name) has started serving brunch on weekends in Berkeley (it's been available for a while in Concord). In addition to the usual suspects on a brunch menu, Eureka! is also offering mimosas and Bloody Marys for just $5.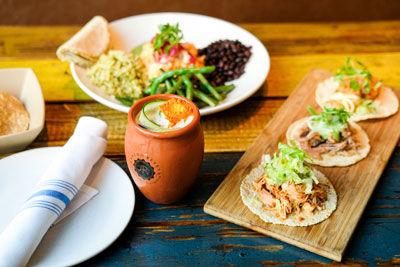 Calavera Celebrates Jalisco, the Home of Tequila
And not surprisingly, Calavera's $80 three-course Oaxacan-based tasting menu on Monday, March 2 will feature lots of tequila to go along with the stylish uptown Oakland restaurant's carefully crafted food. But be warned—these events sell out quickly.
---
Got Dish? Send an email to dish@maildiablo.com. Or follow me on Twitter @DiabloDish.