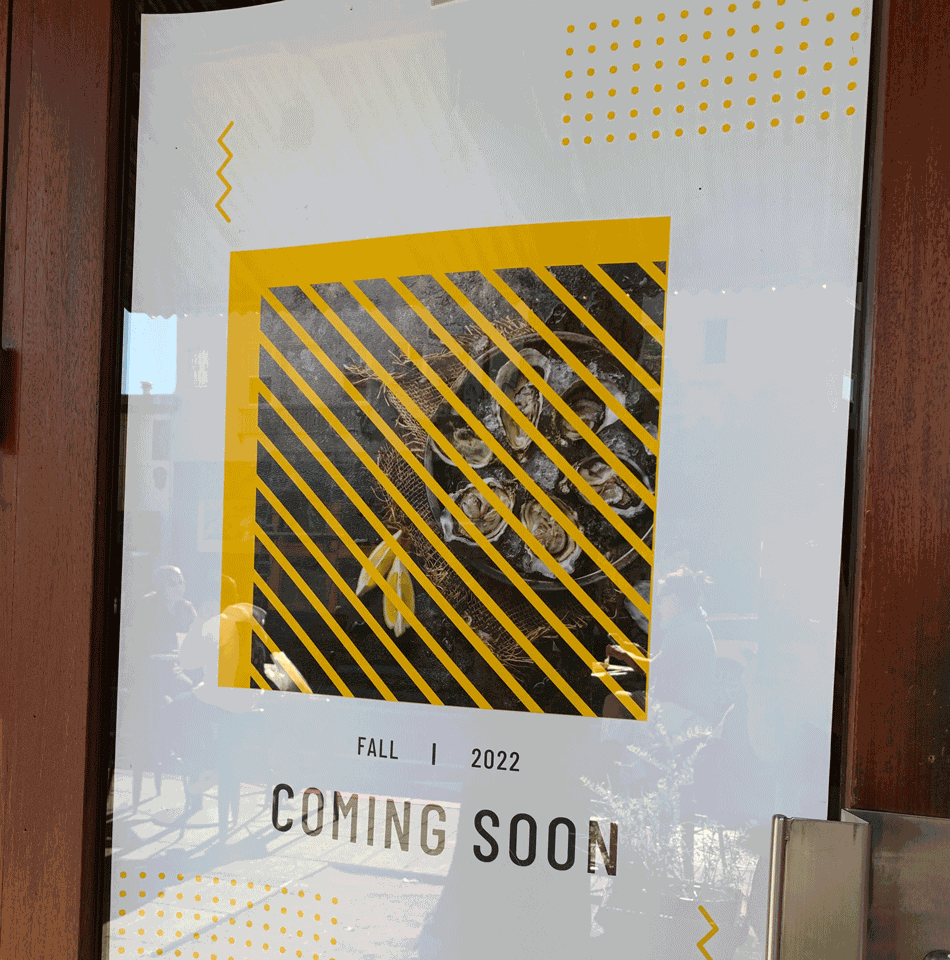 New Concept Teased for Oliveto in Oakland
Famed Oakland Italian eatery Oliveto shuttered at the end of last year (before temporarily reopening and closing again for good in April). Overlooking one of the city's premier locations above Market Hall and across from the Rockridge BART station, East Bay foodies have been anxiously awaiting news on what would be taking over this revered spot.
So far it's been mostly radio silence, but some on-the-ground Dish research revealed tantalizing clues that something is in the works. Firstly, a half dozen or so posters appeared on the building's ground floor windows with the message "Coming Soon, Fall 2022" accompanied by enticing food pics of oysters, artisan cocktails, and grilled fish. The second clue comes courtesy of a note posted on the front door from longtime owners Bob and Maggie Klein that thanks the community for Oliveto's 35-year run. Towards the bottom, however, it also teases the launch of a new restaurant in a "redesigned and refurbished" interior with "a Cal-Med, plant-forward menu."
The note ends by promising that new details will be announced soon. We'll be waiting.
Panama Bay Coffee Co. Finally Opens in Walnut Creek
It's been a long journey, Beyond the Creek reports, but Panama Bay Coffee Co. has opened its castle-like doors at the corner of Bonanza Street and North California Boulevard.
It took seven years for the fourth Panama Bay location to open in the distinctive brick building that used to house Yogurt Park—across the street from what was Festival Cinemas. Expect plenty of coffee options and, of course, some sweets to go along with the caffeine.
Walnut Creek's Buon Vino Is on the Move
If you've stopped by the Locust Street location of the Walnut Creek wine shop, you've noticed the doors are closed—but fear not, Buon Vino and its tasting room will soon be have a new home.
And given that basketball is in the news right now, note that co-owner Katie Batlin was a star at Miramonte High School and later played for St. Mary's College before shifting from V-cuts to vines.
The Alarm Sounds for Orinda's Sweet Dreams
After a quarter-century run, Sweet Dreams has shut down its candy store in Orinda's Theatre Square, so it's now necessary to go to Berkeley to get that particular sugar fix. The Sweet Dreams there is on College Avenue, a couple blocks north of Ashby Avenue.
To Get a Line on The Line Coffee, You Have to Get in Line
In these connected days, it's almost unthinkable not to be immediately available at all times, but newly opened The Line Coffee doesn't have a phone number or an email address. So you just have to head on down to Telegraph and Ashby avenues (across from Whole Foods) to find out exactly what's available day-to-day.
Nosh reports that, of course, there's coffee (the beans are roasted in Vallejo), as well as baked pastries, sandwiches, and quiche, with occasional vegan options.
Hotbird Comes to Roost in Oakland
Yes, there's another seriously spicy chicken sandwich option in Oakland, as Hotbird has moved from its old location in the Twitter building in San Francisco. Along with the usual fried chicken sandwich (with spice levels ranging from no heat to burnin'), also look for fried fish sandwiches, Nashville fish and chips, and salads and greens.
And if you find you've gone a little too high on the spice meter, there are craft beers and soju cocktails available as well at 20th Street and Telegraph (near Shake Shack).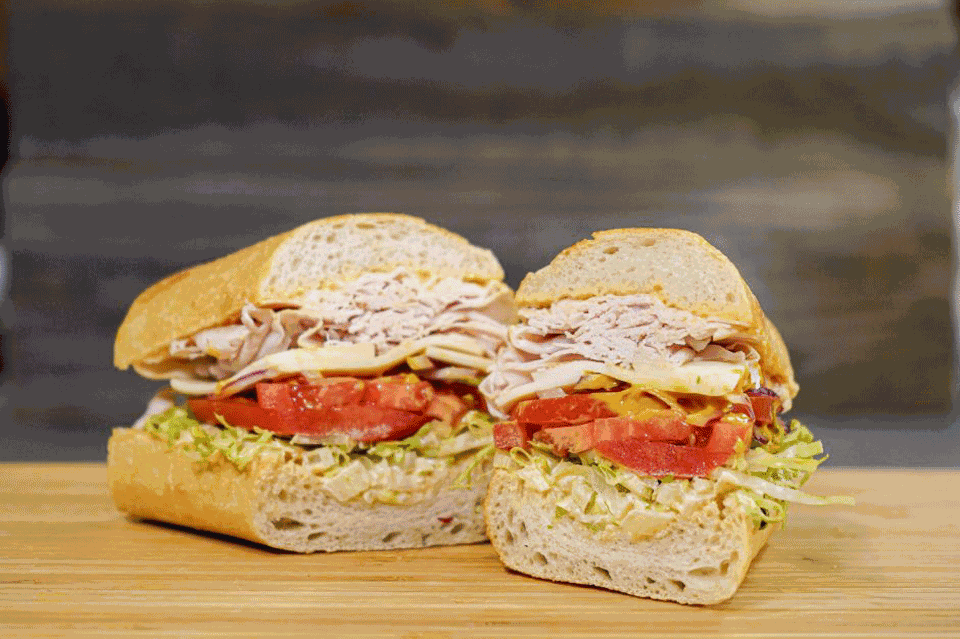 Sourdough and Co. Brings Its Specialties to Berkeley
Sourdough and Co. keeps it simple: Sandwiches, soups, salads, and some more sandwiches—and its 47th location on Haste Street just up from Telegraph (near Amoeba Music) seems perfect for a student clientele.
Sourdough and Co. can also be found in Brentwood, Dublin, and Walnut Creek, but the Berkeley location is its first west of the tunnel.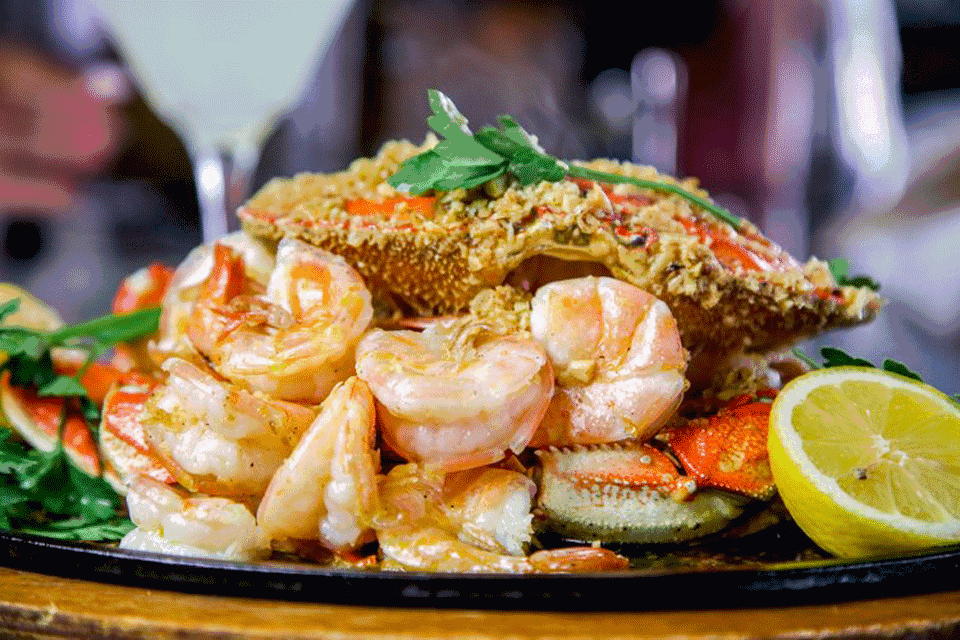 Brentwood's Burgeoning Scene Adds Four More Options
You may have known that Brentwood has a bigger population than Petaluma, San Rafael, and Cupertino, and more people than Lafayette, Moraga, and Orinda combined, but we're guessing you didn't know about the four coming attractions that will add to the city's restaurant roster.
Three of the four are major chains, but there's a reason that chains are successful: They deliver a tasty, consistent product at a reasonable price, and there's a lot to be said for that.
Station 16: The one newcomer that isn't a major chain is Station 16, soon to open just off Highway 4 at Sand Creek (in the Sprouts Farmers Market shopping center). This will be only the second Station 16 (the first is in Sacramento), and it focuses on seafood. Note that there's also a lengthy list of craft cocktails, which you will not find at the next three places.
Bonchon: The 10th Bay Area outpost of this international chain is also on the way (in the Home Depot shopping center near Lone Tree Way and Highway 4). Bonchon specializes in Korean fried chicken, but there are also plenty of other options, such as bulgogi, japchae, bibimbap, and kimchi.
The Cheese Steak Shop: If appetites differ after trekking through Home Depot, The Cheese Steak Shop will soon join Bonchon in the same shopping center. And we'll let you guess what dominates the menu …
Jollibee: On the other side of Highway 4 at Lone Tree Way and Empire Avenue, Jollibee also serves up fried chicken, but in addition, offers spaghetti with palabok, which may seem unusual but it clearly works. The Brentwood spot will be the 11th in the Bay Area, and there are more than 1,300 worldwide.