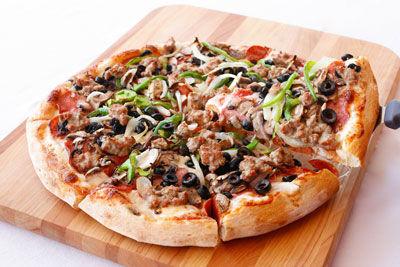 Alliteration Alert: Porky's Pizza Palace Pops into Pleasanton
The San Leandro staple (since 1963) will open a second location at Hopyard Road and Valley Avenue—slated for the second week of March—taking over the spot formerly occupied by Straw Hat Pizza.
Of course, there's the usual selection of pizza, but Porky's also moves away from its name by offering specialty chicken pizzas, dinner plates, and eight to 50 piece buckets. But to keep the alliteration going, Porky's Pizza Palace also prepares pasta.
Sweet News: Brown Sugar Kitchen Is Finally Open
So there are two ways to find the long-awaited revival of Tanya Holland's Brown Sugar Kitchen: Put "2295 Broadway, Oakland" into Waze, or just head to Oakland's Uptown and look for a long line of hungry customers.
Yes, even though Holland's second iteration of her groundbreaking restaurant, which opened last week, has room for 85 diners in its 4,000-square-foot space, it still won't be easy to find a seat for breakfast or lunch (7 a.m. to 2 p.m. Wednesday through Saturday, and 8 a.m. to 2 p.m. on Sunday.)
And in case you've just emerged from a yearlong sabbatical from media coverage of the food industry, Holland has become one of the most recognizable chefs in America due to her revolutionary take on Southern soul food. The latest BSK will feature such favorites as chicken and waffles, oyster po'boys, and shrimp and grits—and the menu will expand when dinner service is added later this spring. 
Livermore Shuffles the Pizza Deck on First Street
Cravings Pizza closed its doors not long ago on First Street, but moving right in is another pizza parlor, Cloud 9 Pizzeria. Like Cravings, Cloud 9 will offer Detroit-style pizza, as well as Neapolitan. Unlike Cravings, however there are no pasta options—at least for now. But Cloud 9 has partnered with Batch Craft Soda (soda made from pure cane sugar and produced locally) and Paisley's Pantry (fresh baked goods made with natural ingredients) to bring you tasty drinks and sweets.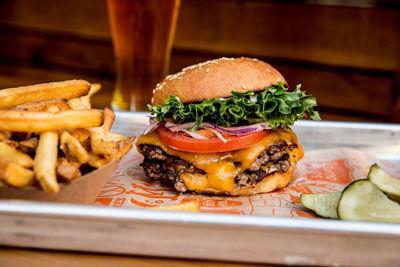 Here's a Trivia Question: Does Public Market Emeryville Have a Super Duper Burgers?
As of this past Monday, the answer is yes, and next Tuesday, you can also join in the Public Market's weekly Trivia Tuesdays with even more (hopefully) correct answers.
The new Super Duper Burgers is the 15th in the Bay Area, and the third in the East Bay (the other two are in Berkeley and Concord).
More Food Options Coming to The Orchards
Apparently the demand for Thai food is pretty much inexhaustible, as Walnut Creek will gain another spot soon as Thai Thani is slated to move into The Orchards at Ygnacio Valley and Oak Grove roads.
In addition, Sourdough and Co.—which offers sandwiches, soups, and salads— snagged a spot in the unfilled shopping center too. This is not the first Sourdough and Co. location in the area (the nearest is in Dublin), but it's the first in Walnut Creek.
There's no information yet as to when either restaurants will open, but they're on the way.
Calavera's March Menu Focuses on Mexico City
Oakland's Calavera recently started featuring rotating menus highlighting regional Mexican cuisine every Wednesday at its Uptown location. This month showcases street food from Mexico City. That means high-end versions of dishes such as barbacoa flautas, pollo tamales, and huitlacoche (aka Mexican "truffles") huaraches, which of course can be washed down with traditional Mexican specialties from the full bar. 
---
Got Dish? Send an email to dish@maildiablo.com. Or follow me on Twitter @DiabloDish.