Winner, Winner…
So, it all started with Sauced BBQ and Spirits in Livermore, which has since expanded to Walnut Creek, Sacramento, and San Jose. Success breeds success, so Plucked Chicken and Beer—an offshoot of Sauced by the same owners, cousins Barrett Gomes and Brenden Scanlan—then launched in 2018. Right now, there are branches in Pleasanton and San Ramon, and it appears that a third location will soon come home to roost in Livermore. It will join Sauced on First Street, taking over the space formerly occupied by Cloud 9 Pizzeria (which, alas, shuttered at the end of last year).
Set Out Early for Saturday's Horn Barbecue Pop-Up
On Saturday, people will flock to the East Bay for the Horn Barbecue pop-up in Alameda. Chef-owner Matt Horn only cooks as much of his extra-wonderful barbecue fare as his 500-gallon smoker can hold, which means that even though the planned starting time is 1 p.m., expect the line at Hanger 1 Distillery in Alameda to start forming long before. How early? We'd guess no one will be camping out overnight, but don't be surprised if a few early birds are there to greet the dawn.
It could be worth the wait, however, as this might be your last chance to sample this renowned pitmaster's food for the foreseeable future. Horn is having trouble navigating Oakland bureaucracy in opening his first brick-and-mortar location in Tanya Holland's former Brown Sugar Kitchen space in West Oakland. We wish him luck.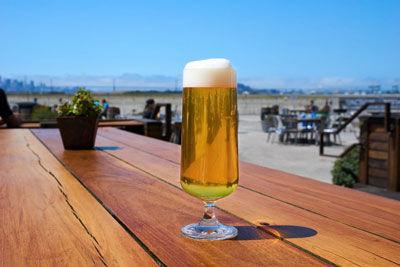 Faction Brewing Heads to Telegraph Avenue
Anyone who's had the pleasure of discovering Spirits Alley—the collection of artisan distilleries and tasting rooms dotting Monarch Street at Alameda Point—has probably enjoyed the panoramic San Francisco views on the outdoor patio of Faction Brewing. Looks like beer geeks will no longer have to venture to the outer tip of the East Bay to enjoy that plethora of IPAs, as the brewery just announced it is opening a second location in Oakland's always-hopping Temescal district.
The new taproom is expected to take over the former Hawk and Pony coffee shop at 4210 Telegraph Avenue. No word yet on when it will debut, but owners did stress that their idyllic Alameda locale will remain open.
Sharetea Settles Into Orinda
Sharetea's worldwide empire has decided that Orinda is ripe for conquest, as its latest location opened up there last week. (There are also outlets throughout the East Bay, including in Concord, San Ramon, and Livermore.)
Not surprisingly, there are a lot of teas on the menu, ranging from fruit varieties (mango and passion, peach kiwi with aiyu jelly, and winter melon lemonade, just to name a few), to milk teas (Thai pearl, matcha red bean), to brewed classics (black, green, and oolong). Customers can also specify sugar levels, ice content, and even add toppings.
James Beard Rounds Up the Usual Suspects
Stop us if you've heard this: James Syhabout of Commis, Great China in Berkeley, Yoshihiro Sako of Den Sake Brewery, and Lance Winters of St. George Spirits are all semifinalists for the 2020 James Beard Awards. Of course, Syhabout's Commis is the only two-Michelin-star restaurant in the East Bay, so his nomination for best chef in California comes as no surprise.
Great China's wine program, Sako's artisan sake, and Winters's mastery of traditional spirits earned them spots, as well, and finalists will be announced March 25. The winners will be honored in Chicago on May 4.
Palmetto Prepares for Uptown Opening
The buzz is already building for Palmetto, which will move into Flora's old space in Uptown Oakland. Look for a mid-March opening, and expect steaks, chops, and cocktails. And don't be surprised if there are some special tropical drinks on offer, as owners Christ Aivaliotis and Matt Regan also run Kon-Tiki, a tiki bar just a few blocks away, and plan to open a similar Polynesian-themed watering hole in the adjacent bar space that formerly housed Fauna.
Here's How Exits Oakland
There's an inherent conflict between a successful bar and the folks who live upstairs, and Here's How was the latest business to lose in that long-running war. Oakland's Here's How opened last April pretty much right across from the Fox Theater and steps away from the 19th Street BART station, but neighbors were not happy with the noise and loitering they perceived as serious issues. Last week, owner Jennifer Colliau called it quits, citing ongoing legal costs as a major factor, but in truth, there's really never a winner in situations like this.
Flowers Will Bloom at Danville's Esin
Esin and Flowers Vineyards and Winery will join forces for a $95 four-course prix-fixe menu at 6 p.m. on Tuesday, March 10. Space is limited for the event, which includes Dungeness crab risotto and grilled filet mignon on the menu.
Yum Squared Thai Cuisine Makes the Math Work in Concord
The Shops at Todos Santos has added another option, as Yum Squared Thai Cuisine has opened where Woung Luang Thai used to be, next to the Old Spaghetti Factory. The menu features the typical Thai standards plus several fried-rice choices.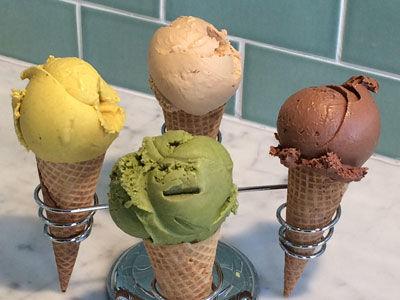 Mr. Dewie's Continues to "Cashew" In; Cream Pulls Back
No, cashews are not the first things that come to mind when you think "ice cream," but Mr. Dewie's Cashew Creamery is changing that perception, as it will soon expand to Oakland's Piedmont Avenue. (It also has locations at Emeryville Public Market and in Albany.) Before you discount the idea, give these cashew creameries a chance.
Meanwhile, Cream shut down its Rockridge shop this month, though it's still serving ice cream sandwiches, malts, and other frozen treats in Walnut Creek, Concord, Livermore, and Berkeley.
---
Got Dish? Send an email to dish@maildiablo.com.