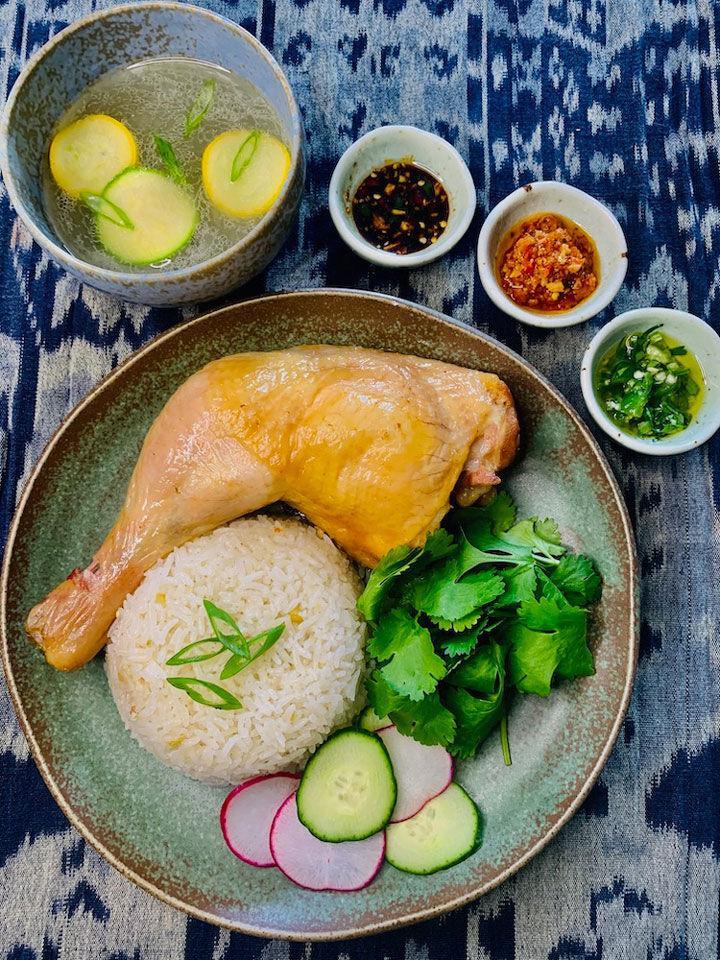 Table at 7 Will Take Over Prima Spot in Downtown Walnut Creek
Prima was a classic Italian restaurant that helped define downtown Walnut Creek as a dining destination—but its replacement is all 21st century.
Table at 7 will feature the Singaporean/Indonesian recipes from chef Nora Haron—including signature dishes like her Singapore chicken rice and laksa raviolo—but with the added twist of Northern California influences and ingredients. The exact arrangement is a little complicated: The restaurant is owned by Singaporean café chain Singapore Kopitiam LLC with Haron as the consulting chef, but expect a "seasonal, dynamic, and culturally complex" menu and food that is "contemporary, bold, fresh, veg-rich, fresh herbs and spices-forward, comforting, and sophisticated."
Look for mid-June opening. In the meantime, Haron will continue to run her monthly Indonesian Mexican pop-up IndoMex—which celebrates its one year anniversary this Sunday, April 25 from 11am-1pm at Xingones—with the goal of eventually securing a full-time brick-and-mortar location in Oakland.
Wingen Bakery Replaces Livermore's Casse-Croute
Aimee and Bryan Wingen will be upgrading the Livermore pastry experience with the addition of Wingen Bakery at South Livermore and First streets where Casse-Croute used to be. They have worked at Range Life—the incubator, it seems, for a lot of Tri-Valley kitchen talent—but also have experience in Oakland restaurants such as Homeroom and Homestead.
Though the doors haven't opened yet, according to Nosh, bread and bagels are available online.
"Top Chef" Competitors Combine for a Special Weekend at Alamar Kitchen and Bar
Nelson German, the chef at Oakland's Alamar Kitchen and Bar and Sobre Mesa, and Byron Gomez met on Bravo's Top Chef, and hit it off so well that the two agreed to put together a special eight-course menu at Alamar April 28 and 29.
There will be two seatings each night. The 5 p.m. seating will be $165 with an optional cocktail pairing, and the 8:30 p.m. seating is $230 including the cocktails. In addition, both chefs will be there, sharing stories and insights into a menu that will reflect their Latin backgrounds.
Spread the Baking Love
Also in Oakland, there's a very cool fundraiser in the works centered on raising money for and addressing the spate of anti-Asian violence that's taken place recently in the Bay Area. Bake Love, Not Hate is essentially a super-sized bake sale featuring delicious goods from all-star local bakeries such as Firebrand Artisan Breads, La Farine, Boichik Bagels, and more. The bake sale itself is happening in downtown Oakland on May 1 with a silent auction the day prior. Check out all the details here.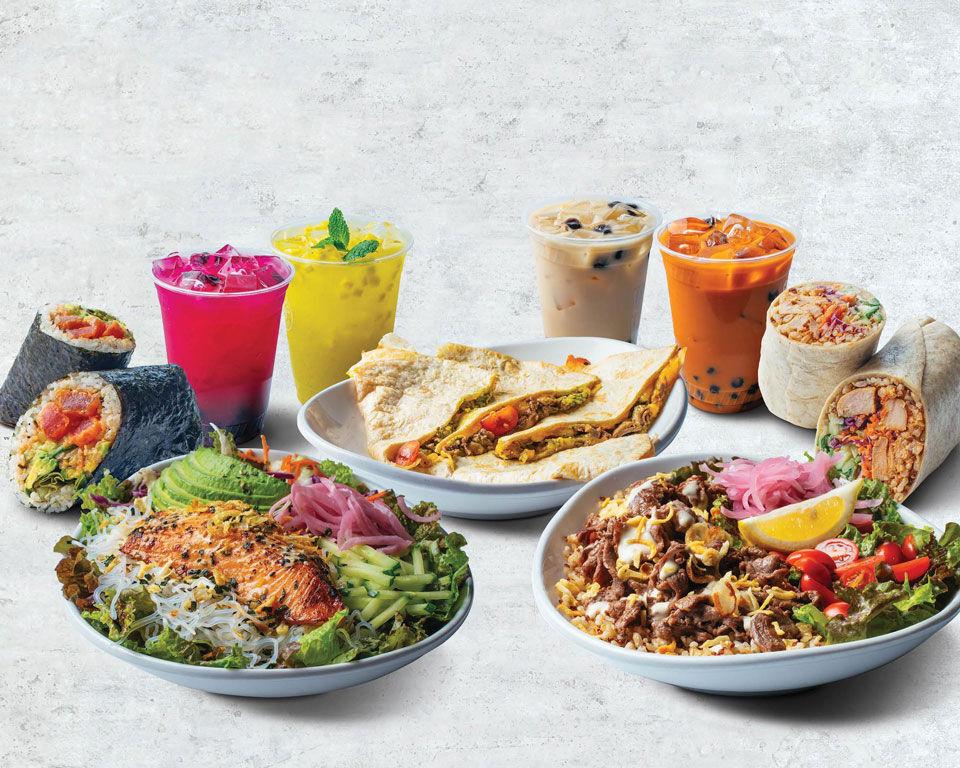 World Wrapps Has Arrived in San Ramon's City Center Bishop Ranch
As the name would suggest, World Wrapps explores a lot of options on its menu, ranging from burritos to paella to shawarma, with flatbread, rice paper, and nori wraps. There are also salads, bowls, and vegan options.
This is the first East Bay World Wrapps, though there are four others in the greater Bay Area.
Red Bay Coffee Banks on Oakland Expansion
"Ambitious" could be the right word for Red Bay Coffee's major investment near the Fruitvale BART station in Oakland, as the popular roastery has remade a 1920s bank building into a café and events center.
The ground floor will be a showcase for Red Bay coffee, with the usual range of options, plus teas and a mixture of sweet and savory offerings from the kitchen. Upstairs will host a variety of events, and owner Keba Konte hopes it will serve as a hub for the community.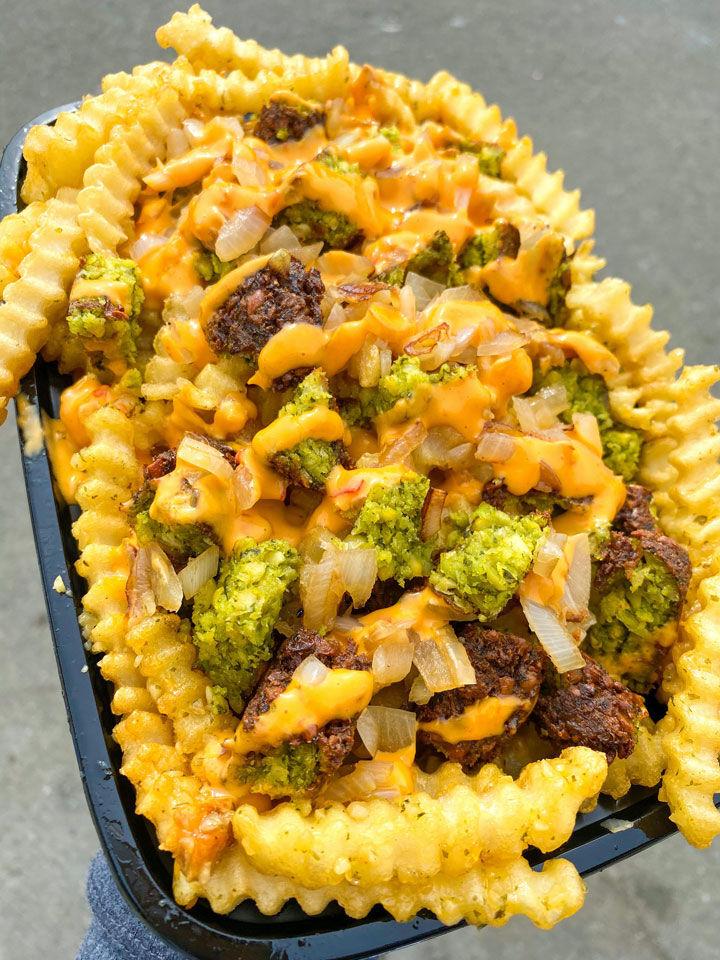 Iniburger Makes Falafel Fans an Offer
From Wednesday through Saturday, the Iniburger outlets in Pleasanton and Fremont will make it easier to indulge in its popular falafel, as orders of their falafel burgers will be accompanied by a free side of falafel fries, a new menu item.
And if you can't get enough falafel, free is a pretty good price.
Resilience Fund Offers a Lifeline to Small Restaurants
Alameda County restaurants struggling to survive may be eligible for $3,500 grants from the Restaurants Care Resilience Fund, with priority given to businesses run by women or people of color. In addition, the fund is also aiding restaurant workers with hardship grants.
The fund operates in eight counties, but is looking for sponsors to help expand the program so more help will be available to more restaurants and more workers.
More Openings Mark a Restaurant Rebound
Nosh reports that MeloMelo Kava Bar in Berkeley and Shiba Ramen in Oakland are both back up and running after pandemic shutdowns, which is good news on several fronts.
First, it's great for the two businesses and their customers, who again can enjoy hand-pressed kava root drinks (MeloMelo) and casual Japanese dining (Shiba Ramen, and note that the Shiba Ramen in the Public Market Emeryville has been open through most of the pandemic).
Second, it's more evidence that restaurateurs are feeling more confident and are willing to staff up, open doors, and start serving hungry customers once again.