You Needed Top Dog—Now Top Dog Needs You
You're 22. It's midnight on Thursday in Berkeley, and after a few beers at Kip's—and maybe a puff or two from a hand-rolled item that a friend pulled out of his pocket—you realize there's one place in the world you absolutely need to be at right now, if not sooner: Top Dog.
So you hike up a few blocks on Durant, stand in line, and finally order your bockwurst. You can smell and almost taste the ones already being devoured around you, and when your dog finally comes (it seems like it took forever), you put the mustard on it (no sauerkraut or ketchup for me), head outside, and take that first bite.
You say to yourself: "This might be the best thing I've ever eaten." And the rest of that bockwurst is gone in a heartbeat.
But if future generations are going to share this experience, fans of Top Dog need to help out by supporting the Save Top Dog GoFundMe, an effort started by Walnut Creek restaurateur Jim Telford (Residual Sugar and Rooftop) after the born and raised Berkeley-ite read about Renie and Dick Riemann's struggles. Out of principle, the libertarian-leaning owners have refused to accept federal assistance since the shutdown.
Yes, there are a lot of good causes right now, and this one might not be as mission critical as others, but still … if Top Dog disappears, one of the most vibrant threads in the Berkeley cultural fabric will be lost forever. 
For Patxi's Pizza Fans, "Half-Baked" Is a Good Thing
One problem with take-out is that by the time the food gets to the table, it's cooled off—sometimes by quite a bit. And though reheating in the microwave works perfectly some of the time, it's not ideal.
So Patxi's Pizza—the deep-dish folks with locations in Lafayette, Dublin, and Livermore—is sending its pizzas "half-baked," which simply means the final heating takes place at home, and the pizza comes out of the oven at the perfect temperature.
And on top of that, Patxi's now has a Date Night Special, which consists of a 10-inch specialty pizza, two starter salads, a dessert or appetizer, and a bottle of house wine, all for $50.
Livermore's Garré Vineyard and Winery Feeds Kaiser Workers
With help from donations by Sysco, US Foods, and the Chefs' Warehouse, Garré Vineyard and Winery has started getting meals to 100 Kaiser caregivers each day—for free. The complete meals are delivered to the Dublin, Pleasanton, Livermore, and San Ramon Kaiser locations on a rotating basis.
To keep the program going, though, support is needed. As it turns out, one of the most expensive items in the meal kit is a container that allows the food to be stored and then reheated, so workers can eat when they have time. And there's a GoFundMe page for that, as well as another GoFundMe page for ingredients and other expenses.
The DeCarion Restaurants Settle In
Curtis and Esin DeCarion run three of the most popular restaurants in Danville and Lafayette—Esin, Social Bird, and Revel Kitchen and Bar—and they've now pretty much finalized their COVID-19 plan of action. Each restaurant is open for take-out from 4:30 to 7:30 p.m. Tuesday through Saturday and will begin taking preorders at 1 p.m.
And as always, we urge fans of these or any other favorite restaurants to order to-go as much as possible so that when we can actually go out to eat again, there's somewhere to go to do so.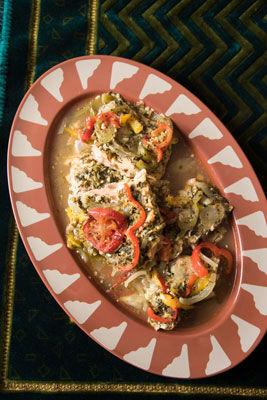 Mama Lamees Now Open For Pickup and Delivery in Emeryville
Mama Lamees was one of the top 100 restaurants in the Bay Area last year, according to the San Francisco Chronicle, and the kiosk in the Emeryville Public Market is now offering family meals for five with three appetizers, three choices, and dessert for $100.
Oakland Restaurants Reach Out to the Community
As with many others in the industry, alaMar Kitchen and Bar and Mr. Espresso are looking past their own struggles to help others. Both are supporting the nationwide LEE Initiative—in fact, alaMar is now an official LEE Initiative restaurant worker relief center and is producing hundreds of to-go meals daily for those in need, specifically restaurant workers laid off during the crisis.
Mr. Espresso, along with helping the LEE Initiative, has donated more than 2,500 pounds of coffee to a wide variety of organizations in a continuing effort to help mitigate the impacts of COVID-19.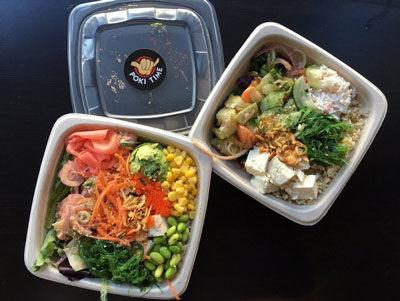 Local Food Hall Increases Delivery Options in Berkeley and Oakland
A "ghost kitchen"—that is, a kitchen that allows chefs and restaurants to focus on cooking for take-out—makes it easier to deliver meals to hungry customers, and San Francisco-based Local Food Hall has just opened one in Berkeley.
What that means is food from Dosa by Dosa, Poki Time, Park Gyros, and Amici's East Coast Pizzeria is now much easier to get through Caviar's delivery service—though note that Caviar doesn't take food through the tunnel to Contra Costa County.
During these unprecedented times, Diablo Dish will be keeping a running list all the local restaurants that are still serving food to-go during the Bay Area–wide shelter-in-place order. Support our local restaurants!   
---
Got Dish? Send an email to dish@maildiablo.com.