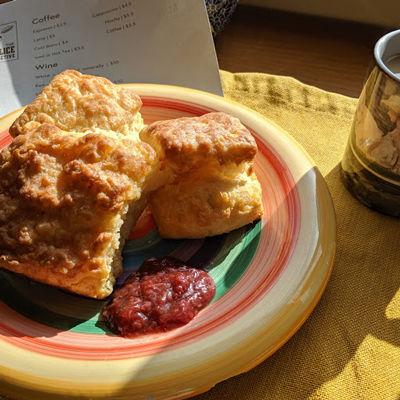 Biscuits, Bourbon, and Books
The long-shuttered building that used to house the Holmes Book Company on 14th Street (between Webster and Alice) has reemerged as home to The Alice Collective and its eclectic mix of biscuits, bourbon, and bookish history.
Buttery biscuits, coffee, fruit juice, and other non-alcoholic drinks are available Monday through Friday from 8 a.m. to 3 p.m., with breakfast served until 11 a.m. At that point, the bar will open, featuring refreshing cocktails suited for the middle of the day—the perfect time to enjoy the displays of books and local artwork.
The Alice Collective is also the home of Metal and Match, a full-service catering company, and many community events (which is why the bar is only open during the day). Also in the building are three other food businesses: Oak and Fig Baking, Good To Eat Dumplings, and Tacos El Precioso.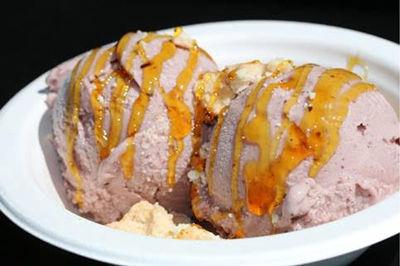 Free Ice Cream in August? Humphry Slocombe Says, "Yes"
First, the important stuff: Freebies are available at the Humphry Slocombe outlet at Ashby and College on Thursday, August 1 from 5 to 6 p.m.
And what are these freebies? I thought you'd never ask—mini Imperfect Berry parfaits. They're called "Imperfect" because the ice cream company has just begun collaborating with Imperfect Produce, an online grocer that gets ugly produce and surplus food directly from the source and delivers it to customers' homes. Also in the mix is Renewal Mill, an ingredient company that takes food byproducts and "upcycles" them into premium products.
So to celebrate, get your free Imperfect Berry Pie ice cream flavor with coconut oakara cookie crumbles and bourbon caramel on Thursday. But be prepared to wait—"free" always seems to draw a crowd.
Bubble or Boba? It's Boom Time for These Teas
Milk Tea Lab has opened its eighth outlet (there's one in Pleasant Hill), and will bring bubble tea (or boba tea) to the Vineyard Shopping Center in Concord (Ayers and Clayton roads).
In addition to the tea, milk and toppings drinks, and some food options, Milk Tea Lab also has an extensive collection of Asian board games that are quite rare. So you can both imbibe boba tea and kibitz board games at the same time—who could ask for more?
Savor Sicily at Walnut Creek's Benvenuti Ristorante
The Broadway restaurant, Benvenuti Ristorante, (right across from the library) is offering a $40 three-course prix fixe on Wednesday, July 31 that focuses on the island of Sicily. Diners can choose between one of two fish entrees to go along with garlic bread, salad, and dessert—and note the regular menu is also available.
Part of the East Bay Will Follow the Warriors to San Francisco
Sure, some East Bay fans have made the hefty investment in season tickets at the new Chase Center and will brave the traffic to watch the Dubs try to get back to the Finals, but the sense of abandonment is palpable near the Oakland-Alameda County Coliseum.
However, two local food vendors will have a home in the Chase Center, including Oakland's Bakesale Betty and Berkeley's CC MADE. Bakesale Betty's tiny storefront near Telegraph and 51st always has long lines for its chicken sandwiches and sweet treats, and since lines are a staple at sold-out arenas, at least that will be familiar. CC MADE specializes in caramel and its various incarnations in popcorn, brittles, and sauces, and Chase Center will be its first retail outlet.
Another One Bites the Dust: Dreyer's Ice Cream Parlor Closes
The Rockridge area has been home to a Dreyer's ice cream outlet since the 1970s, and the Dreyer's Grand Ice Cream parlor has been in its present location since 2008. But the economic realities of today's restaurant industry—and a decision from the Swiss owners of Dreyer's, Nestle—led to the closure.
In an area focused on unusual flavors and odd combinations, the comfort of an old-fashioned ice cream shop with old-fashioned flavors and options was welcome, and losing one—especially such a long-standing favorite—is a bit painful.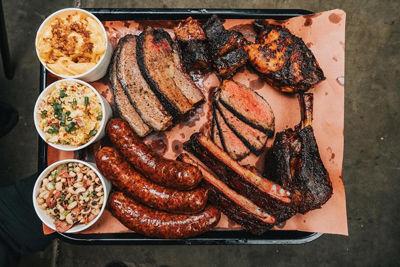 Barbecue Master Matt Horn Will Pop Up in Alameda
Matt Horn has earned widespread acclaim for his low-and-slow Texas barbecue, and aficionados will spend hours in line waiting for his brisket and other specialties. So be sure to get to Alameda's Hangar 1 distillery a little before 11 a.m. on Saturday, August 3 to make sure the wait isn't too long.
Oh, and there's no closing time—it's just when all the food is gone. And that alone tells a story about just how special Horn's barbecue really is …
Black Angus to Close; Sunrise Bistro in Jeopardy
It's a jungle out there—at least for restaurants. Pleasant Hill's Black Angus Steakhouse, which had reopened for only a year after a fire, has closed for good. The corporate offices cited plans for a hotel on the site as the reason, and so after 44 years on North Main next to 680, one of the area's longest-running restaurants is no more.
And Sunrise Bistro and Catering, which has been in Walnut Creek since 1981, will be moving out of its Botelho Drive location (in the Main Street Plaza) within the next few months. It's possible that it will reopen in a smaller site, or disappear entirely as a brick-and-mortar restaurant, but major changes are definitely on the way.
---
Got Dish? Send an email to dish@maildiablo.com. Or follow me on Twitter @DiabloDish.