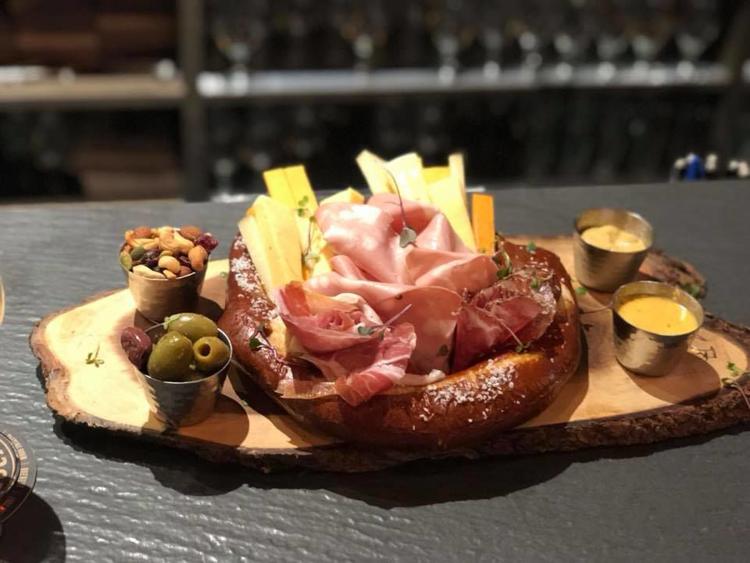 A pub with attitude misses the point. Hence, while the craft brewery boom makes great pints evermore accessible, humble beer has drifted toward the arcane, risking "fine wine" exclusivity.
Enter Bottletaps, an utterly casual 30-strong taproom with good food and openhearted service. Our visits (which happened two days after Bottletaps opened and two months later) revealed a ferment-friendly food menu and an ever-evolving Cali-focused selection of draft beer, cider, and kombucha.
The greaseless Cubano sandwich offered with a fresh, hand-torn lettuce salad; garlicky house pickles of asparagus and root vegetables; and a smorgasbord—served on bark-edged boards—of meat and cheeses proved hearty needn't be heavy. Our only dud was the Wagyu beef slider (an overcooked and mealy patty), but the house-cured pastrami slider was much better.
Bottletaps' warm but spacious, brick-accented dining room belies its spanking-new strip-mall locale. And while the local owners will gladly tutor you on the nuances of brewing, they're equally willing to leave you be with a frothy cold quencher in blissful ignorance. 
3020 Bernal Ave., Ste. 160, Pleasanton, (925) 399-8322, bottletaps.com. Lunch and dinner daily.
---
Join the conversation: Like us on Facebook, follow @DiabloMagazine on Instagram, and at @DiabloDish on Twitter. And sign up for The A List to have our blogs delivered to your inbox.