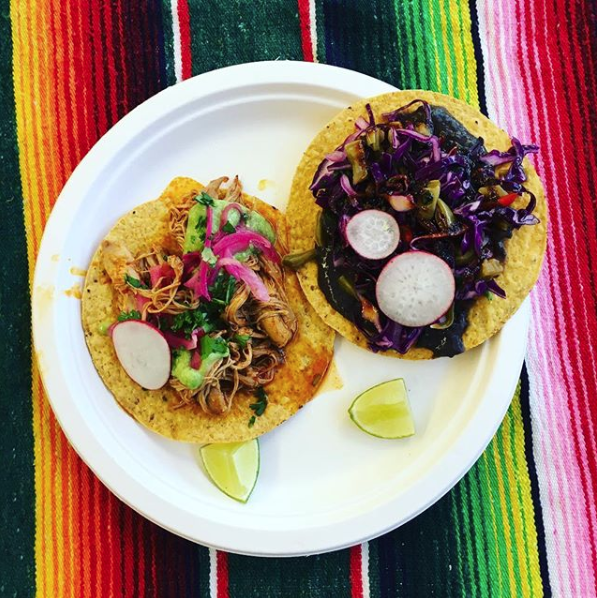 By the time I arrived at Tacos Oscar in Oakland on Sunday night, I was already soaking wet, only to wait—in a torrent of rain—for my turn at the service window. I ordered one of everything (there are currently just four options), grabbed my number, and headed to the back patio, where a rippling makeshift canopy offered a modicum of shelter. 
The kitchen is in a shipping container, with another in back serving as storage, but the patio décor is both vivid—a mix of pastel pink, green, and yellow—and minimalist-hip, with artistically etched cacti and lovingly crafted wood tables and chairs.
And the tacos are legendary—even with the restaurant being open just a little more than a month. Having done pop-ups for years, creators Oscar Michel and Jake Weiss have cultivated a foodie community of true believers.
I couldn't have felt more blessed when the day's menu was delivered. My favorite of the four was the most substantial: Oscar's version of a quesadilla, created with broccoli, charred with lime zest and chili, and bound with loads of cotija cheese crisped a la plancha.
Even if one of the four tacos—which change all the time—had missed the mark, I still would have loved it. The gusty weather added to the fulfilling eats, but Oscar's warm, aromatic, toasted corn tortillas, pressed and griddled to order, make them outstanding.
The signature taco (the one that got Michel hooked) is simply made with a fried egg, queso fresco, and an inspired sauce—such as Sunday's luscious black chili oil, redolent with cumin and coriander. If you're lucky, they'll have mole on hand; I scored the lush, nutty sauce over sweet delicata squash.
You can always find a carnivore option: "We'd probably be decapitated if we took it off the menu," Michel says. Sometimes it's carnitas, but mine was pork chile verde, naturally rich and served with roasted chilies. Pure comfort food.
The rain had let up on my return to Livermore. I had driven 40 miles, passing four accidents on my way and feeling a bit like a stalker travelling so far just for tacos in such weather. But I'm not alone. "Tacos Oscar Taco Stalker" T-shirts are often on the "wearable" menu as well.
420 40th Street, Oakland. Dinner Thurs.–Mon.
---
Join the conversation: Like us on Facebook, follow @DiabloMagazine on Instagram, and at @DiabloDish on Twitter. And sign up for The A List to have our blogs delivered to your inbox.