Despite some shopping cart-size speculation that The Orchards project in north Walnut Creek was kaput, Dish can confirm that it is on track.
Deb Karbo, Senior VP of Development for Terramar Retail Centers says work on the planned complex at the corner of Oak Grove and Ygnacio Valley roads has been delayed due to standard city approvals and building permits. The city of Walnut Creek has called it simple "remapping." Whatever it is, Karbo would like me to assure local residents that there were no bones found at the site. And the sparkly things in the trees are just to prevent birds from nesting (a trick often used in Northern California vineyards.) The Orchards project will house a brand new Safeway, which will move from its current location across the street in the Encina Grande shopping center. Terramar Retail Centers also developed the new Safeway complex at the corner of Claremont and College Avenue in Rockridge.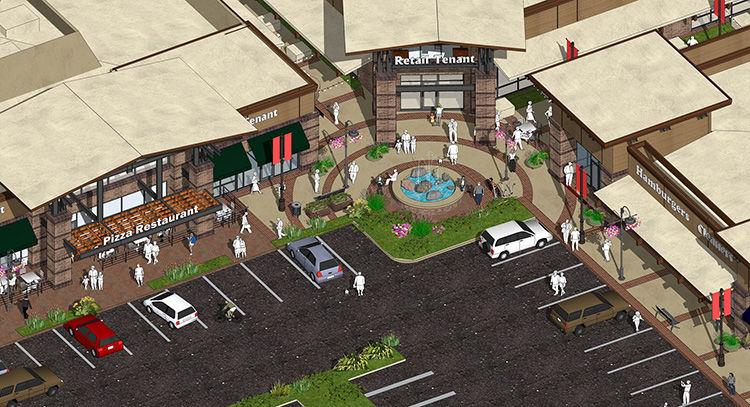 The Safeway at Encina Grande will be replaced by a Whole Foods, which is scheduled to open October 2016 when a new building is expected to be complete. This building will be built in the location of the current Safeway and Walgreen's building that will be demolished this coming fall. The current Encina Grande restaurants are set to remain the same: Rocco's Pizzeria, Jade Garden, Toyo Sushi, Bagel Street Café, Yogurt Station, Elvie's Burgers, Applebee's and, of course, Taco Bell. Get more updates here.
In other grocery store news, the Fresh and Easy in the Ygnacio Plaza across the street from Heather Farms is history. The space is now for lease. It will be interesting to see what moves in.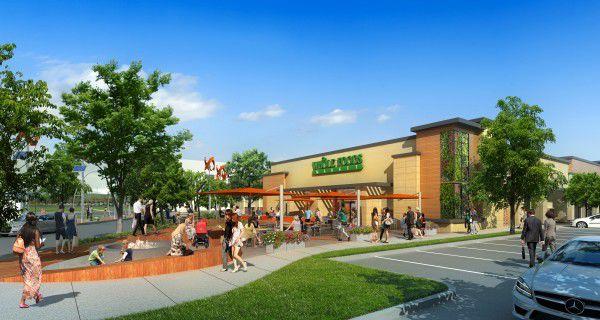 Persimmon Place Update
The shiny-new Persimmon Place development is eyeing its first opening: Whole Foods Dublin will open May 20, followed by a Starbucks Evenings store serving tapas, wine, and beer. Over the course of the summer, we'll see a handful of new restaurant openings, including: Patxi's Pizza, Urban Plates, Pacific Catch, Vitality Bowls, The Habit Burger, Chipotle, and Yalla Mediterranean. Impressive. Stay tuned for opening dates.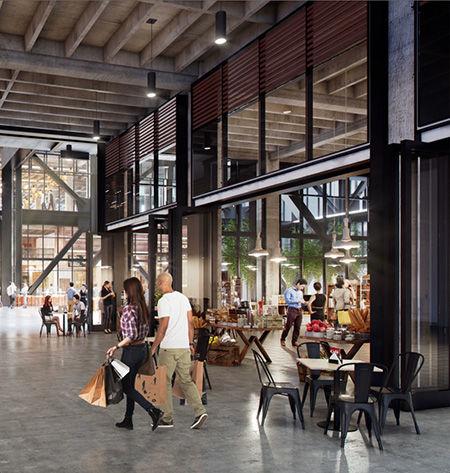 New Uptown Market
Just announced: Newberry Market and Deli will be the ground-floor tenant of the now-under-construction Sears Building on Telegraph Avenue in Uptown Oakland.
Newberry Market is the brainchild of Ann Thai and Loren Goodwin, better known for Oakland success stories such as Lake Chalet Bar and Grill, Era Art Bar and Lounge, and other projects.
The 20,000 square-foot market will hum with a butcher shop, a cheese counter, a café, and a flower shop, as well as a full selection of prepared items, including grab-n-go pizza, sandwiches, salads, and soups. For all you commuters, the market will have "in-building access" to the 19th Street BART station through an atrium. The project is named after the old Newberry's sundries store nearby.
Arrivederci
In the sorry-to-see-you-go department is Gelateria Naia, a gelato shop that has just closed in downtown Walnut Creek. This was real authentic Italian gelato, folks, but I suspect all the low-calorie yogurt shops must have nudged them out. A sign in the window says they will continue operations at their San Francisco North Beach location.
Events
April 10: Starting this Friday, We Olive and Wine Bar in downtown Walnut Creek will be featuring a monthly food-and-wine-pairing event. Look for guided pairings with wine tastings, and small-bite appetizers with local winemakers and chef Lauren Mahlke.
April 16: The recently announced Olive Oil 101 series at Amphora Lafayette was so popular that every class sold out. Owner Nate Bradley has just announced one more class on Thursday, April 16. Jump on this one now, folks! Also, don't miss Amphora's spring balsamic sale.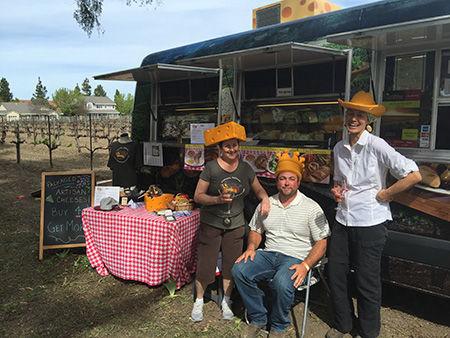 April 18: When I ran into the Cheese Therapy Truck at Retzlaff Vineyards at Barrel Tasting Weekend in Livermore, owner Teri Tith Concannon gave me the heads up that April 18 is Raw Milk Cheese Appreciation Day, a day only a true foodie could appreciate. In honor of the day, the Cheese Therapy Truck will be featuring three raw-milk cheeses in its Plowman's Plate. For more info about how to get your cheese on, check out the website for this national event. 
A cooking class and bubbles, too—oh my! Also on April 18, Lafayette chef Philippe Chevalier will partner with top bubbler Roederer Estate of Mendocino County (and France!) to bring you a totally cool experience: a three-course cooking class, as well as tastings and wine pairings, at Roederer's sparkling wine estate in the Anderson Valley. A winery tour is also included.
April 19: Walnut Creek Restaurant Week starts a week from Sunday. More than 25 restaurants are participating, including Va de Vi, Kanishka's Neo-Indian Gastropub, and Walnut Creek Yacht Club.
April 26: Chef Gavin Schmidt of Corners Tavern is planning to host a dinner with Quivira winemaker Hugh Chappelle on Sunday, April 26 in Walnut Creek. Chef Gavin will create dishes such as Asparagus and Hog Island oysters, poached local Halibut, spice-roasted duck, and smoked beef shortrib, each paired with biodynamic wines from Quivira.

April 30: I couldn't help noticing that all the chefs featured in Wente Vineyard's upcoming 2015 Guest Chef Series are women! (A couple of them are my fave East Bay chefs, too.) Shakewell chef-owner Jen Biesty will be making some memories at Wente on Thursday, April 30, and Tanya Holland of Oakland's Brown Sugar Kitchen will be cooking up some of her magic in September. Cookbook author and Copita restaurant owner Joanne Weir, as well as Foreign Cinema chef-owner Gayle Pirie, will be making cameos, too. It's not too soon to reserve a seat for this hot flash, errrrr, hot series! Signed cookbooks, superb cuisine, and, of course, wonderful Wente wines will make these dinners something to remember.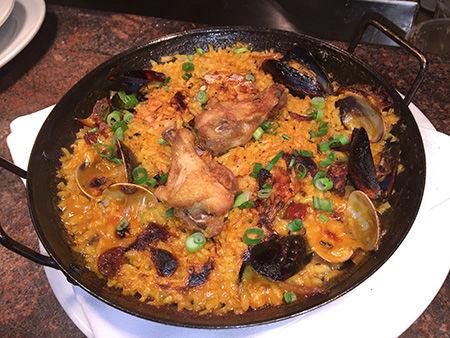 Best Bites
Lark Creek Walnut Creek: Paella
Light on saffron, big on flavor, this mild and marvelous paella is exploding with color and texture. Executive chef Scott Wall is showing his range here, by serving up a dish that is as perfectly cooked and juicy in the earthy chicken and chorizo department as it is with the more delicate clams and mussels. Each mouthwatering bite is a like an aromatic trip to Spain.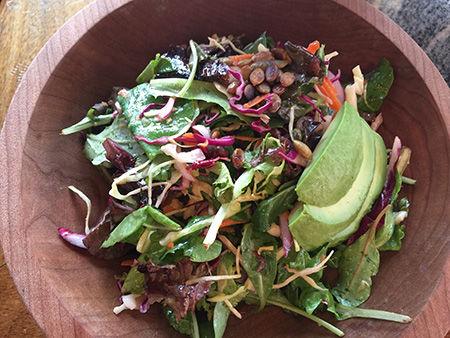 Xolo, Oakland: The simple side salad
No one pays attention to the simple side salad, the forlorn and forgotten accompaniment to many a dinner. But at Xolo, the spring-green mix is dressed up and ready for a night out. Colorful lettuces are topped with plump, crunchy pepitas (pumpkin seeds) and garnished with a fan of creamy avocado. All in all, the best side salad in memory. Xolo, a "Mission-style taqueria," is one of the many restaurants owned by East Bay überculinary couple Thomas Schnetz and Donna Savitsky, owners of the Oaxacan-style Doña Tomás, as well as Flora, Bar Fauna, and Tacubaya on Berkeley's Fourth Street.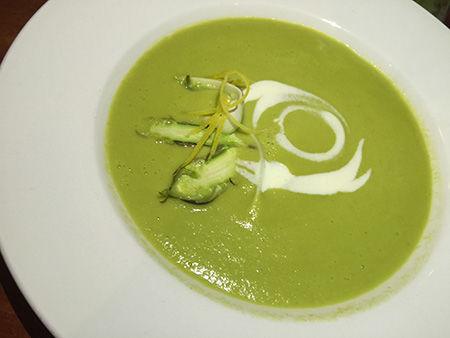 Growler's Arms, Oakland: Asparagus soup
No, I cannot. I simply cannot eat this soup. It is just too pretty and too colorful and too artistic. But I must. Yes, I must. Just one sip. On the tongue, this creamy, green elixir is just as beautiful--velvety in texture (lots of sieving and careful simmering), and not so seasoned that the fresh asparagus flavor is not allowed to shine through. Executive chef Brian Ventura is doing remarkable work here along with talented owners Seamus and Shelley Mulhall. The Growler's Arms is definitely worth checking out. (And not just for the cool English grub and brews on tap.)
That's it for me, folks. I gotta get some sleep before Walnut Creek Restaurant Week!
---
Got Dish? Send an email to dish@maildiablo.com. Or follow me on Twitter @DiabloDish.