So, I'm a little torn on this whole restaurant week thing: on the one hand, I love the meal deals, especially after getting the wallet-draining holiday season. On the other hand, I'm trying to shed some pounds here, and this ain't helping! Oh, what the heck, I've been good for two weeks, time to start eating out again, and I suggest you do the same as there are a ton of good deals out there. In a wonderfully tasty cosmic convergence, later this week will see the merging of restaurant month in the Tri-Valley, restaurant weeks in Berkeley and Oakland, and the two-week Dine About Town in San Francisco.
Here are the deets...
Berkeley Restaurant Week
When: January 13 to 20
What: $30 prix fixe menus at 20 Berkeley restaurants
Sounds Good: Hand-folded ravioli at the new Belli Osteria; Cocoa-chile rubbed pork tenderloin with house-smoked bacon at Five; veggie Cassoulet with grilled Levain at Gather; butter roasted Hoffman Farms chicken breast at Trattoria Corso.
More Info: visitberkeley.com/berkeley-restaurant-week

Oakland Restaurant Week
When: January 18 to 27
What: $20, $30, and $40 prix fixe menus for lunch and dinner at more than 40 restaurants.
Sounds Good: Fried duck egg & creole-spiced bacon "Sammie" with tomato jam and smoked chile aioli at Picán; local fried calamari with fennel and lemon aioli at Barlata; spicy miso ramen at Sobo Ramen; seasonal sopes at Nido; braised beef short ribs with chipotle broth at Bocanova.
More Info:
oaklandrestaurantweek.org
Dine About Town, San Francisco
When: January 15 to 31
What: Prix-fixe two- or three-course lunch for $18.95 and three-course dinner for $36.95, plus 10-25% discount off regularly priced menu items, at more than 100 restaurants.
Sounds Good: Too much to pick out just a few, but there is a handy-dandy map on the website to search by restaurant location.
More Info: sanfrancisco.travel/dine/dine-about-town/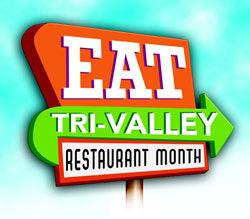 Tri-Valley Restaurant Month:
When: Through the end of the month
What: A handful of restaurants rotate weekly to offer prix fixe menus with part of the proceeds benefiting a local charity.
Sounds Good: This week, Wente restaurant is offering salad and dessert to go along with a tagliatelle with braised duck, duck pancetta, baby kale, and chestnut breadcrumbs for just $22.
More Info: eattrivalley.com
---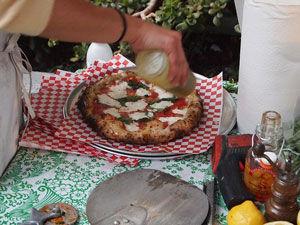 Got a sneak peek at what's coming food-wise at The Forge, the new Italian pizzeria / American eatery opening in Jack London Square a couple doors down from Bocanova on the waterfront. Designed by former Chow and Gigi chef Jeffrey Amber, the menu looks just as promised: classic "suped up" American dishes like crispy cheese curds, wood-baked potato skins with guanciale, and smoked chicken wings for appetizers, plus a few salads, and entrees such as chicken pot pie (with free-range chicken), a fresh fish of the day with manila clams, and cheese burger made with grass-fed beef. The centerpiece of the menu, however, is the wood-fired Neapolitan-style thin-crust pizza, overseen by Jeff Krupman, a.k.a. The Pizza Hacker, and which will feature naturally leavened dough and sauce made from dry-farmed Early Girl tomatoes. There are seven pizzas on the menu to start, ranging from the classic marinara and margherita, to one topped with pancetta, broccoli and Calabrian peppers—looks like most of the pies will have just a few ingredients, which is always nice with thin-crust.
So when can you get a taste? Well, the Le Bon Temps restaurant group (Table 24 and Barbacoa-owner Michael Karp, veteran restaurateur Bob Burke, and contractor Andy Byrnes) expect to open later this month. But, we just happen to be giving away five pairs of passes to a special pre-opening party being hosted at The Forge next Thursday, January 24, from 6 to 9 p.m. and featuring cocktails, hors d'oeuvres, and live music from the Tender Mercies. Should be fun, just CLICK HERE to fill out a form for a chance to win! 66 Franklin St, Oakland, theforgepizza.com.
---
Speaking of pizza, some interesting new details have been revealed about Lisa Holt and David Shapiro's Roman-style pizzeria located in the former Shattuck Down Low building. Courtesy of Inside Scoop, it's going to be called Build: Pizzeria Roma (switched from A90) and diners will be able to, yes, customize and craft their own pizza. This Seinfeldian idea will apparently be accomplished by customers waiting in line, choosing their own toppings and style, followed by the staff firing it up right there and then to be readfy in just 60 to 90 seconds. There will also be, according to The Chron, "90-inch television screen, craft beers on tap, Napa wines on tap and Italian wines in bottles."
More melted cheese news... looks like the deep dish pizza wave continues as an ABC license shows that a restaurant called The Star on Grand is taking over the just shuttered Milano's on Grand Avenue near Lake Meritt. The person on record, John Guhl, is the owner of popular San Francisco-based deep-dish specialist Little Star Pizza. More info when I get it... (first reported in Grubstreet)
---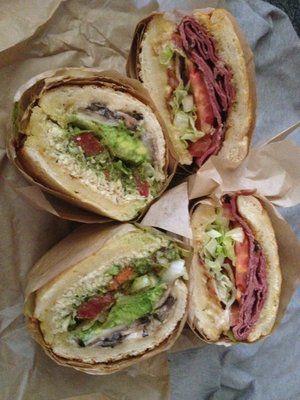 Bad news for Contra Costa Ike's sandwich lovers. Looks like the Walnut Creek outpost of the über-popular local sandwich chain has been further delayed and likely won't open for another two months at the earliest—and owner Ike Shehadeh is not happy about it. According to Shehadeh, who has opened recent stores in Oakland and Danville, the city and county have been so slow in processing permits that he's scrapping plans to open a previously planned store in Concord. "It's almost like they don't want an Ike's in Walnut Creek," he said. "And I'm definitely holding off on opening anywhere that I have to deal with getting permission from Contra Costa County."  Shehadeh was originally hoping to debut his Walnut Creek Ike's in November, and he says the delays have pushed him towards focusing on the South Bay and Southern California regions, versus the East Bay. As for Walnut Creek: he's hoping for March, but as he says: "Right now, it's not really up to me." ilikeikesplace.com
---
Mor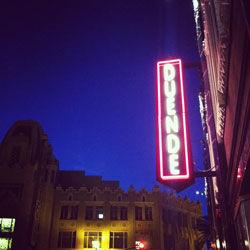 e Oakland news: Duende, former Oliveto executive chef Paul Canales' and partner Rocco Somazzi's restaurant project, is officially opening tonight (Wednesday) in Uptown Oakland next door to Flora. As a quick recap, the food will be Spanish tapas–inspired (mostly shareable stuff ranging from smaller tapas and pichos to larger raciones and platas familiares); there will be a adjoining bodega open all day starting at 7 a.m. with coffee and baked goods, plus a wine store, and there is also a mezzanine that will eventually feature live jazz (as soon as they get cleared by the fire department). I've been inside and it's a beautiful space, designed by local Oakland architects Arcsine. This is a pretty cool, ambitious project for the area, so go check it out and give 'em a little early love if you get a chance... 468 19th Street, Oakland, (510) 893-0174, duendeoakland.com.
Talk about opening with a bang. Sweet Bar, the new Uptown bakery from pastry chef, and former Michael Jackson personal chef Mani Niall, opened with a little tribute to his former employer, the King of Pop. Yes, it was a Thriller flash mob. Pretty cool, check out the video below... (credit to the Chron for first clueing me into that...)
---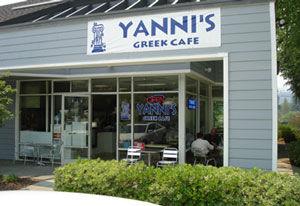 Danville's getting a new Greek restaurant on East Prospect Lane to replace the departed Wild Vine Hideaway (which took over Father Nature's, now Father Nature's Hideaway). The new place will be called Yanni's Taverna, the brainchild of Voula Gougousis who also owns the popular
Yanni's Greek Cafe
in Martinez. Gougousis is the real deal—she was originally born in Greece and lived there for ten years post-college—so she knows her souvlaki from her mousaka from her spanakopita. Expect the same menu of traditional Greek fare ("not Mediterranean, Greek," Gougousis emphasized) as her small, take-out centered Martinez cafe but in a larger, sit-down environment. Look for the Taverna to debut in early February.
---
Over in Livermore, the old school Castle Rock Restaurant has some fresh blood. Ruben Ramos and Armando Corona took over operations in the new year and have switched the menu from steakhouse/American, to more of an American/Italian/Mexican hybrid.
Speaking of Livermore, I heard from Double Barrel Wine Bar owner Kristin Armstrong, who told me the hip First Street spot has been expanding its catering business so much (they'll be providing food for all future Wente label wine releases) that they're shopping for food trucks to help accommodate the increase in demand. doublebarrelwinebar.com
---
For the food-conscious out there. Sustainable Danville is partnering with the Danville Library to host a three-part speaker series Food for Thought "to nourish our spirit, our mind, our body, and the environment." The series kicks off on January 23 with Heather Clapp, co-owner of Jules Thin Crust Pizza, who will offer tips and advice on creating organic vegetarian meals for your family, and Lisa Evaristo, co-owner of Back to the Table Cooking School, who will speak about the importance of cooking and eating meals with your loved ones. It's happening 6:30 to 8 p.m. at the Danville Veteran's Memorial Building. Go to
sustainabledanville.com
for all the details and info on the two other upcoming events in February and March.
---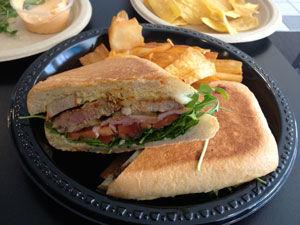 Had a chance to swing by Havana's new cafe/catering arm over on North Main Street next to the Autopia car wash. While it might not have the same ambience as the downtown original (the car wash's overhead speakers occasionally blare the names of Autopia patrons), it's a good quick option for anyone in the area (and definitely for those getting their cars washed). They've got sandwiches (I tried a nice Cuban sandwich, pictured at right), plus some tapas appetizers (the ropa vieja empanada is great) and salads. There's also Mexican-style breakfasts from 8 to 11 a.m., and espresso, including Cuban coffee. 2170 N Main St., Walnut Creek
---
Some quick hits...
Grab a bite to eat at Shelby's in Orinda this Friday—they're donating 15% of their proceeds to the good folks at Moraga's Rheem Theater to help repair a busted elevator that forced them to close three of the four screens there. It's a nice gesture by Carlos Rangel and the owners of Shelby's, CLICK HERE to read the whole story in the CCTimes. 2 Theatre Square, Orinda, (925) 254-9687, shelbyseatbetter.com.
Shout-out to Giddy Up & Go Granola, which we mentioned (albeit briefly) in last year's March issue. Lafayette resident Jen Bielawski managed to make this organic, gluten-free, and vegan granola taste, well, tasty. And now Giddy Up & Go will be carried in Safeway stores nation-wide. Very cool... thoughtfulfood.net
I don't often mention restaurant news in San Francisco, because well, that's a whole other can of worms, but this is too intriguing to pass up. New York's lauded chef April Bloomfield is taking over North Beach's famed Tosca Bar (with an assist from actor Sean Penn). That will be worth a trip across the bridge, I think... Click here to read the whole story...
Bocanova is hosting a South American wine dinner next Wednesday, January 23 (CLICK HERE for the menu). Check this one out, trust me... bocanova.com
Haven't been able to get in touch with the owner of the shuttered I-Squared in Rockridge, but a note on the window said that a new restaurant concept would be opening up later this month.
Chef Sarah Kirnon's Afro-Caribbean Miss Ollie's in Old Oakland will soon be serving dinner service. Get a sneak peek at a special prix fixe dinner this Friday the 18th, which will include a salted cod salad and porc boucané, slow-cooked "bucccaneer pork" shoulder, plus sides and dessert for $40. I've been for lunch and it's really good, interesting food. CLICK HERE to reserve a spot.
Off the Grid is making its Oakland debut next Friday, January 25, at the Oakland Museum of California. Consisting of ten mobile food vendors, the event will be happening outside the museum every Friday night thereafter from 5 to 9 p.m. offthegridsf.com
The Counter in Walnut Creek is now serving bison burgers, which are advertised as burgers with "less fat, fewer calories and less cholesterol than skinless chicken and beef." 1699 North California Blvd., Walnut Creek, (925) 935-3795, thecounterburger.com
Sliver Pizza, a spin-off of the Cheeseboard Collective, launched on Monday in downtown Berkeley. Similar to Cheeseboard, Sliver will offer just one type of pizza each day using fresh seasonal ingredients. They've got that Berkeley philanthropic side to 'em too: a percentage of its profits will be directed to organizations working to end human trafficking. 2132 Center Street, Berkeley, facebook.com/SliverPizzeria.
Former Va de Vi and Metro Lafayette executive chef Arnold Pulido has landed a new gig at San Francisco's small plates-centered Bin 38 in the Marina.
Me and My Friend's Cafe closed in Pleasanton.
---
Follow my sporadic tweets at Twitter.com/DiabloDish
Send me feedback and tips at dish@maildiablo.com 
Win passes to The Forge's pre-opening party on Thursday, January 24.