I try not to write too much about Oakland, but sometimes there's no way to avoid it: There's just a LOT going on down there, especially in the Uptown area surrounding the Fox Theater. Well, once again, there's a ton of Oakland news to report so I decided to just get all out in one column at the risk of ignoring much of the rest of the East Bay. So, apologies Berkeley, Walnut Creek, and Danville: It's gonna be the Uptown edition this week. Here's the latest...
Bittersweet Cafe: We were bummed when Bittersweet closed down its Danville location a couple years ago, so it's nice to see the Rockridge-based chocolate cafe back in expansion mode. According to co-owner Penelope Finnie, Bittersweet is opening a new location at 1438 Broadway, next to the new Oaklandish store. The space will not only be open for breakfast and lunch, as the other cafe, but will serve as the company's HQ, where they will brew all their coffee and roast their cacao beans for the bean-to-bar chocolate. Plus, as Finnie says, it's only a 12-minute bike ride between the new store and her current Rockridge location. "I think it'll be a fun adventure. Despite all the Occupy Oakland stuff, this area is great because people just really believe in Oakland and want to see it thrive." Look for a similar menu (sweet and savory baked goods, a few sandwiches, homemade marshmallows, truffles, milkshakes...) at the new location and a mid-March opening. bittersweetcafe.com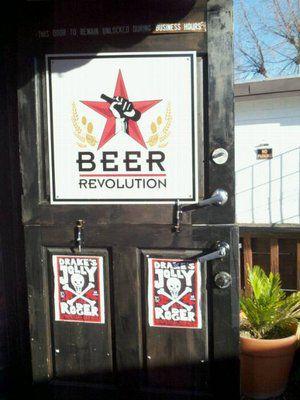 Beer Revolution Expansion: The popular beer bar Beer Revolution in Jack London Square is planning an expansion next door into the old train depot where they'll open a restaurant called, appropriately, the Old Depot. According to Fraggle, the co-owner, the restaurant will be heavy on organic, vegetarian options, add 14 more taps to the 70-something they're currently working, and have a German feel to it. Don't expect anything for at least six months to a year though. 464 3rd Street  Oakland, (510) 452-2337, beer-revolution.com.
Bar Flora: I touched base briefly with Flora co-owner Dona Savitsky who said the bar expansion of Flora next door is still on but wasn't likely happening until later in the year at the earliest.
Paul Canales Project Details: OK, so no name yet for former Oliveto executive chef Paul Canales' new project, but he's released a few tentative details about his plans for the non-restaurant portion of the 4,000-square-foot space he's moving into next to Flora on 19th Street. Nothing is definite yet, but Canales says he's strongly considering adding a small, curated wine shop where customers can buy bottles of wine to bring with them to the restaurant. He's also hoping to devote a portion of the space to a rotating series of pop-up stores in the artsy/design vein. He's also planning on eventually having coffee/breakfast-type morning service which should include some items from his wife Mary's über-popular Ici ice cream shop: pints and ice cream sandwiches likely to start, but Canales said a full-service satellite version of Ici could eventually be in the cards. And don't forget about music: Canales said he's purchased a cutting edge A system for the mezzanine of his new restaurant where he's planning to have live music, primarily jazz. Oh, and food? Well, Canales is still mum on specifics, but expect more details, along with the restaurant's name, in the next few weeks. And it's looking like a late summer, early fall opening at this point.    
Le Cheval Re-opening: I mentioned this in an earlier post but Le Cheval is reopening in its previous location at 1007 Clay Street. I spoke with someone at the family-owned LCX nearby who told be that they are just working for a sprinkler problem to be resolved before they reopen. "Could be next week, could be next month."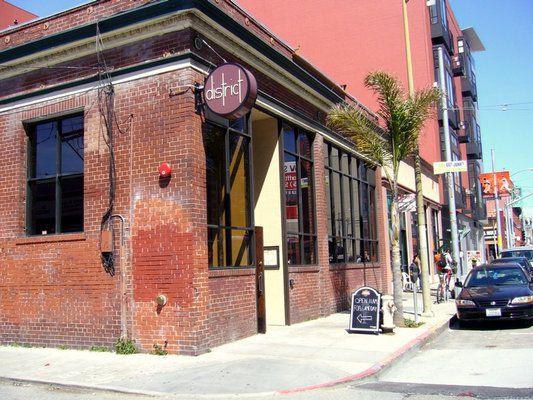 District Wine Bar Details: Some more details were released about the new District wine bar replacing Levende East in Old Oakland. From the same owners as District in San Francisco (near AT&T Park), the upcoming District Oakland is being described as a "wine and whiskey lounge with small shareable plates." Owners Jon D'Angelica, Chris Vance, and Ryan Vance are once again bringing in wine director and sommelier Caterina Mirabelli, who will compile a rotating (diverse yet approachable) selection of around 40 wines by the glass and flight and more than 300 wines by the bottle. Mirabelli will also get to play with the location's full liquor license in offering a classic cocktail menu along with a selection of 40 craft whiskeys. Executive chef Bob Cina, meanwhile, will craft a wine-friendly menu of small bites (mushroom pate en croute, braised oxtail sombreros, chèvre stuffed peppadew peppers), small plates (applewood smoked trout, spinach & fontina arancini, Moroccan spiced lamb meatballs), pizzetas (house cured guanciale, calabrian chili, dandelion greens & pecorino), and of course cheese, charcuterie, and desserts. Look for a March or April debut. 827 Washington St. Oakland, Districtoakland.com.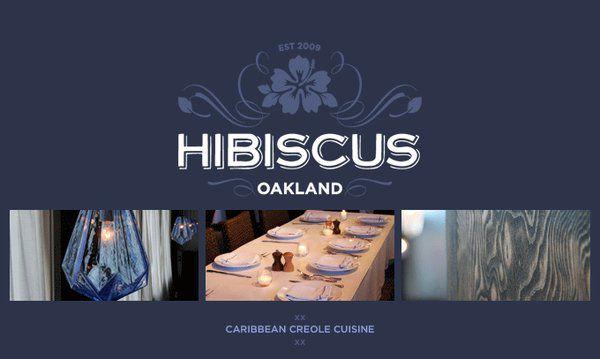 Hibiscus Changes Concepts: With executive chef Sarah Kirnon departing, Hibiscus, the newish Southern restaurant attached to the New Parish music hall on San Pablo Ave is switching directions. While the food is still Creole/Southern in concept, the new menu will be more accessible both culinary-wise and price-wise, according to co-owner Jason Perkins. "It was very oriented towards the foodie crowd, but I think the bottom line is it wasn't really serving our community. Between Uptown and the New Parish, none of those people were eating at our restaurant—it was too heavy and far too expensive." So now running the show are Christian Baker and Jordan Medina from Radius restaurant in San Francisco who have brought in favorites like mac and cheese, fish tacos, and fried chicken sandwiches and lowered price points ($7 bar bites, entrees in the $12-14 range, and cocktails under $8). The dining room has been closed for remodeling, but will re-open by the end of next week and the bar is already open and serving a late-night version of the menu (Hibiscus will now serve food past midnight). They'll also be taking advantage of their gorgeous indoor courtyard by serving a southern-style weekend brunch. 1745 San Pablo Ave., Oakland, (510) 444-2626, hibiscusoak.com/
Oh, and they're also planning on opening up a coffee shop and bakery next door in the same building that will also be run by the Radius folks which they hope to debut by April. And for you foodie fashionistas, Perkins' partner plans to open another location of his popular clothing boutique Density (the original is in San Francisco's Mission district) across the street.
New Bar & Restaurant from a newcomer: Montclair-resident and first-time restaurateur Irfan Joffrey is doubling down on the Uptown. Joffrey (who grew up in the restaurant business) is planning a 5,800-square-feet restaurant at 1540 Broadway (next to the prestigious Oaksterdam University) that he hopes to open by June. Camber (a hybrid of his kids' names, Cameron and Amber) will have an upstairs private lounge and serve Asian-fusion cuisine with a California touch—along with dry-aged steaks. Around that same time, Joffrey is also aiming to open a new bar, Feezy (his nickname), at 1707 Telegraph a couple doors down from Somar bar.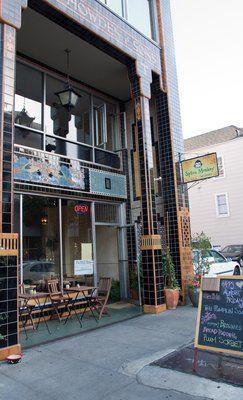 Spice Monkey Expansion: This is a little longer-term, but I spoke with Kanitha Matoury, co-owner of the eclectic Spice Monkey, who said they were working with the city on plans to eventually open an arts and crafts version of Rockridge's Market Hall marketplace in the back of their gorgeous building at 1628 Webster Street. Matoury said the project was just in the planning stages and wouldn't happen for at least a year. In the meantime, Spice Monkey is hosting a six-course beer dinner with Anderson Valley Brewing Company this Thursday.
CLICK HERE
for the details. 1628 Webster Street  Oakland, (510) 268-0170, spicemonkeycafe.com.
Stagg's Lunchette Update: Alexeis Filipello, owner of the popular Bar Dogwood on Telegraph Ave, is now targeting mid-March to open her Stagg's Lunchette on 362 17th Street. Filipello described the very DIY-oriented Stagg's as "sustainable lunch counter with house made meats, including porchetta, mortadella, and rotisseried suckling pig." They'll offer sandwiches, daily specials, salads and meats by the pound, along with housemade pickles, kraut, and bagels. Hours are 8 a.m.-4 p.m. Monday through Friday and Saturday's 10-4.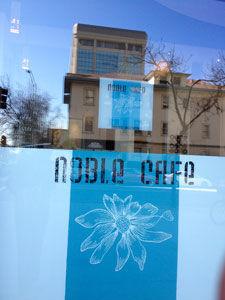 Coffee, Coffee, Coffee: You'll have no problem staying caffeinated either, as Noble Cafe, supposedly the first completely carbon-neutral cafe in the U.S., recently opened at 100 Grand Ave. It's actually a beautiful interior and they have a fun little menu with Belgian waffles, delicious croissant sandwiches, and Blue Bottle coffee (served in individual French press pots on request). Also, Awaken Cafe will reopen in their new 2,000-square-foot space at 1429 Broadway this coming Monday. There's a lot going on at Awaken, which describes itself as an "espresso bar, tea house, boutique ice-creamery, beer & wine bar, performance & event space, and art gallery." Finally, there's a sign up for
Anfilo Coffee
, which according to its website "distributes premium quality, organic Ethiopian coffee from Anfilo District of Wellega, Ethiopia," coming to Grand Avenue right next door to Farley's East cafe.
All of this is in addition to recent openings of Ike's Lair, Xolo Taqueria, and the announcement of Umami Burger coming to 2100 Franklin Street later this year. So, there's a lot going on, and I haven't even mentioned a couple of other projects that I'm not allowed to talk about yet, so stay tuned for more...
---
OK, enough Oakland, here's a little Berkeley...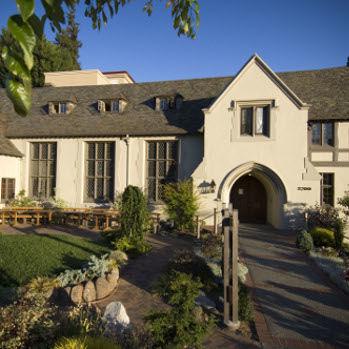 The Free House just opened last weekend, replacing Adagia at College Avenue and Bancroft Way. Anyone who's walked around near the Cal campus would recognize the unique building, which used to be a Presbyterian church (left). Owner Daryl Ross also ran Adagia, which had struggled since the economy tanked in 2008, and decided to switch to a more accessible, affordable concept targeting the "post-Grad crowd." The suped-up "workers food" menu features dishes like burgers, hardy sandwiches, cassoulet, salads, pork chops, and Ross brought in Kevin Kroger from San Francisco's popular Monk's Kettle as executive chef. 2700 Bancroft Way, Berkeley, berkeleyfreehouse.com/
And in downtown Berkeley, Chris and Veronica Laramie will be debuting Brasa, a new Peruvian rotisserie chicken joint at 1960 University Avenue where their Eve restaurant used to be. The chicken will be available in whole, half, and quarter sizes accompanied with various Peruvian dipping sauces, and there will also be Peruvian street foods including pork and steak (and tofu) sandwiches, sweet potato fries, freshly squeezed juices, and  beer and wine on tap. Opening night will be Tuesday, February 21. 1960 University Ave., Berkeley, (510) 868-0735.
---
And just a little bit of Walnut Creek...
Exciting news for downtown as Brian Hirahara won a bid to develop the prime piece of property on the northwest corner of Mt. Diablo Boulevard and Main Street. Hirahara is the head of B.H. Development, behind such successful restaurant/retail projects as Va de Vi/Tiffany's and Sasa restaurant. According to the Contra Costa Times, Hirahara is planning a 6,000-square-foot two-story copper building with the retail store on the corner, as well as an attached restaurant with a rooftop terrace and possible rooftop garden. Hirahara mentioned a Spanish tapas restaurant or a farm-to-table eatery as possible tenants for the restaurant space.
---
Please e-mail me with dining news at dish@maildiablo.com
And follow me on twitter at twitter.com/DiabloDish.