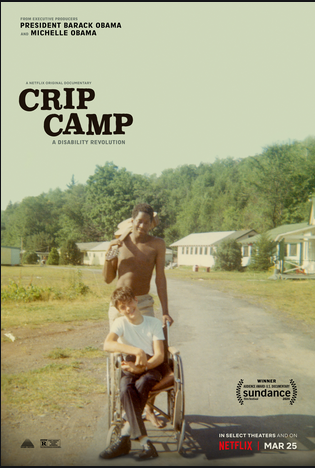 Stayed up late watching
Crip Camp on Netflix
last night, and its an absolute must-see. This documentary follows a group of people with disabilities  who met at a summer camp in upstate New York in the late 1960s, then  went on to advocate for sweeping changes in equality legislation.
This film is WONDERFUL. It is produced by Barack and Michelle Obama, and co-directed by Oakland residents Nicole Newnham and Jim LeBrecht. LeBrecht was one of the campers profiled in the late-1960s/early-1970s section of the film. LeBrecht went on to become the sound designer at Berkeley Repertory Theatre, and the footage of him at Berkeley Rep in the early 1980s is fascinating.
The Bay Area connections to the film are significant. Berkeley's Center for Independent Living receives considerable coverage, with the city of Berkeley shown for its progressive appeal. There is also quite a bit of footage of former Channel 7 reporter Evan White that brought back  memories—current-day White is interviewed about the impacts of his reporting and his passion for the story that was not being told outside of his coverage.
Crip Camp reminded me of the Taylor Family Foundation and Camp Arroyo, the program in Livermore that offers camp programs to chidren and families impacted by serious illness.
This is an inspiring, important film about equality, fairness, and community, and also one of the best films of 2020. Highest recommendation!