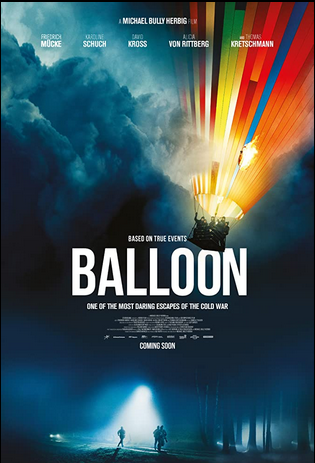 In the
February issue of Diablo, I wrote a piece about places to see quality films
that don't typically come to suburban multiplexes.
One organization mentioned in the article has adjusted to the recent shelter-in-place situation nicely by offering screening options for three acclaimed films in its series. The International Film Showcase is offering virtual screenings of Corpus Christi, Sorry We Missed You, and Balloon for $10-$12 per film.
Balloon, a true story about a family from East Germany that constructs an elaborate plan to escape GDR for West Germany in the late 1970s, was a big hit at the Orinda Theatre when it showed there earlier this year. The family's story had previously been told in the live action Disney film Night Crossing in 1982.
I remember seeing that one, which starred John Hurt and Beau Bridges, with my mom and sister at the long-gone Regency Cinemas in Pleasant Hill. It's a terrific, tense, exciting story—and the new film Balloon is well worth your time.