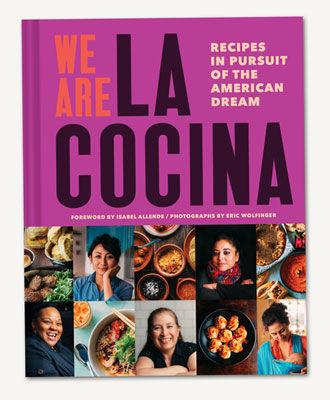 Literature
Always Home: A Daughter's Recipes and Stories
Fanny Singer's new book—which came out the last day of March—blends personal stories from an adolescence spent as the daughter of Alice Waters (the legend behind Berkeley's Chez Panisse), with irresistible recipes you'll have to try. The culinary memoir captures an intimate look at the icon, the global adventures she and her daughter experienced, and more. Find it online through a local bookseller, such as A Great Good Place for Books. ggpbooks.com.
Cookbook
We Are La Cocina: Recipes in Pursuit of the American Dream
La Cocina is a San Francisco-based culinary incubator that has helped launch more than 120 businesses, with particular emphasis on those led by women, immigrants, and people of color. Last summer, they released We Are La Cocina, a collection of more than 40 stories and 120 recipes from women connected to the nonprofit. Proceeds from the book go back to La Cocina, which is currently helping support struggling local entrepreneurs during COVID-19. lacocinasf.org.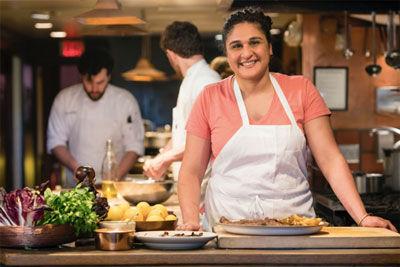 Documentary
Salt, Fat, Acid, Heat
Samin Nosrat released her renowned Salt, Fat, Acid, Heat cookbook in 2017, which was subsequently made into a limited documentary series, available to stream on Netflix. Over the course of the show, Nosrat travels to Italy, Japan, Mexico, and her hometown of Berkeley to highlight how these four key culinary elements are used in those regions. netflix.com.
Podcast
Copper and Heat
Oakland's Katy and Ricardo Osuna's podcast looks at cultural, gender, and racial divisions that live behind-the-scenes in the restaurant industry, and won a coveted James Beard Award last year. The show's first season focused on restrictions facing women in the culinary field, while Season Two—currently in progress—focuses on financial challenges. copperandheat.com.
Literature
Save Me the Plums: My Gourmet Memoir
Ruth Reichl's 2019 memoir chronicles her journey as the final editor-in-chief of the now-closed Gourmet magazine, personalizing integral culinary moments such as the farm-to-table movement and the merging of restaurants and dining into popular culture. Order a copy online through stores such as Mrs. Dalloway's Literary and Garden Arts. ruthreichl.com, mrsdalloways.com.
---
To see even more events happening this week, or to submit an event for consideration, visit Diablo's Community Calendar. Follow Diablo on Twitter or Facebook, and sign up for the A-List e-newsletter so Top Tickets is delivered to your email inbox on Wednesdays. Questions? Comments? E-mail events@maildiablo.com.