Music
New Songs from H.E.R. and Sheila E.
At the beginning of April, Vallejo R&B artist H.E.R. debuted a collaboration with Lonr., titled "Make the Most," in addition to a live version of her 2019 release "Slide." The two tracks arrive just after the Grammy winner dropped "Comfortable" and "Sometimes" earlier in 2020. Oakland's Sheila E. also released her new song "Lemon Cake" on April 17, a tribute to Prince, her longtime collaborator. her-official.com, sheilae.com.
Music
Festival Opera Artists Spotify Playlist
The coronavirus epidemic has temporarily closed live performance venues, but you can fill your home with soaring sounds from the artists of Walnut Creek's Festival Opera with a Spotify playlist, which includes 17 operatic and art song selections curated by Artistic Director Zachary Gordin. Search "Festival Opera Artists" in Spotify for the full list. spotify.com.
Podcast
Underwater Sunshine
Vocalist Adam Duritz, of the Grammy-nominated Berkeley rock band Counting Crows, and music journalist James Campion started the Underwater Sunshine podcast in 2018, and discuss music, life, and the current moment. The band initially shot to stardom in 1993 with the album August and Everything After, and received a 2004 Academy Award nomination for the song "Accidentally in Love" from Shrek 2. countingcrows.com.
Literature
Fortunate Son
For a rock-themed read, pick up Creedence Clearwater Revival frontman John Fogerty's 2012 memoir, Fortunate Son, which documents the band's beginnings and subsequent success. Creedence Clearwater Revival came to life while three of its original members were students at Portola Junior High School in El Cerrito. Order the book from a local independent bookstore, such as Moe's Books. moesbooks.com.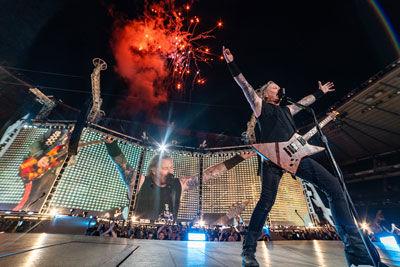 Concert
Metallica Mondays
While the country practices social distancing, Metallica—which was born in Los Angeles but soon moved to El Cerrito—is releasing a complete archival recording of one of its concerts every Monday at 5 p.m. on YouTube and Facebook. Watching the show is free, but the band is also holding fundraisers for All Within My Hands to address shortages of food and medical supplies due to the coronavirus pandemic. youtube.com/metallica.
---
To see even more events happening this week, or to submit an event for consideration, visit Diablo's Community Calendar. Follow Diablo on Twitter or Facebook, and sign up for the A-List e-newsletter so Top Tickets is delivered to your email inbox on Wednesdays. Questions? Comments? E-mail events@maildiablo.com.