Movie
Black Panther
Sure, Black Panther is one of the most popular, highest-grossing films of all time—but the movie, directed and cowritten by Ryan Coogler, who grew up in Oakland and Richmond, is always worth a re-watch. The story of T'Challa's rise as king of the technologically trailblazing yet isolated country of Wakanda, the film begins and ends with scenes that take place in Oakland, too. disneyplus.com.
Literature
Superman Smashes the Klan by Gene Luen Yang
UC Berkeley and CSU East Bay alum Gene Luen Yang was awarded a MacArthur Fellowship—colloquially referred to as a Genius Grant—in 2016. Yang has contributed many comic books to the DC canon, most recently Superman Smashes the Klan, set in Chinatown in Metropolis in 1946 and based on a radio serial from that time period. Order it online from Concord's Flying Colors Comics. flyingcolorscomics.com.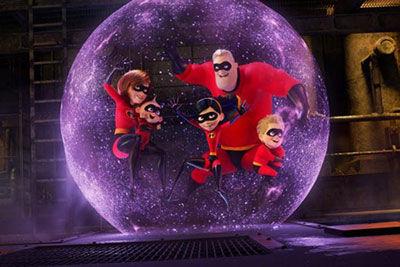 Film
The Incredibles and Incredibles 2
The Incredibles and its sequel are among the most beloved family films produced by Pixar Animation Studios, which calls Emeryville home. The series focuses on a superpowered family headed by famous heroes in hiding. In the first movie, the GPS in the first car chase shows a map of Emeryville, with a reference to San Pablo Avenue. disneyplus.com.
Literature
The Lost Hero
Children's author Rick Riordan is beloved for his novels about teenage demigods and their modern-day hero's journeys. In The Lost Hero, the father of one of the protagonists, Piper, is held captive on Mount Diablo, and a battle ensues at the summit. Camp Jupiter—a home for young Roman demigods—is also located nearby, with an entrance in Caldecott Tunnel. Order The Lost Hero through Flashlight Books and other local bookstores. flashlightbooks.com.
Film
Captain Marvel
Love the Avengers movies? Captain Marvel, a 2019 prequel to the series set in the 1990s, brings the story of Carol Danvers to life, as she is caught in an alien war while trying to solve the secrets behind her own identity. The film was codirected by Berkeley's Ryan Fleck and is available to stream on Disney Plus. disneyplus.com.
---
To see even more events happening this week, or to submit an event for consideration, visit Diablo's Community Calendar. Follow Diablo on Twitter or Facebook, and sign up for the A-List e-newsletter so Top Tickets is delivered to your email inbox on Wednesdays. Questions? Comments? E-mail events@maildiablo.com.