April 29, 2015
Diablo Magazine Publishes Women to Watch Issue Featuring Ayesha Curry
The issue features "Living Your Best Life," with five top influencers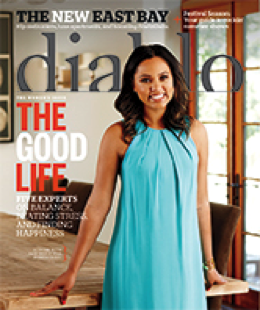 Diablo magazine's May Women's Issue highlights five Bay Area women considered top "life influencers," who promote the theme of "Living Your Best Life." The five women are strong advocates for personal wellness, practicality, and mindfulness. Diablo's cover woman for the Women to Watch Issue will be Ayesha Curry, clean-living proponent and wife of Stephen Curry, the Golden State Warriors' all-star point guard and front-runner for the NBA's MVP award.
Women to Watch features Ayesha Curry, vlog influencer, author of Little Lights of Mine website, and celebrity food blogger; Christine Carter, author of The Sweet Spot: How to Find Your Groove at Home and Work; Mariam Safinia, head of the Northern California School of Practical Philosophy; Sara Gottfried, author of the New York Times bestselling book The Hormone Cure; and Maura Wolf, author of What Matters Most: Everyday Leadership at Home, at Work, and in the World.
"We are very excited about the May issue. These five profiles of women who are 'changing how women live their lives' are experts in everyday leadership at home, at work, and in the world," says Susan Safipour, Editor in Chief, Diablo Magazine. "We're also very excited to have local resident Ayesha Curry as part of our profiles."
The May issue also recognizes business women of the East Bay, with featured content and a special advertising section spotlighting the region's women to watch. Diablo has invited these participants to the Diablo Women event for the opportunity to network and inspire. Presented by Diablo magazine and Contra Costa Oncology, the evening opens with a networking cocktail reception with over 450 East Bay businesswomen. The event features a Q&A with keynote speakers from the magazine's Women to Watch feature section. The evening also includes a fundraising portion where partners donate an exciting assortment of raffle items, with Heller Jewelers presenting the Grand Prize. Diablo's supporting partner is the Claremont Hotel Club and Spa joined by spirit partner Skinnygirl Cocktails. The raffle supports Girls on the Run of the Bay Area, an organization that inspires girls to be joyful, healthy, and confident, using a fun, experience-based curriculum that creatively integrates running.
About Diablo Magazine
Covering topics ranging from travel, culture, and personalities to entertainment, recreation, and food, Diablo magazine is written specifically for the San Francisco East Bay market—from Central Contra Costa, into the Oakland and Berkeley hills, and throughout the Tri-Valley. With locally driven editorial content, beautiful photography, and resource listings, Diablo is a unique celebration of the San Francisco East Bay. Published since 1979, Diablo has been recognized for its editorial and design with numerous awards, including previous Maggie Awards for Best Overall Publication and Best Regional and State Magazine in the consumer category.
About Diablo Publications
For 35 years, Diablo Publications has been creating award-winning publications, including Diablo magazine, Napa Sonoma magazine, Diablo Weddings, the Diablo City Book Series, Diablo Arts, Concierge East Bay, and the Tri-Valley California Visitors Guide. Covering travel, theater, lifestyle, and home design, Diablo Publications celebrates the people, places, and pleasures of the East Bay and North Bay. Diablo Publications' custom content division, Diablo Custom Publishing (DCP), provides complete print and online marketing communications and customer publishing services for corporate clients nationwide. For more information, visit diablomag.com or dcpubs.com. dcpubs.com.