First, Mariko Giverink's hand- painted signs became popular on Etsy, where they started selling like hotcakes. Then, she picked up sign-writing gigs at local hot spots, such as Coffee Shop in Walnut Creek. Now, the Concord resident has big-name clients, including Target, and sells thousands of signs across the country.
Giverink creates all types of signs for her Etsy shop, Bee Curious Designs, but her specialty is wedding decor. The artist paints specialized boards for each wedding—she never creates the same sign twice.
Whether you want a chalkboard cocktail menu or a wooden sign leading guests to the ceremony, here are Giverink's tips for creating the perfect wedding signs. etsy.com/shop/beecuriousdesigns.
---
Choose Wisely
"The first step is deciding which material fits best with your wedding style," says Giverink. "If it's rustic, then use wood. If it's more formal, then choose a mirror with a pretty, fancy frame."
Get Real
While you may be eager to do everything yourself, be realistic about your capabilities. "[Don't] tackle big things like seating charts unless [you're] super crafty because [you'll] get overwhelmed," she says. Instead, take on the easy stuff (small drink signs, dessert menus), and leave the larger pieces (seating charts, mirrors) to the pros.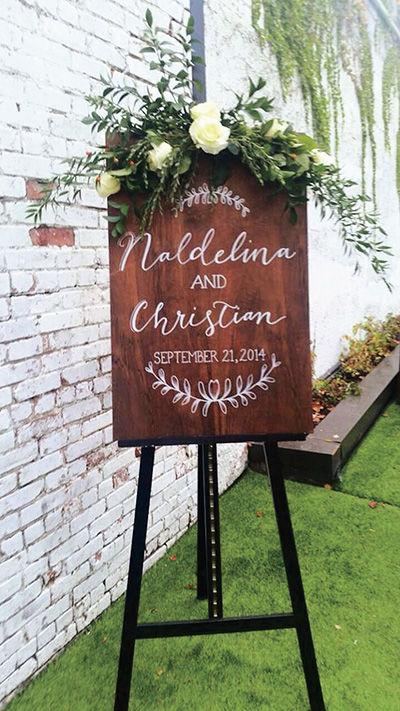 Practice Makes Perfect
Practice before you start. "You can't just grab a piece of wood and start writing on it," says Giverink. She suggests using a sample to get a feel for the paint and the texture of your material, so it's easier to get into a flow—and less likely that you'll make mistakes.
Glam It Up
Add embellishments, such as leaf garlands. If your creative well is running dry, use Pinterest to get inspired. "Browse through signs to see what you love," says Giverink. "Then, make it your own so it matches your wedding style."
Above All Else
Giverink's biggest piece of advice: Use a ruler and painter's tape to ensure straight lines, and spell check everything before you start. "You want your sign to look professional, so check your spelling, use a ruler, and practice," she says.