[HIGHLY COMPATIBLE]
Jacqueline Florine + Hans Florine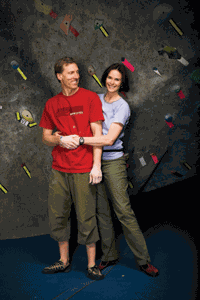 Hans Florine didn't get down on one knee when he asked his wife, Jacqueline, to marry him. It's hard to kneel in the middle of a 1,200-foot rock climb.
The Florines, both 43, are rock climbers who have set records on the Nose of Yosemite's El Capitan, a holy grail for mountaineers around the world. Jacqueline is the only woman ever to climb the route solo, and Hans has twice held the record for fastest ascent of the Nose.
Yet the Nose hasn't been their only challenge. Hans has won both U.S. and world speed-climbing competitions, and is a three-time gold medalist at the X Games. Both have summitted 14 of California's 14,000-foot mountains.
Hans discovered climbing in college. After graduating, he bummed around the United States and Europe, living out of his car and climbing. In 1999, a friend introduced him to Jacqueline, a "supermodel-turned-alpinist."
Jacqueline, a cover model for Vogue, started climbing in her thirties. She came to Hans's house in Yosemite for a climbing trip, and the two connected. "It was purely sexual on my part," Jacqueline says with a laugh. "There's something awesome about anyone who's doing what they love and can share it with other people."
Ten months later came that perilous proposal. The couple now live in Lafayette with their two children, ages seven and four. Hans works as a business administrator and motivational speaker, and hopes to recapture the record for the Nose (his time was bested in October). Jacqueline is pursuing endurance running.
The intense focus on their sports and enduring support for each other's pursuits bolster their marriage. Jacqueline prizes Hans's acceptance: "I don't have to apologize for who I am or what I do. And I don't have to worry about being too 'big,' or too much of anything, because he can hack it."
[PERFECT HARMONY]
Susan Muscarella + Robert Cole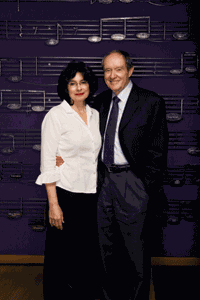 Intrigued at first sight. That could describe how Susan Muscarella felt when she interviewed Robert Cole 22 years ago for the director's post at UC Berkeley's Cal Performances. Muscarella, who was on the search committee, says she connected with Cole's desire to put art before budget.
Muscarella knows a thing or two about art—and budget. An accomplished jazz pianist and the impassioned director of the Jazzschool in Berkeley, she mortgaged her own home in 1996 to start the school, which is something of a mecca for jazz musicians and a training ground for the next generation of performers.
"My husband and I are birds of a feather," Muscarella says. "We both run arts organizations; we both live for music." And both prize the opportunity to seek out and nurture new talent. For Cole, that means bringing in little-known artists from around the globe, finding the next big thing before it's big. "We can react quickly here," he says of Cal Performances. "The Met has to book years in advance, but I can slot someone in no one knows about." His strategy has worked well; audience attendance has soared.
In their rare moments off, the two play tennis together but not music. "He wants to learn more about jazz, but it's like teaching your kid to drive," jokes Muscarella. "It probably won't work for me to teach him."
Though they work in different genres, the couple share an intense dedication. A trained conductor, Cole conducted all nine performances of the Mark Morris Dance Company's The Hard Nut in December, saving Cal Performances around $50,000. Both work seven days a week. Every night, they sit down to dinner and talk about the same things that came up when they first met: budget and art. As Cole says, "It's a life, not a job," and neither would have it any other way.
[STAR APPEAL]
Roberta Gonzales + Randy Hahn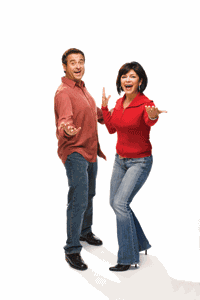 Randy Hahn is on the road 120 days a year as the San Jose Sharks' TV play-by-play announcer. His wife of 21 years, Roberta Gonzales, is the on-air weather reporter for CBS-5 every weeknight at 5, 6, and 11 p.m.
Work schedules like these make date nights as rare as bad hair days for this glamorous Pleasanton couple.
To keep it together, the two media personalities have gone multimedia. They choreograph precious family dinners, vacations, and carpools for their two teenage sons with a Google calendar.
To keep regular contact between themselves, they carry digital cameras to e-mail pictures when they're apart. Says Hahn, "Even if it's just a shot of the view out the window from my hotel room, those things help keep us connected."
The pair met in San Diego in the mid-'80s. Hahn was working on a sports talk radio show and Gonzales was spinning records at the same station. She says she thought Hahn was "hot" when she first saw him at the Xerox machine. When their paths crossed a few years later, Gonzales felt the Xerox vibe again, only stronger. "I went to the pay phone, called my mom, and told her I just talked to the man I'm going to marry," says Gonzales. She asked him out to dinner, and they've been together ever since.
"Marriage is work, not just hearts and flowers," Gonzales says, but she and Hahn clearly adore one another. During an interview, Gonzales leaps up and disappears, returning with a box. "Randy gave this to me on Valentine's Day a few years back," she says, opening the box. Inside are 52 bottles, each with a date taped to the cap. "It starts with February 14," says Gonzales, popping the top and unrolling a note that reads: "Check the fax machine. A love letter is coming through!" And there it was. Hahn organized a year's worth of surprises and followed through on every one.
Gonzales opens the one for May 16 and shrieks with laughter, showing Hahn the note. "We can't show you some of them," she says.
[MEDICAL MIRACLE]
Joan Lo, M.D. + Alan Go, M.D.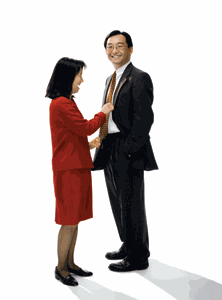 Husband and wife Alan Go and Joan Lo work one floor apart. They commute together from their home in Lafayette and frequently meet for lunch. The couple also combined their interests as top medical researchers to coauthor several papers.
Don't they ever get tired of each other? No, it turns out.
"Working for the same employer allows us to better understand the demands of each other's jobs," Go says, referring to Kaiser Permanente's research division in Oakland. "It gives us opportunities to talk with each other during the day so we don't have to save everything until we get home."
Born one month apart, the two, now 40, grew up near each other in Southern California. They met in high school in 1985 and began dating in 1997. They married two years later, after completing fellowships, and moved to Lafayette in 2004.
Go, the assistant director of clinical research at Kaiser, was recently awarded a $7.5 million five-year contract to oversee a cardiovascular research study for the National Heart, Lung, and Blood Institute. Lo, a physician scientist, examines women's health issues, including polycystic ovary syndrome and associated reproductive conditions, osteoporosis treatment, and endocrine disorders.
Both doctors say their jobs allow them to conduct groundbreaking research, find new ways of preventing and treating medical conditions, and impact a larger patient population than they would if they were practitioners rather than researchers.
Although they work long hours, the couple dote on their daughters, Rachel, six, and Megan, four. "We're with our daughters from the time we pick them up at school until they go to bed," Lo says. "Sometimes we bring work home, but we don't head to our home office until the girls are asleep."
Not surprisingly, being parents has only fueled their passion for their work.
"Before I retire, I'd like to finish my work knowing I helped to determine new ways of preventing and treating heart and kidney disease and stroke," Go says. "It would be a wonderful gift to my daughters' generation." 
[SOUND JUDGEMENT]
MaryAnn O'Malley + Dan O'Malley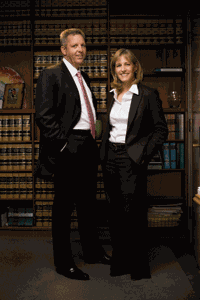 MaryAnn O'Malley presides over a courtroom at Contra Costa County Superior Court, where she listens to mothers of murdered children testify about their pain and sentences killers to die. When she removes her judge's robe, she's thankful that her husband, former judge Dan O'Malley, knows what it takes to decompress from a tough day overseeing a courtroom.
"I'm extremely grateful to go home and be with Dan and our sons, Jake and John," says MaryAnn, age 47. "My family knows when I need a hug."
For this Lafayette couple, the law is a personal and professional bond. They met 20 years ago while sharing an office in the Contra Costa district attorney's office. Both come from families in which criminal law is in the DNA. MaryAnn's oldest brother was a district attorney in the state of Washington. Dan, 51, was one of nine children of Bill O'Malley, the county's former DA and a onetime superior court judge.
MaryAnn, a judge since 1998, has handled many high-profile criminal cases. These include the trial of nanny Jimena Barreto, whom she sentenced to 30 years to life for second-degree murder in the deaths of Danville children Troy and Alana Pack in 2003. She also sent brothers Glenn and Justin Helzer to death row in 2005 for murdering five people.
Dan made a name for himself prosecuting everything from DUIs to homicides before joining his wife on the Contra Costa bench in 2001. At his swearing-in ceremony before the board of supervisors, MaryAnn reportedly wiped away tears as Dan joked that he didn't mind following in his wife's footsteps: "I have always had the secret desire to wear my wife's clothes, excuse me, robe."
Dan retired from the bench in 2006 to go into private practice, but the duo still debate, as lawyers will, about who is the better judge—with each claiming it's the other.