In recent years, brunch got a decidedly bad rap. All of a sudden, it was the unwanted stepchild among restaurant meals. Luckily, local chefs have been fighting back—with deliciously impressive results. At the same time, after some long and lonely weekends during the pandemic lockdowns, the idea of enjoying a relaxed late-morning restaurant get-together with family and friends seems to have taken on a new glow. Brunch is back, and it's bigger and bolder and more fun than ever. Check out some of its many variations.
---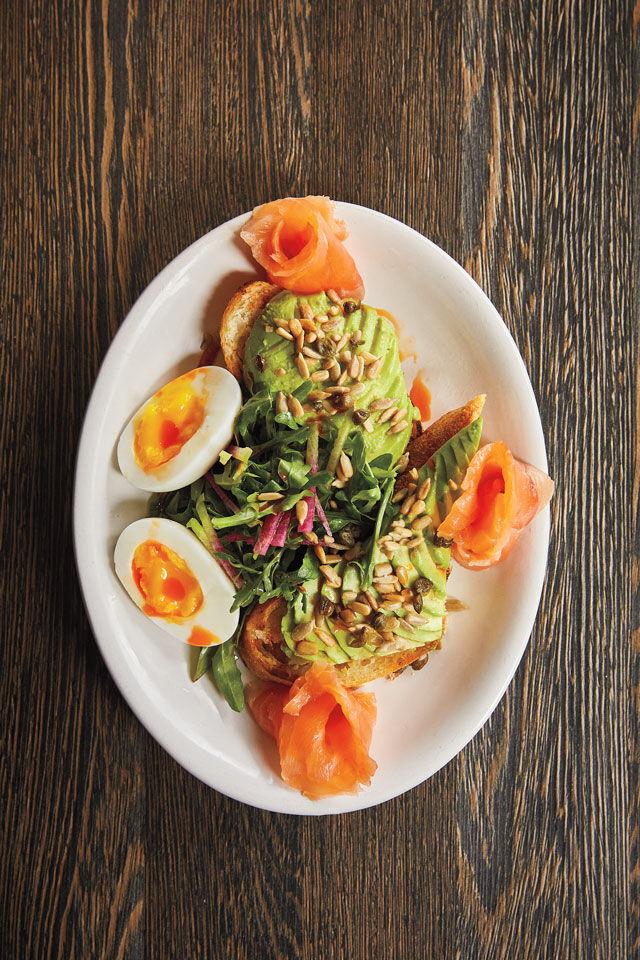 California Dreaming
CRESCENT BISTRO IN PLEASANT HILL MAKES MOTHER NATURE'S BEST EVEN BETTER.
The care that goes into the dishes served at Crescent Bistro comes across in every delicious bite—and the artisan creations served at its Saturday and Sunday brunch are no exception.
Every ingredient is farmers market quality, and some classic stars of brunch, like English muffins, cured salmon, and beignets, shout proudly at first taste that they were made in-house.
The freshest fruits and vegetables are never a garnishing afterthought. Deep-red strawberries stand out like neon on a plate of ricotta beignets, served with chocolate sauce and pecans. Ripe, creamy avocado turns toast with sunflower seeds, a soft-boiled egg, and shaved radish into a luscious, satisfying, health-promoting comfort food. In a beet salad, even the vibrant tangle of arugula is as much star as supporting player with shaved fennel, house-made pickled apples, toasted pecans, goat cheese, and a citrus vinaigrette.
The brunch menu offers wide-ranging breakfast dishes such as eggs Benedict, a cremini mushroom and Swiss cheese omelet, and chicken and waffles with spiced maple syrup and bourbon pecan butter. However, since brunch is served until 4 p.m., the menu also swings boldly into lunch territory with the bistro's well-loved juicy Angus beef burger, sandwiches (try the one with succulent fried chicken), and a lineup of gorgeous, food-as-still-life salads.
45 Crescent Dr., Pleasant Hill, (925) 349-9456, crescent​bistro.com. Brunch Sat.–Sun.
---
Brunch Fiesta
WALNUT CREEK'S CAPULLO COCINA MEXICANA CELEBRATES COLOR, FLAVOR, AND PURE DELICIOUSNESS.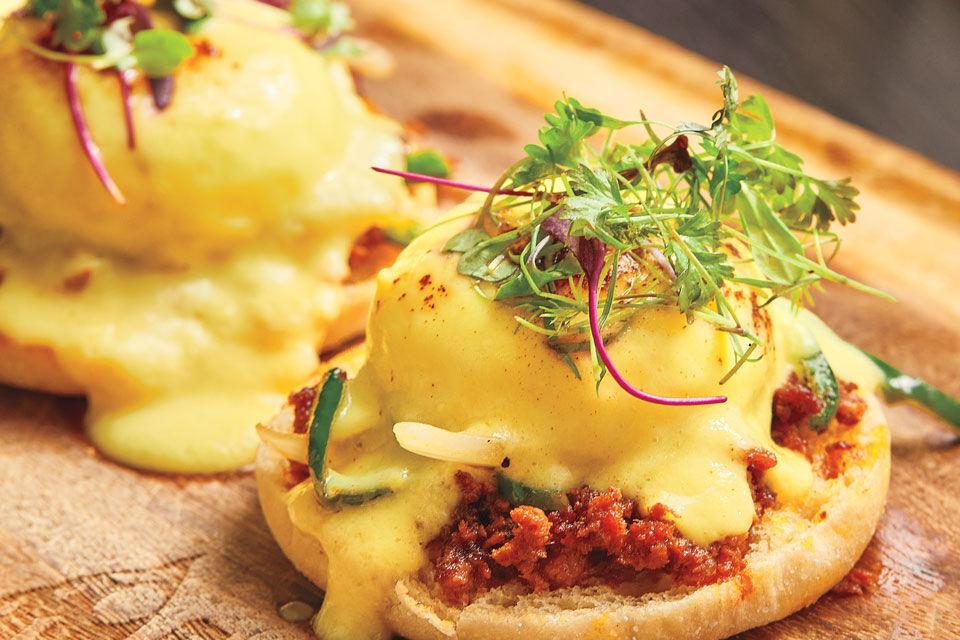 You won't find a friendlier, more welcoming brunch spot than Capullo Cocina Mexicana in downtown Walnut Creek. The servers treat customers like family, and Martin, who mans the stoves in the morning, hits perfection via his brunch with a Mexican flair.
The Mexican breakfast classics are here: huevos rancheros and chilaquiles, both made with top-notch queso fresco and Oaxacan crema, plus specialties like posole (hominy and meat stew) and eggs with bits of nopales (prickly pear cactus). Even tacos—topped with rich, slightly spicy, slightly tangy chorizo and scrambled egg—make a brunch appearance.
Try the Benedictos Mexicanos, a twist on eggs Benedict. Restrained spice from the jalapeño and pasilla chilies brings this classic into a new realm of savory deliciousness. That same irresistible chorizo and plump, perfectly poached eggs take the Benedictos right over the top.
Although the space at Capullo is smallish and simple, there is so much beauty in the food itself, which is presented looking fresh and vibrant, embellished with colorful garnishes on pretty dishes and wooden platters—making each table a shrine to festive good eating.
And speaking of festive, bottomless mimosas at Capullo are truly that—we had to beg our server to stop coming by with alternating pitchers of orange juice and bottles of bubbly.
1518 Bonanza St., Walnut Creek, (925) 476-5150, and 1508 and 1506 Park St., Alameda, (510) 263-8204, capullo​cocina​​​mexicana.com. Breakfast and lunch daily.
---
Middle Eastern Elegance
LULU DISHES A BEAUTIFUL, REFINED, FLAVOR-PACKED PALESTINIAN-INSPIRED BRUNCH IN BERKELEY.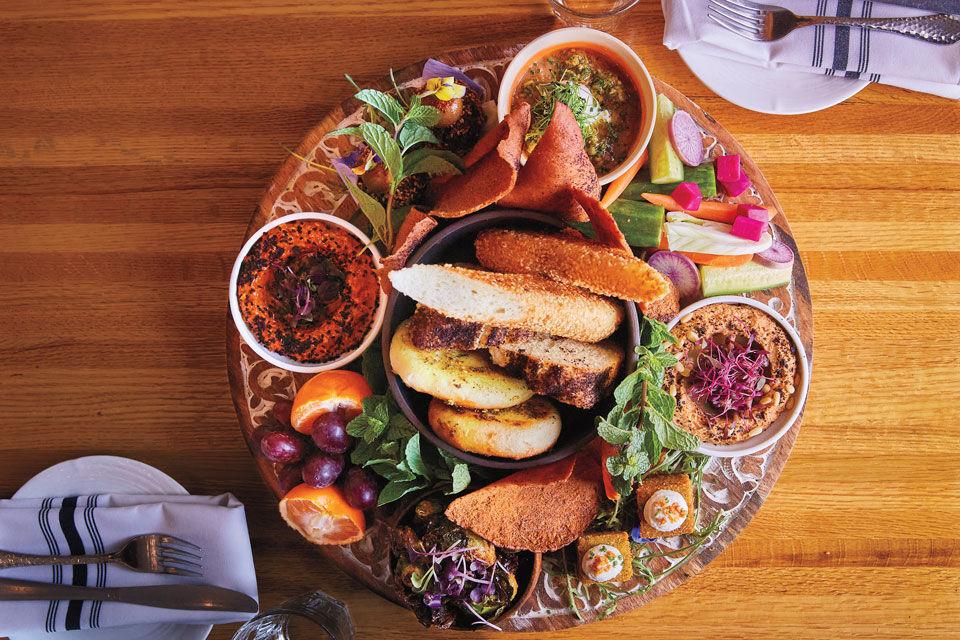 Picture a boutique brunch experience in Berkeley: an international-leaning, plant-friendly, unique menu in a charming setting. That's Lulu, and we're here for it. In her west Berkeley restaurant, chef-owner Mona Leena Michael dishes up creative, impeccably executed Californian interpretations of Palestinian fare, itself a spicier, tangier, more herb-heavy branch on the Mediterranean culinary tree. The undisputed headliner of the Lulu experience, available by reservation only during Friday through Sunday brunch service, is the meze brunch. For $30 a head (the entire table must participate, no modifications or substitutions), diners receive a stacked, gorgeously presented platter of breads, dips, and bites.
The muhammara offers a nutty, smoky roasted walnut and red pepper puree, flecked with black nigella seeds mixed with Aleppo red pepper. Soupy refried fava beans inject a surprising Mexican influence, with a tart preserved labneh yogurt and Middle Eastern–inflected chimichurri to bring it back on theme. Our dipping devices, however, returned most frequently to the velvety hummus encircling a delicious, concentrated lamb 'nduja bathed in olive oil, the only meat to make an appearance. Crispy fried brussels sprouts with a pomegranate vinegar, herb-bursting falafel balls, and a zesty, garlicky labneh mac and cheese round out the offerings.
We'd also recommend tapping the à la carte menu to ensure your salty-savory-sweet brunch appetite is fully sated. The "offensively garlicky" fries (topped with toum, a Lebanese garlic sauce, and fried garlic bits) and the popular knafeh pancake are two excellent picks.
1019 Camelia St., Berkeley, (510) 529-4300, luluberkeley.com. Breakfast and lunch Tues.–Thurs., brunch Fri.–Sun.
---
Feeding Body & Soul
THE LAST WORD BRUNCH IN LIVERMORE IS A POP-UP PARTY ON CERTAIN SUNDAYS.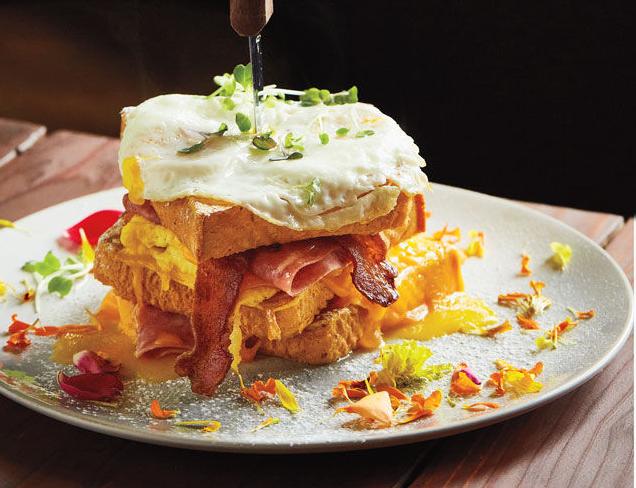 The Last Word's brunch, which is served only on Sundays twice a month, is a full-on live DJ R&B dance party. If you like contemporary R&B played at max volume so you can dance sitting or standing, sing along to every lyric, and really celebrate the weekend, then this is your place.
First of all, take a moment and forget the Weight Watchers points.
A French toast tower with scrambled eggs, cheddar cheese, ham, and bacon between floors and two eggs as the rooftop. Pork-belly Benedict. The Hangover Special croissant sandwich with scrambled eggs, bacon, and cheddar. The Meat Lovers Burrito with bacon, ham, chorizo, cheddar cheese, and scrambled eggs.
The Last Word serves the kind of food that might cause your usual appetite to decide to open up a new wing. And rightfully so. Check out a simple BLTA. The bacon is abundant, the lettuce perky, the tomatoes full of fresh flavor, and the avocado a layer of creamy richness. The genius comes in, though, with a drizzle of balsamic reduction, some sliced red onion, and a rosemary-infused aioli.
Somewhat surprisingly in landlocked Livermore, the Last Word serves sweet, tender lobster in a New England–style lobster roll and a lobster Benedict. Rich does not begin to describe the Benedict, which seems to be made of improvisations on butter with its buttered lobster, buttery hollandaise, and eggs poached as soft as, uh, buttah. No one goes away unsatisfied from this dish. Both the lightly seasoned country potatoes and the well-selected and perfectly ripe melon and berries made great sides.
2470 First St., Ste. 100, Livermore, (925) 493-7293, lastwordbar.com. Brunch twice a month; check website for dates.
---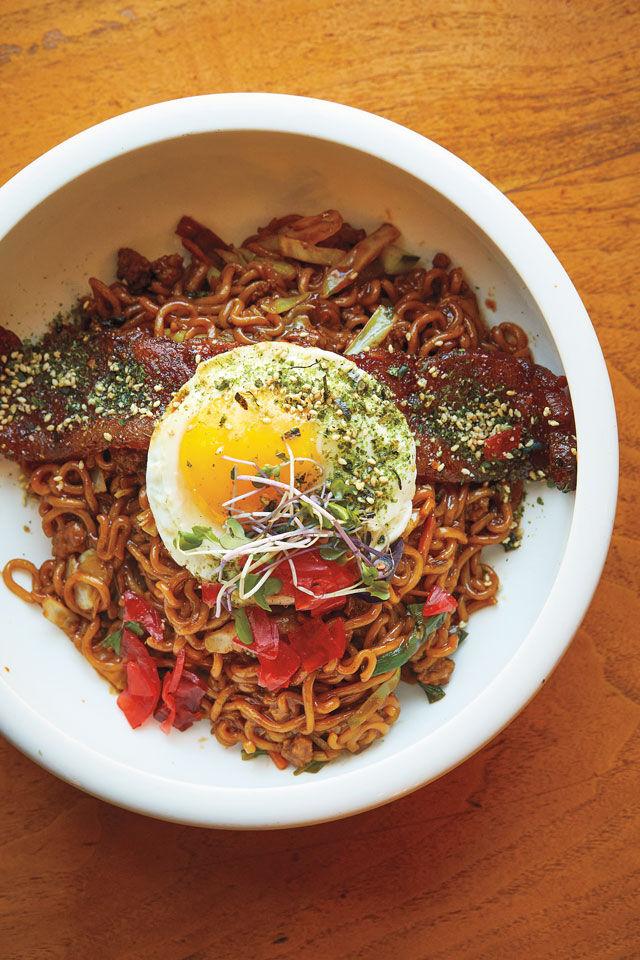 All Mixed Up
KITCHEN STORY CONFUSES, BEMUSES, AND DELIGHTS DINERS WITH CAL-ASIAN MASH-UPS IN ROCKRIDGE.
Highlighting a dish inspired by the movie Parasite—or really placing that word anywhere on your restaurant's menu—is a bold move. The fact that jjapaguri—a stir-fry of two Korean instant noodles with minced pork, egg, veggies, and bacon—has become one of Kitchen Story's most popular dishes tells you all you need to know about the restaurant and its audience.
The California-Asian hybrid destination in Oakland's Rockridge district is unapologetically iconoclastic in its brunch offerings. Traditional Korean bibimbap and stone pot share menu space with lemon ricotta pancakes and classic Florentine eggs Benedict. The kitchen, meanwhile, doesn't blink twice at fusion creations like country Benedict (Korean fried chicken with gochujang hollandaise sauce) or a "poutine" consisting of Tater Tots in sweet-savory curry and topped with Mexican cotija cheese and a fried egg for good measure.
That the attractive interior packs in patrons on weekday mornings is evidence that they're onto something, and we'd recommend embracing the chaos. After all, piping-hot Tater Tots in a rich, comforting curry is as exciting a way to kick off the weekend as a Denver omelet, and why not add a little Korean-style crunch and heat to that fried chicken topping your waffles?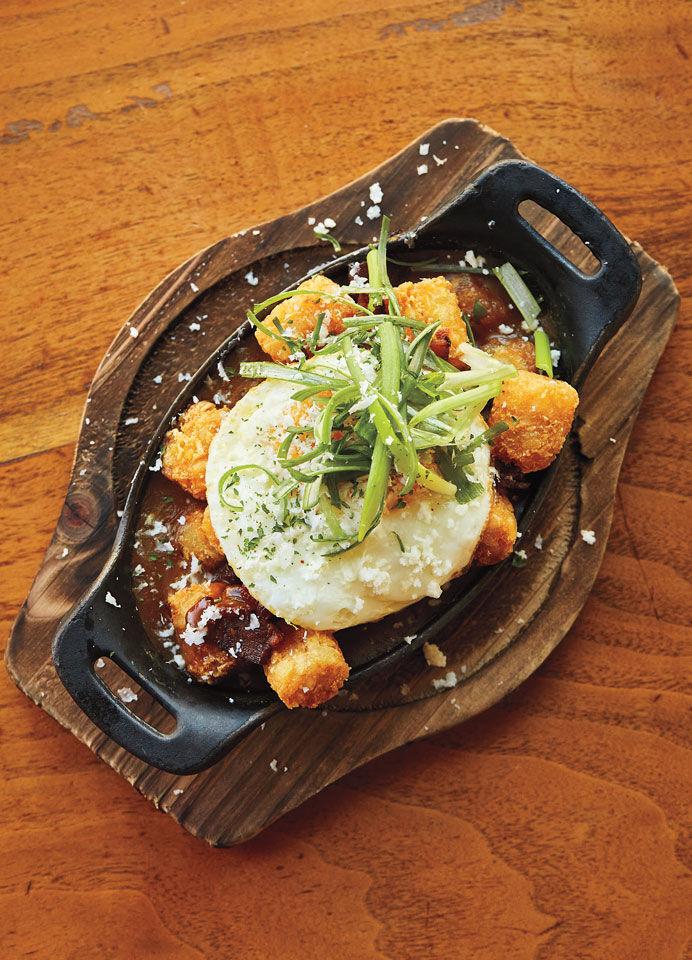 Or not. The nice thing about Kitchen Story is that it executes conventional items just as well as experimental ones. Crispy Yukon home fried potatoes and hearty wheat toast accompany the soft egg scrambles. The stone pot comes out sizzling with its mix of sweet meat, rice and veggies, fried egg, and smoky chili sauce. And yes, even the Oscar winner–inspired jjapaguri satisfies with addictive, chewy noodles slicked with a soy-based sauce and a side of the restaurant's signature Millionaire's candied bacon. It's a brave new brunch world.
5422 College Ave., Oakland, (510) 922-9443, kitchenstory​ca.com. Brunch daily.
---
Brunch Cocktails
What to sip with the morning meal.
You know the saying: It must be five o'clock somewhere.
Uh, even if it's 10:30 a.m.?
Apparently so, judging by the inventive cocktails on brunch menus these days.
One popular cocktail category that allows brunchers to wake up even as they wind down is espresso cocktails. Pleasant Hill's Crescent Bistro has an espresso cocktail made with bourbon, lovely because of the deep, robust yet never bitter flavor of the Oakland-based Mr. Espresso coffee, enlivened and even softened by the bourbon, and topped with a fluffy layer of cream (or almond milk, as desired). The bistro also has a coffee made with Jamaican rum.
Walnut Creek's Capullo Cocina Mexicana serves spiked coffees and mochas, as well as espresso martinis.
Montesacro in Walnut Creek serves an espresso martini containing eight-year-old Bacardí rum and Galliano Ristretto, an Italian liqueur named after the Italian caffè ristretto (an espresso made with very little water and a very short extraction time that's known for its concentration and lack of bitterness). Suddenly, a "coffee buzz" takes on a whole new meaning.
In other important brunch cocktail news, the Sons of Liberty Alehouse in Livermore pours mimosas with a beautiful "POG" mixture (passion fruit, orange, and guava juices). They have also entered a winning candidate in the Bloody Mary category—the garden-fresh Bloody Maria, made with tequila, a chili liqueur, pickled jalapeños, smoked salt, a Pico Piquin rim, and a big ole rasher of smoky bacon.
---
Where the Beat Drops
How about some R&B with your French toast? Elegant jazz piano as you sip a Bellini? Here are some locations that offer music at brunch:
- Elevation LVK, Livermore, live music every Sunday. elevationlvk.com.
- The Last Word, Livermore, R&B DJ on Sundays twice a month (see Brunch Cocktails below to learn more). last​wordbar.com.
- Perle, Oakland, blues band or DJ every Sunday. perlewinebar.com.
- Scott's Seafood, Oakland, jazz and piano every Sunday. scottsjls.com.