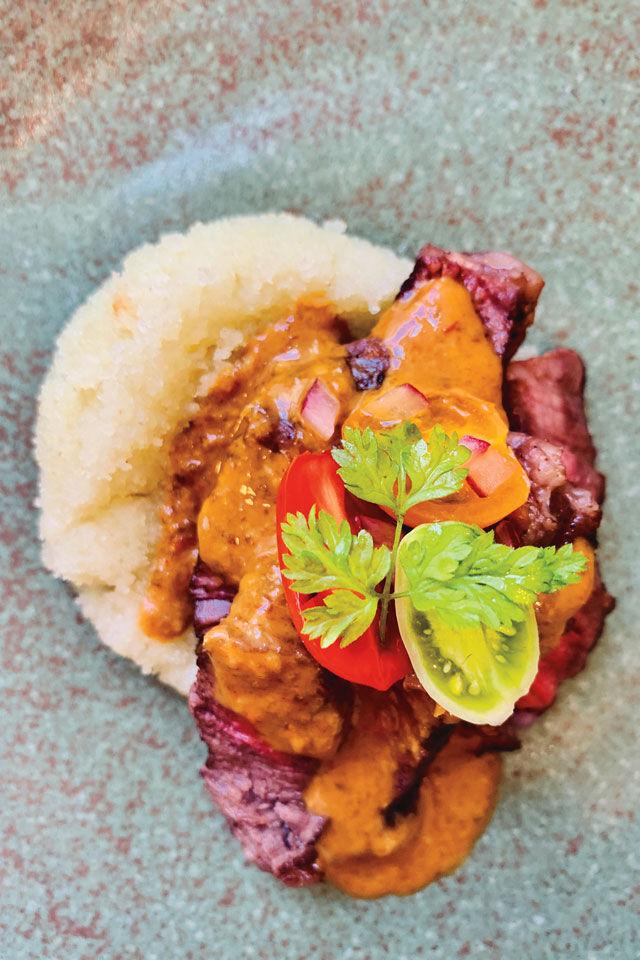 Rib eye rendang tamales, concha fried chicken sandwich, and curry laksa with albóndiga meatballs are menu items that stand out even in the diverse food world 
of the Bay Area.
They are, in fact, the culinary culmination of a vacation to Indonesia that acclaimed local chef Nora Haron took last year with her boyfriend, Diego. The trip inspired her to create a distinct gastronomic blend of her Indonesian Indian heritage (she was born and raised in Singapore) and his Mexican one. And when Local Kitchen and Wine Merchant, the San Francisco restaurant where Haron is partner and executive chef, pivoted to takeout due 
to the pandemic, she figured it was an opportunity to introduce the couple's "food babies" to the public.
Late last year, she launched her Indomex pop-up inside the sports bar Fort Green in Old Oakland. Every other week on Sunday, hungry customers can try Haron's brunch creations—all made with local, sustainable, and organic ingredients—inspired by Diego. "He's my voice of reason and my constant support, which is why I've dedicated the menu to both of our cultures," she says.
The concha fried chicken sandwich is always available, but she's constantly tweaking the rest of the menu to make sure the food stays fresh and accessible.
"I didn't want to do anything too crazy," says Haron, "just items that both cultures are familiar with meshed into one and made delicious."
While Haron has no concrete future plans for the pop-up, she's looking to eventually open her own restaurant 
in the East Bay—with her Indonesian-
Mexican specialties being part of the menu. noraharon.com.