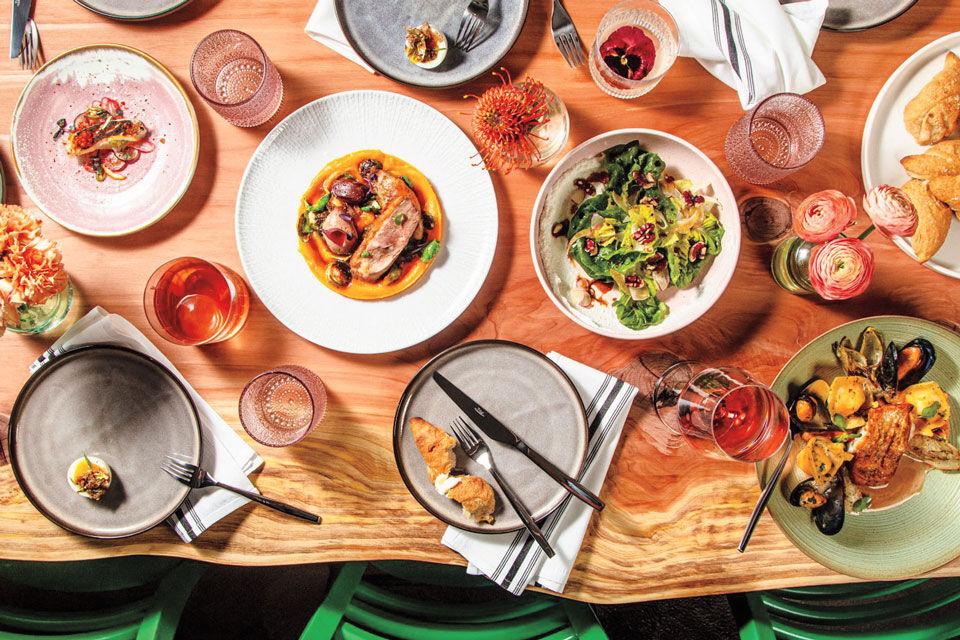 The name of this restaurant is straightforward—it's located in a vine-covered alley. The restaurant itself is anything but.
Launched in December, Alley and Vine was cofounded by Francisco Bazo (Waterbar), Casey Hunt (Rubicon), and Jason Ryczek (Farallon), San Francisco fine-dining veterans whose goal was to recreate a culinary slice of the city tucked just off Alameda's main drag. It was Bazo, a longtime Alameda resident, who observed that the island lacked a signature California cuisine–inspired restaurant, a place where locals could let their foodie flags fly and have a seasonal, farm-to-table culinary experience without driving over a bridge or through a tunnel.
"As much as we love to support the community and local restaurants, when we wanted to go out to celebrate, it felt like there was always something missing," Bazo says. "People would come to see me at Waterbar, and I thought, Why should we have to leave the island? Why can't we build something San Francisco–based in Alameda?"
Or as Hunt puts it: "Alameda has good restaurants and a good food scene—but this style wasn't here yet."
While careful not to oversell it, the team exudes the unmistakable confidence of seasoned San Francisco restaurateurs. That self-assurance is justified, and fortified, by the restaurant's executive chef, Ryczek, whose food Hunt and Bazo fell in love with while working together at Waterbar. It's easy to see why: At Alley and Vine, Ryczek effortlessly and elegantly blends elements of French, Asian, Italian, and California cuisine into an inventive, fresh, and seasonal framework.
On our first visit, we opted for a salad and burrata appetizer to start. The salad was worthy of a fine Paris bistro: Garden-fresh mixed greens were dressed with honey vinaigrette, candied walnuts, and bee pollen (condensed to the size and shape of sesame seeds), and accented by a painterly streak of zesty whipped goat 
cheese. The burrata, as creamy and delicious as any I've had, was served 
alongside garlic crostini and an early spring medley of petite pickled onions, greens, and fava beans. Lacking a kids' menu, our boys devoured the fresh-made fettuccine while we eagerly 
spooned up the requested-on-the-side bowl of vodka sauce enriched by a soft-cooked egg, local Dungeness crab, and a subtle punch of lingering spice. We also quickly polished off the lamb cheeks, gamey and tendony but braised to lovely tenderness and served Italian-style atop creamy polenta with a red wine reduction plus spring asparagus and thinly sliced, flavor-packed wild mushrooms.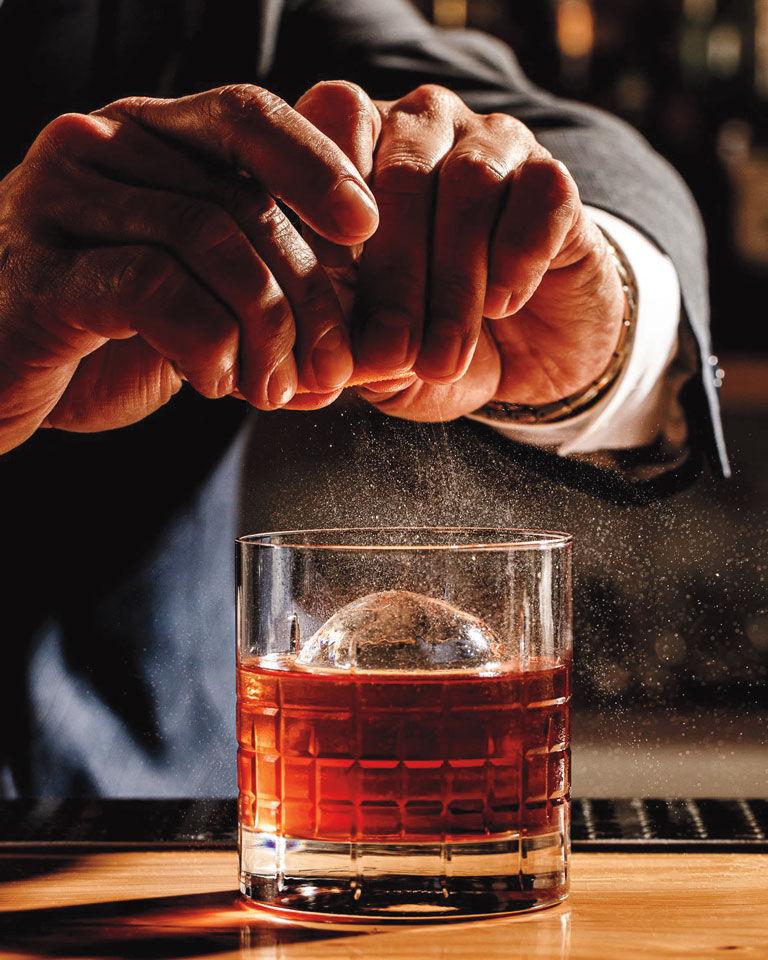 Only the beautifully presented but under-seasoned Mount 
Lassen trout disappointed, failing to balance disparate elements like miso hollandaise, shaved fennel, and poached egg. On a later visit, a spring vegetable risotto suffered a similar fate, primarily 
because the unnecessary addition of weighty French lentils muddled the lighter flavors. Indeed, my only gripe with Ryczek's cooking is that he can attempt to stuff too much into one dish. 
But it's also a sign of culinary ambition that makes each meal interesting—and a quirk that should improve over time.
My other complaint on that first visit was hardly the restaurant's fault: Forced by pandemic restrictions to expand its outdoor seating, the ambitious food was hard to square with the makeshift nature of dining in a glorified parking lot. But as Alameda County's tier status has lowered, Alley and Vine has drifted back in line with what the owners envisioned: an on-site dinner destination serving creative fare that you'd be hard-pressed to find elsewhere on the island.
On our next visit we dined in the more formal patio section and watched as diners trickled into the newly opened interior—a beautiful space with an open kitchen, two bar-seating areas, and a mezzanine that should be a hopping gathering spot once indoor dining is fully up and running.
Indeed, the vibe felt downright festive. Our server was fun and fully versed on chef Ryczek's menu. We started with a couple of boozy-but-balanced cocktails and followed with two "green eggs and ham," deviled eggs sporting a delicious yolk filling turned green by the addition of arugula, chives, and parsley, and topped with a delicate slice of prosciutto. That ham was cured by Mark Franz, who mentored Ryczek at his legendarily whimsical, original seafood restaurant, Farallon.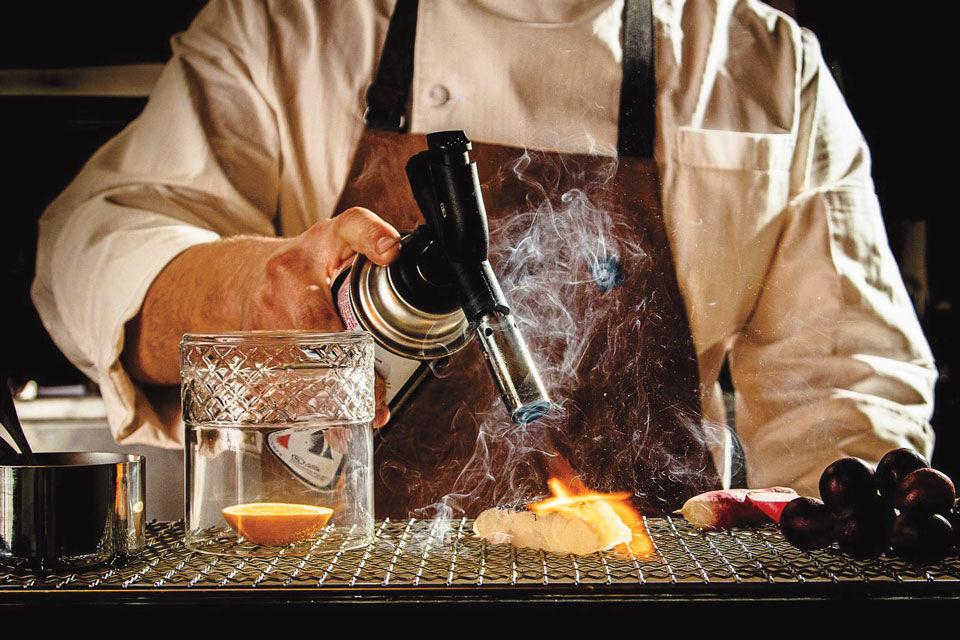 That experience shines in the restaurant's seafood dishes, the stars of the menu. A starter of Dungeness crab and Maine lobster ravioletto was an ocean-inspired masterpiece. An envelope of black squid ink pasta was filled with lobster and crab, chopped and combined to the consistency of a soft Asian-style fish 
cake, and covered with a deeply flavorful chili-tomato-garlic 
sauce spiked with tender Monterey squid and briny bottarga 
(salted, cured fish roe).
Speaking of roe, Ryczek actually makes his own, partnering 
with Sausalito's California Caviar Company to house-cure the eggs harvested from local white sturgeon. It's served in a one-ounce portion with popovers, boiled egg, chive crème fraîche, and caper relish for $95. We didn't go that far, but we did get 
a $25 "bite" atop smoked sturgeon and a smear of pureed golden beet. It was rich, briny, and delicious, and my wife and I immediately hatched plans to go back for the full experience, with champagne and without kids. Is it a splurge? Yes, but it's also unique and local—and it's been a long year filled with lots of family meals at home.
We're not alone, apparently. Hunt told me that she's been seeing some of that old pre-pandemic celebratory dining spirit slowly coming back to life at Alley and Vine.
"People want to try new places," she says. "They want to get out of their houses, want to have a good time. Fun isn't dead; it was just put on hold for a while." alleyandvine.com.