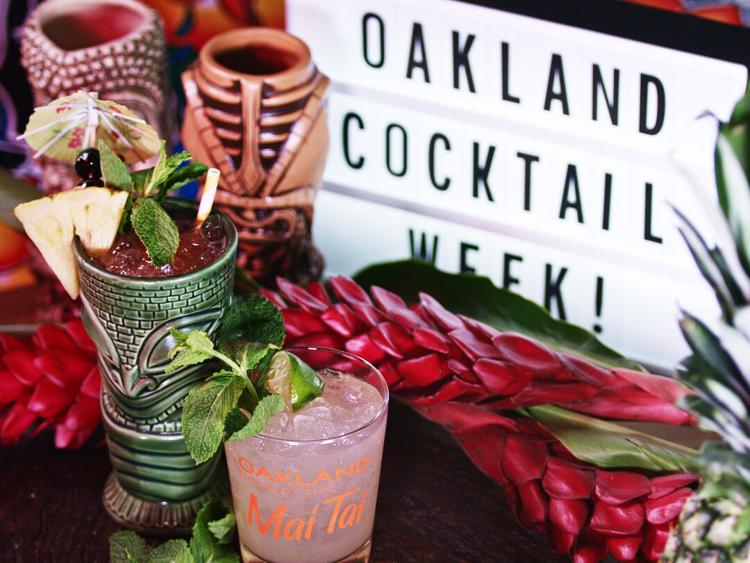 Two Sobering Statistics
1) According to an analysis of credit card activity by Visit Oakland, local consumer spending was down more than 80 percent in the second quarter of this year as compared to last year.
2) Approximately 47 percent of small businesses in Oakland are in danger of shutting down permanently within the next three months without direct aid.
We don't bring this up to bum everyone out, but rather to help illustrate the unprecedented challenges Oakland (and all East Bay) small businesses have faced during the pandemic. Which is the reason that the organizers behind Oakland Cocktail Week and the Oakland Indie Alliance (OIA) have teamed up to organize a month's worth of virtual events happening September 10 though October 11. Dubbed Keep it Spirited, Keep it Oakland, this COVID-19 relief fund event is meant to throw a lifeline to the businesses perhaps most directly impacted by the state's coronavirus shutdown restrictions: bars.
Diablo spoke with OIA executive director Ari Takata-Vasquez and Oakland Cocktail Week organizer Daphne Wu about the event and the unique difficulties facing Oakland's bars.
Go to oaklandcocktailweek.com to learn about all the events, kicked off by an online screening on Thursday, Sept. 10, of the 2018 documentary Town Spirit chronicling the history and culture behind some of Oakland's most popular dive bars.
Q: How did the idea come about for this extended event?
Daphne Wu: Oakland Cocktail Week has been around for the last two years. The idea was to highlight the spirits businesses in Oakland and some surrounding towns to foster that community and strengthen the public's support for them—and especially this year. So many small businesses have been hit hard, but bars especially. Everything has been a little unsure and everything kept changing. When COVID-19 hit, obviously all our plans changed dramatically for the event. We had been cautiously waiting to see how regulations would change, and by the beginning of the summer it became clear that the situation wouldn't improve by September, and we felt a sense of urgency to get a relief fund started.
Ari Takata-Vasquez: We wanted to prioritize bars that have not been able to reopen. These bars have had to do so many pivots, given all the changes in restrictions and rules on top of all the other regulations from the city, county, and the ABC [the state's Alcoholic Beverage Control]. Running a business is always a challenge and requires being nimble, but this is just another level. These owners are incredibly tenacious and are trying to work it out, but this is beyond what they've ever experienced. We realized that what they needed most was direct aid, so we started this relief fund. We're hoping to raise $75,000 to give to the most vulnerable. We can't rely on this idea that only the strong will survive. Their businesses have been devastated, and there's a real risk that half of them won't reopen. Oakland has this unique atmosphere of independent businesses, and it won't be the same if suddenly they're all replaced with big-box stores.
Q: What are some of the unique challenges faced by bars?
Daphne Wu: When the early regulations came out, one of the strangest ones was that bars were allowed to sell to-go cocktails but only with food. It was a really strange rule, because a lot of the dive bars especially don't serve food and have no facilities to do so, so they had to scramble. Some have been able to come up with creative solutions, but a lot of them haven't.
Q: I've spoken with some restaurant and bar owners who have been struggling with their landlords to renegotiate their leases. Is that a big problem?
Ari Takata-Vasquez: For sure. All small businesses are asking is for landlords to be flexible and treat them like partners during this catastrophe. I'm on the Mayor's Council, and it's one of the big issues and unfortunately it's fairly complex. It's obviously tough as well on individual landlords, but it seems like their best bet would be to keep the small business that's in there now, because the real estate market on the other end of this will not be pretty. It was different when we thought this would be a two-month inconvenience, but we're entering six months. The economic impact all trickles down, and small businesses are bearing the brunt of it.
Q: Tell me about some of the events being organized this month.
Daphne Wu: This Thursday will be a virtual screening of the documentary Town Spirit. That'll be on all our social media feeds: Instagram, Facebook, and YouTube. It's a really cool documentary that was trying to answer the question of why some of these classic Oakland dive bars have been able to stay around for so long. We approached it from sociologist Ray Oldenburg's idea of the "Third Place," a place outside of your home and work where people can come together and share ideas and serve as a community. It became clear that places like Heinhold's, Merchant's Saloon, the Alley, and the Starline Social Club serve as places for people to come together, which strengthens the overall community and enables the bars to last. It's a special film, and when people see it they take away lessons of the importance of building and sustaining a community and how large a function bars play in that. And these days that message of fostering a strong community is more important than ever. These are bars that survived the 1918 flu, world wars, Prohibition—and I really hope they survive this pandemic.
Ari Takata-Vasquez: The film kicks off the month-long fundraising campaign. We'll be partnering with local bars and spirits companies to do virtual takeovers and events. We'll be partnering with local musicians for a happy hour live stream every Friday, and hopefully we'll be able to organize a virtual version of our Town Throwdown cocktail competition at the end.
Q: Is there anything else people can do to help?
Ari Takata-Vasquez: If there are companies or institutions that want to get involved, please contact us at oaklandindiealliance.com. OIA is working on a free parklet program for restaurants and bars, and we'd love for folks in building trade to contribute any pro bono labor or materials. There are lots of ways to plug in and there's space for everyone to be a part of this. And finally, I'd encourage consumers to strongly consider which businesses they want to support. The time to support your favorite small businesses is now, because they might not be around if you wait.