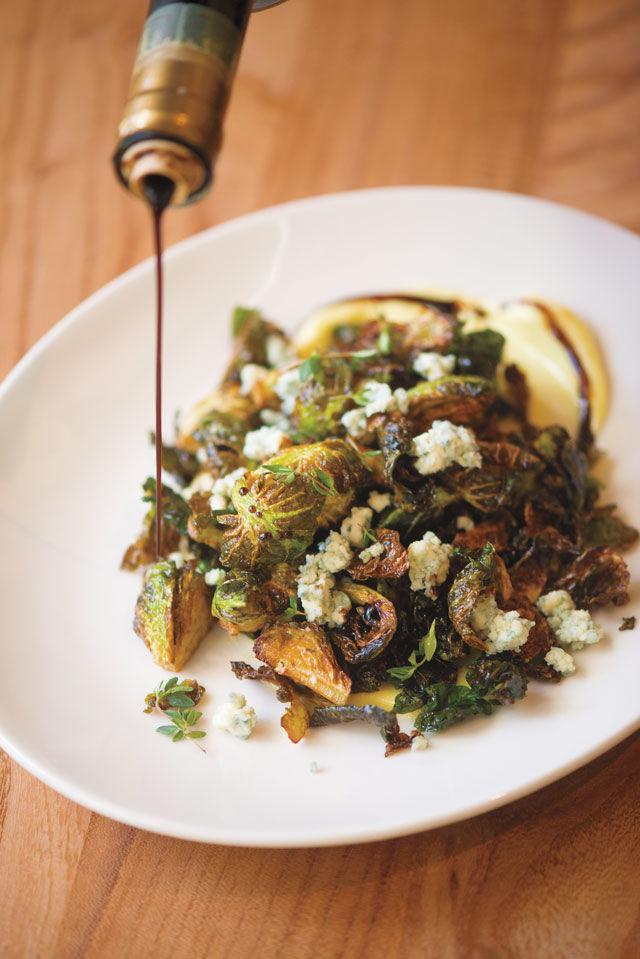 What to do, what to do? That was the question the entire East Bay was asking once the reality of the shelter-in-place order set in. The answer, for many, was cooking. Dusty cookbooks were unshelved; kitchen gadgets unearthed; long-
forgotten techniques unleashed.
In that spirit, Diablo has collected a few favorite recipes from popular East Bay dining spots. Try the dishes at home, and then compare them to the real-deal versions. After all, we don't have to cook every meal.
Fried Brussels Sprouts
Mockingbird, Oakland
Co-owner Melissa Axelrod: "We typically cook these to order in our dedicated deep fryer—that way they get to our guests piping hot and super crispy. But the good news is you can make them at home and achieve a
similar effect by roasting them in a hot oven."
Pro tip: Both the confit garlic aioli and balsamic glaze can be made days ahead. The garlic is great mixed with goat cheese and whatever herbs you have laying around, or spread on day-old grilled bread.
Confit garlic aioli
This recipe will make more garlic confit and garlic-flavored oil than you will need for the dish, but you can use leftovers.
• 1 head garlic, peeled and smashed with a knife
• 1 cup extra virgin olive oil
• 2 sprigs of thyme (or a pinch dried)
• 1–2 peels lemon zest
• 1–2 bay leaves
• ⅓ cup mayo
In a small saucepan, combine smashed garlic, olive oil, thyme, lemon zest, and bay leaves, and cook over a low heat until garlic is soft and can be mashed easily (about 30 to 40 minutes). Remove approximately one clove of garlic from the oil and smash in a small bowl with the back of a spoon. Whisk in mayo and approximately 1 tablespoon of the oil from the saucepan. Season to taste with salt and set aside.
Brussels sprouts
Servings: Plan for approximately a half pound per person.Don't hesitate to scale up the recipe if you'd like leftovers—the brussels hold well in the fridge for a day or two.
• 1 pound brussels sprouts, trimmed and quartered
• ¼ cup extra virgin olive oil
• 1 teaspoon kosher salt
Preheat the oven to 450°F. Line a baking sheet with 
foil shiny side up. Place pan on bottom rack of oven. Toss 
brussels sprouts with oil in a large bowl; season with salt.
Carefully remove hot baking sheet from oven. Quickly drop seasoned brussels on baking sheet—you want to hear
a sizzling sound. Give pan a quick shake to even out brussels, and return the pan to the bottom rack of oven until brussels are softened and deeply browned, 20 to 25 minutes.
Balsamic glaze
(Or purchase ready-to-use saba, which Mockingbird uses.)
• 1 cup balsamic vinegar
Put one cup of balsamic vinegar in a small pot, and bring to a boil. Reduce the temperature, and simmer for 10 to 15 minutes—it will continue to thicken as it cools.
To finish
• Flaky finishing salt like Maldon
• ⅓ cup blue cheese, crumbled (a favorite is the Danish-style)
• ½ teaspoon fresh thyme leaves
• 1 tablespoon saba or balsamic glaze
To finish the dish, first spread confit garlic aioli on a platter, then pile the brussels sprouts on top. Finish by sprinkling on salt, then the blue cheese, and finally the thyme leaves with a drizzle of saba or balsamic glaze. Feel free to use more or less of each element to suit your own taste.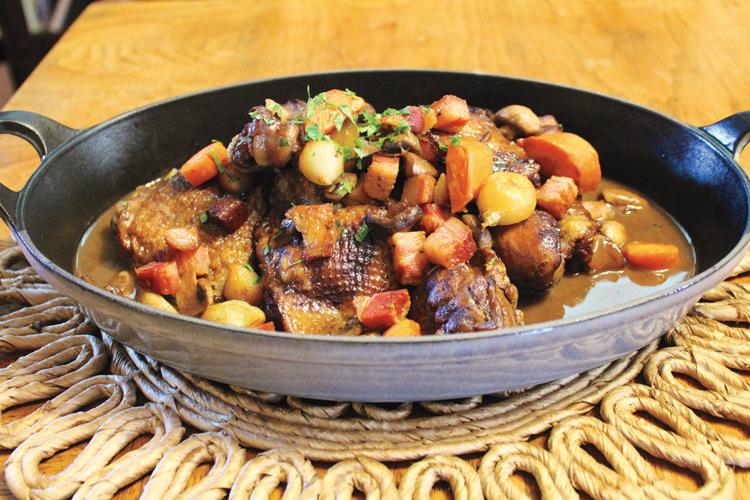 Coq au Vin
Rêve Bistro, Lafayette
Rêve chef-owner Paul Magu-Lecugy: "Coq au vin is a classic French recipe—we can't take credit for it. There are many versions; every French family probably has their own."
Pro tip: "We think it's a pretty simple recipe. But, you can always pick up an order at Rêve!"
Recipe
• 4–5 pounds chicken meat (legs and thighs)
• 8 cups Burgundy wine
• 2 large onions, quartered
• 3 medium carrots, quartered
• 4 garlic cloves
• ¼ pound bacon, cut into 1-inch pieces.
• 1 bouquet garni (1 sprig thyme, 1 bay leaf, 
1 celery stalk tied in a cheesecloth)
• 2 tablespoons vegetable oil
• 2 tablespoons olive oil
• 2 tablespoons cornstarch (optional)
• 1 pound button mushrooms, quartered
• 1 pint pearl onions, blanched and peeled
• Salt and pepper
Place chicken, wine, vegetables, garlic, half of the bacon, and bouquet garni in a large bowl. Cover and marinate in refrigerator overnight.
Remove chicken from marinade, and reserve the marinade for later use. Pat the chicken dry, and in a heavy-bottomed pot, heat olive oil and vegetable oil and sear chicken until golden. Next, add bacon from marinade to chicken and cook until just brown. Remove the bouquet garni and vegetables from the marinade and strain. Then add the marinade to the chicken.
Simmer until the chicken is tender, about 45 minutes to 1 hour. With a ladle or spoon, remove all excess fat from the sauce.
Next, thicken the sauce. Simmer gently. If using cornstarch, first mix it with water and create a slurry, add it to the sauce, and bring to a boil. Separately, sauté mushrooms and onions in the leftover bacon fat until brown. Julienne remaining bacon and sear until brown. To serve, heat chicken and vegetables in sauce. Garnish with mushrooms, onions, and bacon.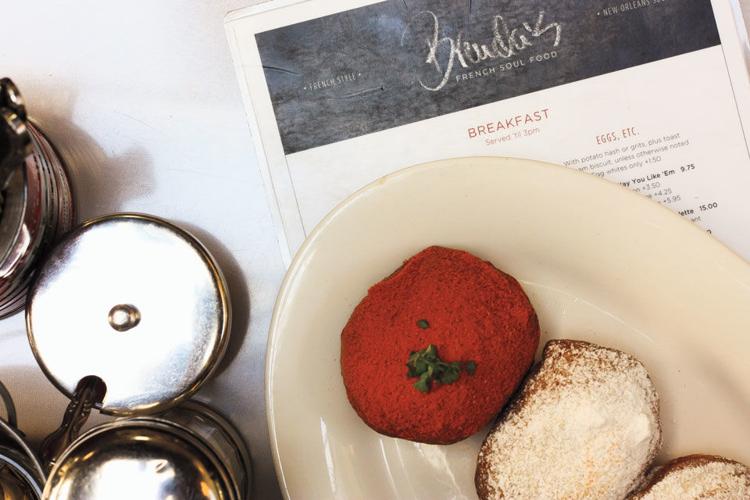 Apple Beignets
Brenda's, Oakland
Owner Brenda Buenviajé: "I wanted to do something nontraditional; I wanted to play with it—to do new New Orleans food. When I decided to stuff the beignets, I knew that I wanted to do one with fruit, but it was important for me not to get too crazy, so I settled on apple pie as something familiar."
Pro tip: "I'll be honest with you, they're not easy to make: You need to roll the dough, make sure that you cut it the right size and that the proportion of filling to dough is just right. One thing you want to watch out for is if the apples are too wet, the beignets will explode while frying—so make sure to drain."
Filling
• 5 pounds apples, small dice
• 1 cup brown sugar
• 1 tablespoon cinnamon
• ½ tablespoon nutmeg
• 1 tablespoon vanilla
• ¼ pound butter
• 1 tablespoon lemon juice
Mix everything thoroughly and let drain overnight. Taste for balance, and adjust acid and sugar if necessary. Squeeze dry before using in beignet dough.
"The apples we use are frozen and that changes the texture slightly as well as 
the water content," Buenviajé says, "We use Granny Smith apples so I suggest using the same. Fresh apples will work just fine."
Beignet dough
• 1½ cups warm water
• ½ cup sugar
• 1 envelope active dry yeast
• 2 beaten eggs
• 1¼ teaspoons salt
• 1 cup evaporated milk
• 7 cups bread flour
• ¼ cup Crisco shortening
• Powdered sugar
Mix water, sugar, and yeast in a bowl, 
and let sit for 10 minutes. If yeast is dead, you won't get any bubbles and you should start over. In another bowl, beat eggs, salt, and milk together. Combine with yeast mixture. Mix half the flour with the wet mixture, then add shortening. Add the rest of the flour to the mix. Remove dough and work for 10 minutes. Round it out and put in a sprayed bowl covered with plastic wrap, so it can proof in warm place for 2 hours. Roll dough out to ¼-inch thick, and cut into squares. Brush the squares with some water and let sit to make the dough tacky. Fill each square with the apple filling and fold over, making sure the edges are completely sealed. Set up a fryer (pot with oil) and bring to 325°F. Fry each side for roughly six minutes or until golden brown, and remove to cool. Sprinkle with powdered sugar. Make sure the inside dough is cooked through; if not, make necessary cooking adjustments.