I think we could all use a stiff drink.
The first half of 2020 was challenging. 
But the good news is that summer is here, social bubbles are expanding, and restaurants are reopening for outdoor dining. What better way to celebrate, during peak hot weather season in the East Bay than with a cocktail? And not just any cocktail: From a sweet daiquiri to a tart margarita 
to a sharp Aperol Spritz, these classic 
summer sippers will transport you to the tropical waters of the Caribbean, the palm–dotted beaches of Mexico, the coastal towns of Italy—all without having to set foot in an airplane (maybe next year…).
The beauty of these drinks lies in their simplicity: just a few, top-quality ingredients, mixed properly in the perfect ratio, and you're in business. Which isn't to say you can't mess them up. For your imbibing pleasure, we've enlisted the help of experts from some of the area's premier outdoor drinking destinations in order to craft the ultimate summer cocktails. Sip them 
alfresco on location—or make them at home in your backyard. Just make sure to get out into the fresh air, soak up the sun, and enjoy yourself!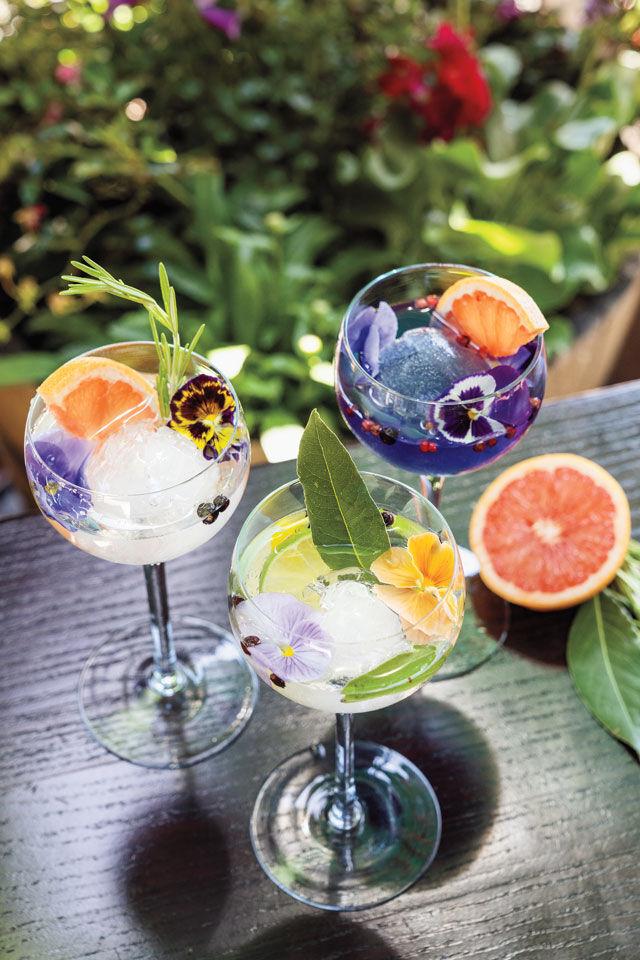 GIN & TONIC
THE COOP, LAFAYETTE
Pre-pandemic, Lafayette Circle hummed with energy as cars, pedestrians, shoppers, and diners buzzed through the de facto heart of the city's downtown. Now, as that activity slowly begins to resume, there's no better vantage point than the front patio of the Coop, the casual rebrand of Lafayette's popular social hub the Cooperage American Grille.
Bar manager Portia Battistini is in charge 
of ensuring that everyone delights in the city's reawakening with a top version of the restaurant's eponymous gin and tonic. The Coop—available on its own or as part of a gin and tonic flight—offers a spin on the classic old warhorse cocktail. Not surprisingly, the key to this favorite is the booze, in this case the herbaceous Terroir gin by St. George Spirits. Likened by Battistini to a "forest in a glass," the Alameda distillery product is infused with local botanicals such as Douglas fir, California bay laurel, and coastal sage to mimic a walk up Mount Tamalpais. "A true gin lover will appreciate the mouthwatering botanical kick to the palate," she adds. thecoop32.com.
THE COOP'S GIN AND TONIC
2 oz. St. George Terroir gin
3 juniper berries
1 sage leaf
1 laurel leaf
3 viola flowers
3 oz. Fever-Tree 
 Mediterranean tonic
1 lime wheel
Pour gin over a large ice sphere (or equivalent) in a wine glass, and then add berries, sage, laurel, and flowers. Finish off with tonic—Battistini uses half a bottle of Fever-Tree, or a little over 3 ounces. Add lime wheel.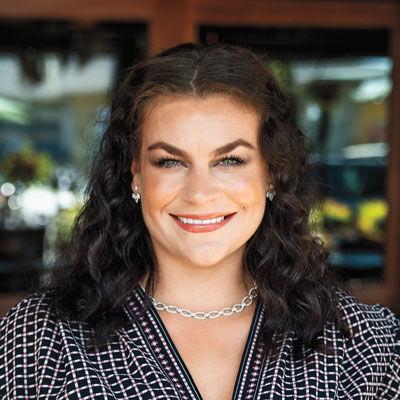 PRO TIPS
GARNISH WITH LOVE
Laurel leaf, sage, lime, and juniper berries add a visual complement to the essence of the gin. "Spank" the herbs a bit before adding to release more oils, which intensifies the scent.
NOT ALL TONIC IS CREATED EQUAL
Don't skimp on the two main ingredients, says Battistini. The Coop uses Fever-Tree Mediterranean tonic that's light on the bitterness and heavy on fragrance.
BE CONFIDENT IN YOUR GLASSWARE
Rocks glasses are "manly," but Battistini prefers a wine glass: "Similar to swirling and enjoying aromas of your wine, you'll get the same effect with the botanicals of gin.
THE BIG CHILL
Try large-form ice—
the Coop uses 
spherical—it not only looks beautiful, but 
also slows down 
the dilution, 
allowing you more time to enjoy the drink.
TWIST
The Coop's Butterfly Effect utilizes butterfly pea blossom–infused Empress 1908 gin for 
a fuchsia-toned spin 
on the gin and tonic. 

THE COOP'S BUTTERFLY EFFECT
2 oz. Empress 1908 gin
3 oz. Fever Tree Mediterranean tonic
Grapefruit slice
3-4 juniper berries
6-8 pink peppercorns
Pour gin over large ice sphere (or equivalent) in wine glass and then add berries and peppercorn. Finish off with tonic. Add grapefruit.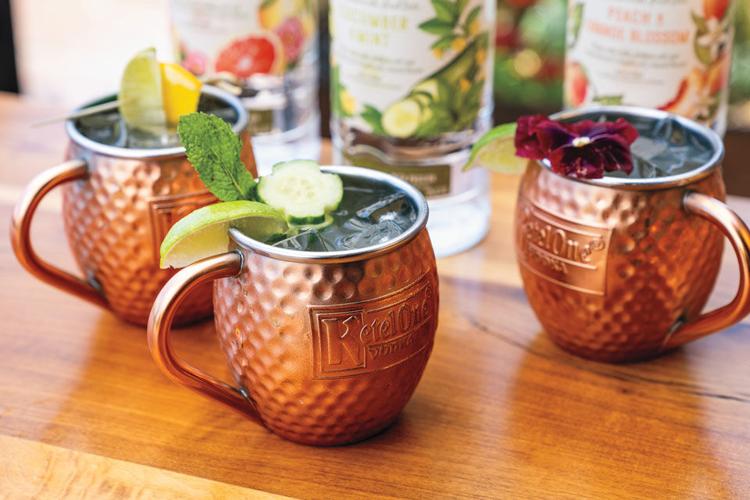 MOSCOW MULE
ROOFTOP RESTAURANT AND BAR, WALNUT CREEK
The Walnut Creek dining scene traditionally hasn't lacked for much. But one glaring omission, especially considering the city's balmy summer weather, was an open-air rooftop bar. That was remedied in 2016 when the appropriately named Rooftop Restaurant and Bar debuted atop the brand-new three-story, three-restaurant development at 1500 Mt. Diablo Boulevard, smack-dab in the city's downtown. Locals could finally enjoy alfresco dining and drinking—shaded 
or not courtesy of a retractable roof—while taking in the rolling hillside, including Mount Diablo in the distance.
The perfect drink to complement the sunny weather, according to Rooftop bartender Austin Holtzclaw, is a Moscow Mule. Traditionally served in a copper cup, this invigorating vodka-based concoction combines a semi-sweet kick from ginger beer balanced by fresh lime juice, making it the "quintessential" refreshing cocktail to beat the summer heat, whether you're "going to bars with the homies" (Holtzclaw) or just unwinding with a few friends (the rest of us). rooftopwc.com.
ROOFTOP'S MOSCOW MULE
4 oz. ginger beer
2 oz. vodka
1 oz. lime juice, freshly squeezed
Build this drink in the glass by adding the ginger beer, vodka, and lime juice, followed by 
ice, and then gently stir.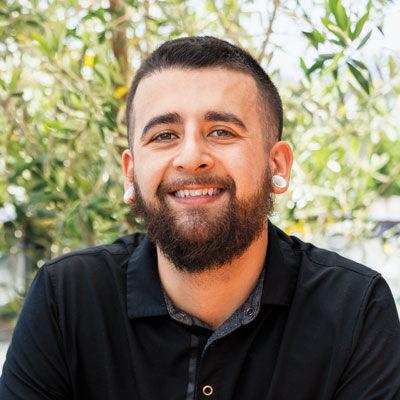 PRO TIPS
VODKA PICKS 
The distillation process is important in making vodka, Holtzclaw explains, washing away any lingering essence of ethanol and creating a smooth, clear taste. Grey Goose and Belvedere are 
his go-tos.
GET THE FEVER 
Especially given the amount used in each drink, high-quality ginger beer is key. Holtzclaw prefers Fever-Tree 
because of the crisp kick and less sweet profile. Bundaberg, Q, and Cock'n Bull will also work in a pinch.
DO NOT—REPEAT DO NOT—SHAKE
The Moscow Mule does not need to be shaken, especially with ginger beer ("Trust me on that one," Holtzclaw says). Using crushed ice helps bind all the elements of the drink together, similar to a shaken cocktail.
COPPER IS NICE, BUT NOT NECESSARY
More than anything, the traditional copper mug is for aesthetic purposes that nod to the history of the cocktail. "Aside from that," says Holtzclaw, "you could even make one in a Solo cup, and if made right, it'll still be tasty and leave you refreshed!"
TWIST
Rooftop's Mule Program allows guests to create their own cocktail using Ketel One Botanical vodkas such as cucumber and mint, grapefruit and rose, and peach and orange blossom. You can try it at home using the same ratio as the traditional Mule.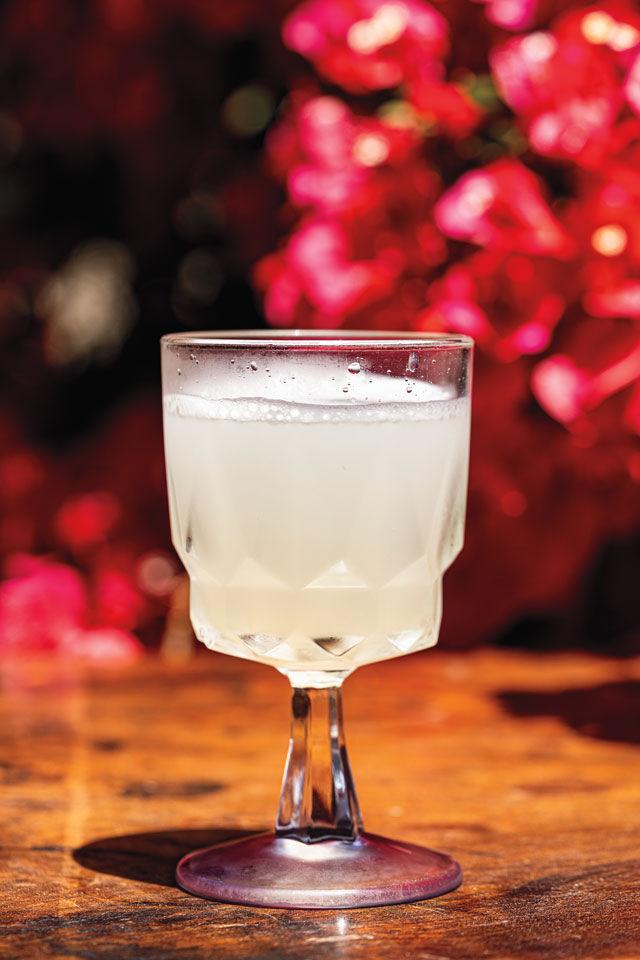 DAIQUIRI
PRIZEFIGHTER, EMERYVILLE
Prizefighter debuted almost nine years ago 
in an out-of-the-way locale in Emeryville—
a place you weren't going to stumble across. Even so, co-owner and bartender Jon Santer quickly established a devoted clientele from the neighborhood and well beyond with his airy, indoor-outdoor cocktail bar's fun vibe, relaxed attitude, and superior-but-accessible drinks.
Fun, relaxed, accessible: Those are good ways to describe the rum, lime, and sugar combination that composes the daiquiri, that classic cocktail whose romantic origins stretch back to the Caribbean. Santer's version uses two kinds of rum, dark and white, for a slightly more complex flavor that doesn't lose the drink's sun-soaked spirit. "The daiquiri comes from a part of the world where it's always summer," says Santer. "So of course it goes well with hot days and nights." prizefighterbar.com.
PRIZEFIGHTER'S KINGSTON DAIQUIRI
1.5 oz. white rum
.5 oz. darker Jamaican rum
1 oz. lime, fresh squeezed
Shake vigorously over ice, and strain into a chilled cocktail glass.
PRO TIPS
RUM, TWO WAYS
Santer explains, "We use the white rum as the base and then we turn up the flavor volume by adding in the darker Jamaican rum." He recommends buying "for flavor, not for price."
JUICE À LA MODE
Santer says to always use fresh lime juice—the fresher the 
better—and buy a hand juicer to squeeze limes for each drink. FYI: Most limes yield around 
1 ounce of juice.
PRECHILLING
Put your glass—any receptacle that's good and heavy works—in your freezer for five minutes before you make the drink. "It'll help keep your daiquiri cold and delicious to the last sip."
EASY SWEET
Prizefighter uses 
Martinique cane syrup, but Santer says anything sweet will do. "Simple syrup takes two minutes to make. Just mix sugar with hot water, a one-to-one ratio, and stir. Done."
TWIST
In the mood for 
something a little 
lighter? Take out the darker Jamaican rum and replace it with white rum. That will do the trick.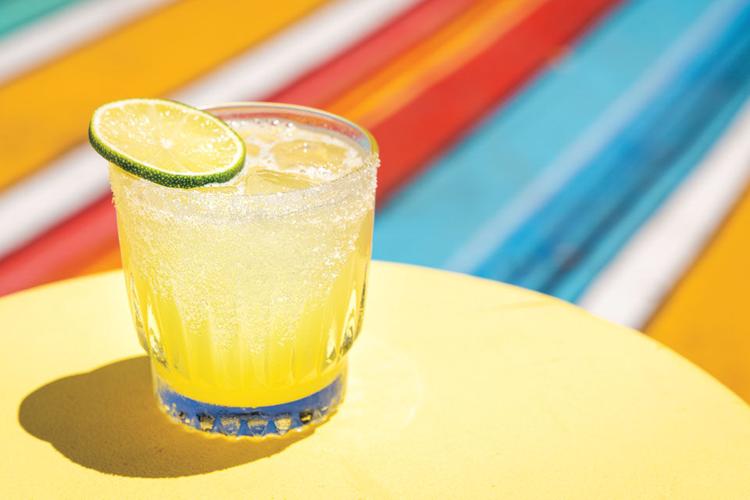 MARGARITA
NIDO'S BACKYARD, OAKLAND
Just follow the rainbow-striped line into the alfresco belly of Silvia and Cory McCollow's colorful "agave garden." The bar-centric spinoff of the McCollows' lauded Mexican eatery, Nido, seems tailor-made to the summer of 2020 with a multitude of small outdoor seating areas shaded by triangular sails and surrounded by repurposed shipping containers. Their house specialty and hands-down most popular summer order? The margarita.
According to bartender Alejandro Vasquez, the secret to the perfect margarita comes down to three words: "always fresh ingredients." That encompasses fresh-squeezed lime juice, but also 100 percent blue agave tequila. "Any bottle labeled as anything other than 100 percent blue agave has additives and flavors that you do not need," he says. Also not needed, provided you're using fresh ingredients: frozen, slushy versions served in margarita glasses. "You see a lot of fancy tricks," he says, "but a shaken margarita in a glass with ice is tried and true." backyardoakland.com.
NIDO'S BACKYARD'S 
MARGARITA
2 oz. tequila or mezcal, 100 percent blue agave
1 oz. lime, fresh squeezed
1 oz. honey or agave syrup
Shake vigorously over ice, and pour into a rocks glass along with ice.
PRO TIPS
HONEY, HONEY
Nido's moved away from agave syrup a couple of years ago because of the environmental impacts of overproducing agave. Instead, Nido's BackYard uses honey syrup, a mixture of honey and water that helps break down the honey faster when shaking the margarita.
SALT CHEAT
Wet the rim of your glass with a lime half before salting, and squeeze the juice into the shaker.
PARTY PREP
You can make margaritas in advance and store them in the fridge for up to three or four days. Just add water to the mixture and pour over ice, and be sure to shake them before serving. All shaken cocktails have a little water in them, which helps blend the flavors.
ICE MATTERS
Nido's BackYard uses solid one-inch ice cubes, which dilute more slowly and 
ensure a margarita that's not watered down. After mixing, you can do a "dirty dump," and pour all the contents of the 
cocktail shaker, ice and all, into the glass.
TWIST
Mezcal. The Nido's BackYard team is a big proponent of tequila's smokier cousin, offering a house mezcal margarita alongside the tequila version. 
"Because of the variety of mezcals available, you can create such distinct flavor profiles," says Vasquez. 

NIDO'S DE MEZCAL MARGARITA
2 oz. Mezcal (Nido's uses Verde Momento)
1 oz. lime, fresh squeezed
1 oz. diluted honey or agave syrup
Shake vigorously over ice; pour into a rocks glass along with ice.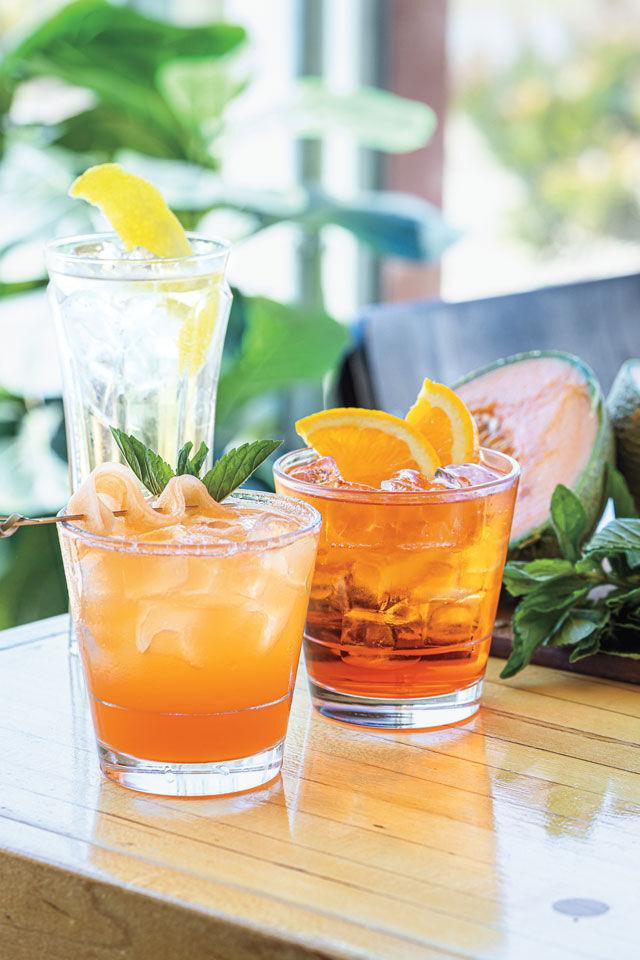 APEROL SPRITZ
MERSEA, TREASURE ISLAND
For many East Bayers, Treasure Island is that flat strip of land visible to the right as they drive across the Bay Bridge toward San Francisco. There's actually a lot happening these days on T.I., which is now home to several wineries, 
a brewery, a distillery, and, as of 2018, Mersea. Aptly translated as island oasis in Old 
English, this restaurant and bar from tech transplant MeeSun Boice and veteran chef Parke Ulrich is a love letter to the underdog island locale they discovered through their passion for sailing. Mersea takes advantage of the panoramic bay views by emphasizing an outdoor courtyard buttressed by shipping containers and a military kitchen.
Boice says her summer cocktail of choice invokes the "romanticism and the sun" of 
Italy—the drink's country of origin and where many of Mersea's guests tell her they first experienced it. The undisputed star of the show is the Aperol, a classic Italian aperitif similar to Campari with a distinctly herbal and slightly bitter flavor profile, mellowed by the addition of prosecco. But it's not just the taste that sets this sipper apart. "The unique orange color makes it stand out from all the other drinks," says Boice. "It evokes a visual reflection of summer and carefree times." mersea.restaurant.
MERSEA'S 
APEROL SPRITZ
2 oz. Aperol
3 oz. prosecco
1 oz. club soda
1 orange slice
Build up the ingredients—starting with the Aperol, then prosecco, then club soda—straight into a standard double rocks glass with ice, and stir. Garnish with a slice of orange.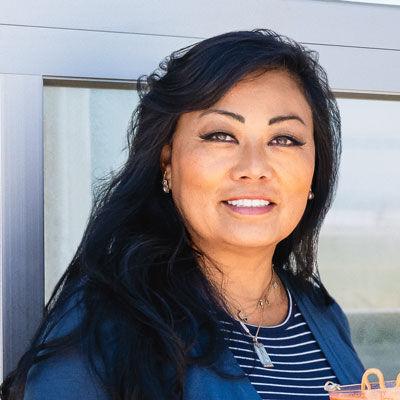 PRO TIPS
BITTERSWEET
Aperol can be a bit bitter for some 
drinkers—you can always add more prosecco and less Aperol to smooth it out.
ORANGE BOOST
A splash of orange juice adds sweetness and an even more 
summery color.
LAYER THE FLAVOR
Boice likes to "build up" the drink by adding the ingredients one at a time, 
finished with a splash of club soda.
SHORT CUT
This is a pretty 
easy one, but you can always nix the prosecco or club soda to make it even simpler.
TWIST
The Cove Spritz adds cantaloupe puree and mint.
MERSEA'S COVE SPRITZ
2 oz. cantaloupe puree
1.5 oz. Aperol
3 oz. prosecco
Splash of club soda
Sprig of mint
Add ice to the coupe glass or stemless double rocks glass to chill it while you make the cantaloupe puree. In shaker, add ice, then pour the cantaloupe puree, then the Aperol and bruised mint. Shake until mixed well. Double strain into coupe glass. Then add prosecco and splash of club soda. Garnish with freshly sliced, juicy cantaloupe and sprig of mint on the rim. You can use the coupe glass with no ice or use a double rocks glass with ice.