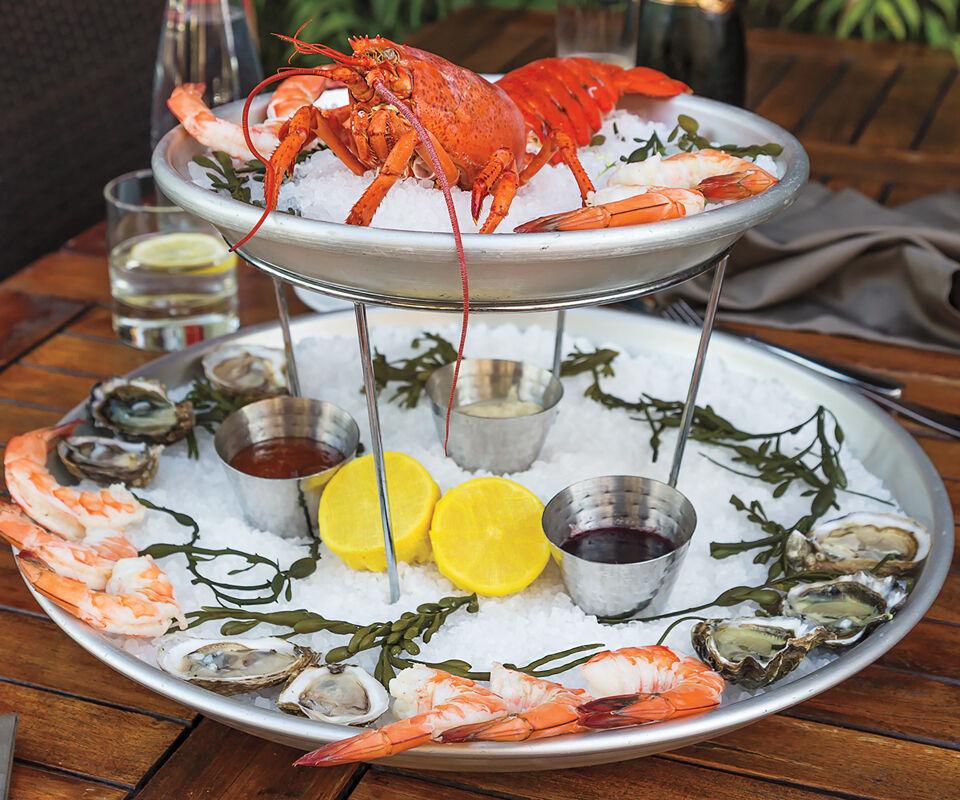 There's something about a raw bar that makes for a special occasion. Add in a whole seafood tower, and, well, that's a full-on party.
"It just kind of says 'celebration,'" says Nicholas DiArenzo, Longport Fish Co.'s chef-owner. "When you see a tower, you know you're going to have a good night."
At his new seafood-centric restaurant in Concord's Veranda shopping center, DiArenzo serves two double-deckers, the Tugboat ($80) and the Yacht ($160), which come loaded with raw oysters, shrimp, ceviche, and Maine lobster. Other items sold à la carte daily include crudo, octopus salad, and seasonal specials.
DiArenzo isn't the only restaurateur looking to fill the relative void in the East Bay for fresh seafood and raw bars. Oceanic offerings, including a $100 seafood tower, abound at San Ramon's LB Steak (part of the local Vine Hospitality group), while fresh oysters are spotlighted at Shuck It! Oyster Bar in Martinez and even carve out a spot on the menu at a place like Berkeley's Rose Pizzeria.
And more is on the way: Luna Sea Lounge is expected to bring seafood-centric small plates with artisan cocktails to Walnut Creek this month, and Small Change Oyster Bar is set to open soon in Oakland's Temescal district.
Here's a breakdown of where to go and what to get.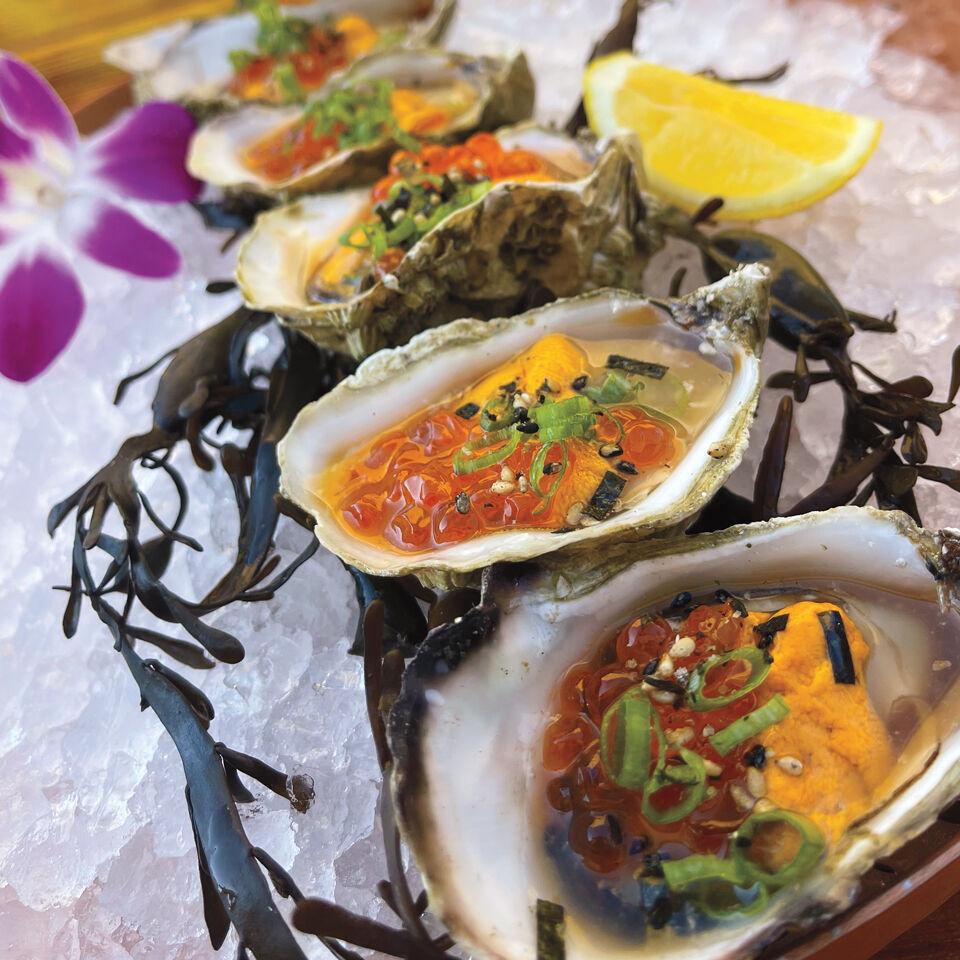 NEW
LB Steak, San Ramon
This City Center Bishop Ranch steak house supplements its meat with fresh oysters, caviar service (Tsar Nicoulai golden osetra), and a seafood tower featuring oysters, shrimp, and a whole lobster. lbsteak.com.
Longport Fish Co., Concord
In addition to seafood towers, Longport's raw bar offerings include ceviche, ahi tuna, half or whole Maine lobster, peel-and-eat shrimp, and fresh oysters (which also come baked with garlic butter, parmesan, and toasted bread crumbs). longportfc.com.
Shuck It! Oyster Bar, Martinez
Located in Market and Main downtown, Shuck It! dishes ceviche, shrimp cocktail, and lobster rolls, but oysters are the main event, headlined by the Mother Shucker, featuring 36 oysters on a giant pan with a bottle of champagne. shuckitmtz.com.
STANDARDS
Scott's Seafood, Oakland
The Jack London Square eatery pairs its scenic waterfront location with fresh oysters, prawn and bay shrimp cocktail, and a special cold platter loaded with Maine lobster, Dungeness crab, bay scallops, prawns, oysters, and marinated octopus. scottsjls.com.
Skates on the Bay, Berkeley
Perched on the Berkeley marina, Skates serves fresh oysters; hamachi, salmon, and ahi tuna poke; and shrimp cocktail and ceviche. The Skates Ocean Tower provides lobster, oysters, jumbo prawns, ahi tuna poke, and ocean salad, with the option to add Dungeness crab legs. skatesonthe​bay.com.
Walnut Creek Yacht Club, Walnut Creek
The gold standard in central Contra Costa typically presents six different kinds of fresh oysters and clam and mussel steamers, and sprinkles its menu liberally with crab, prawn, shrimp, and lobster. Keep an eye out this winter for whole Maine lobster and Dungeness crab special dinners. wcyc.net.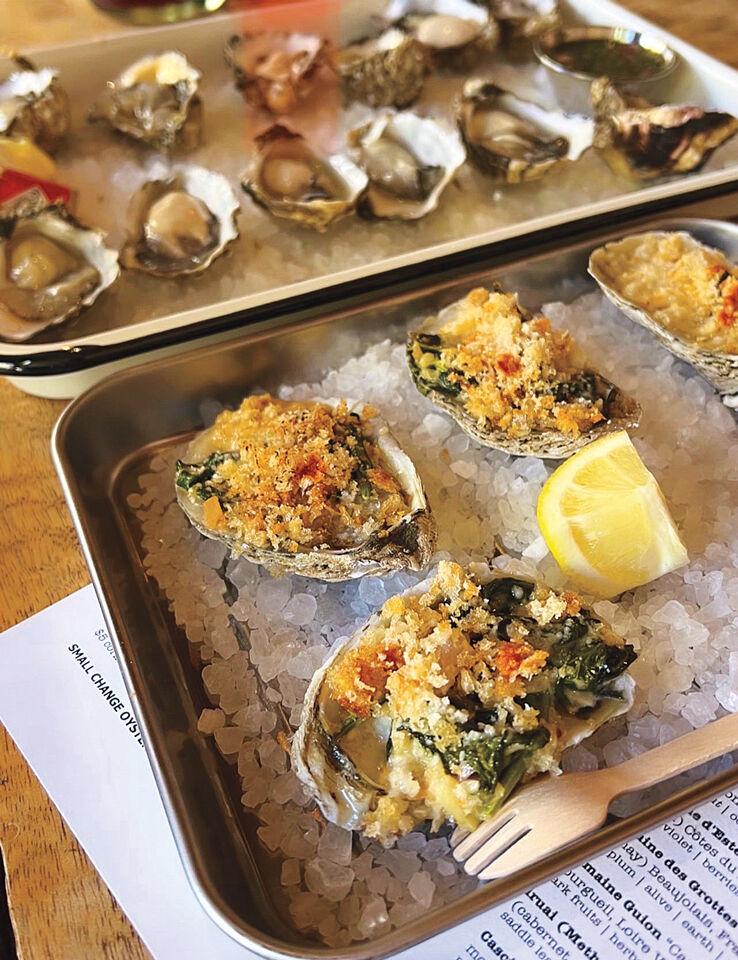 COMING SOON
Fizz, Walnut Creek
Delayed by permitting issues, the second location of the Sacramento champagne bar is now scheduled to open by this month. To pair with the more than 150 "small house" sparkling wines and champagnes, Fizz will provide raw oysters and local sturgeon caviar as well as more substantial offerings like duck fat fries. fizzwalnutcreek.com.
Luna Sea Lounge, Walnut Creek
Set to open this month near the Walnut Creek BART station, Luna's culinary concept is spearheaded by Santa Cruz distiller Deven Wek. To match the clean, artisanal cocktails headlined by top-shelf spirits such as Wek's own multiple award-winning Luna Sea Vodka, the bar will serve seasonal small plates, including shucked-to-order oysters, ceviche, and poke bowls, with an emphasis on sustainable, "boat-to-throat" seafood from Santa Cruz's longtime family-operated H and H Fresh Fish. lunasea​lounge.com.
Small Change Oyster Bar, Oakland
Coming in the next month or two, Martinez native Branden Nichols is launching an oyster bar in Oakland's Temescal district. Among the offerings—which Nichols plans to complement with an extensive natural wine list—are fresh and grilled oysters (sourced from Tomales Bay and Monterey Fish Market), ceviche, crudo, lobster rolls, clam chowder, and his trademark micheladas adorned with shrimp, a raw oyster, and an entire crab claw. instagram​.com/smallchangeoysterbar.