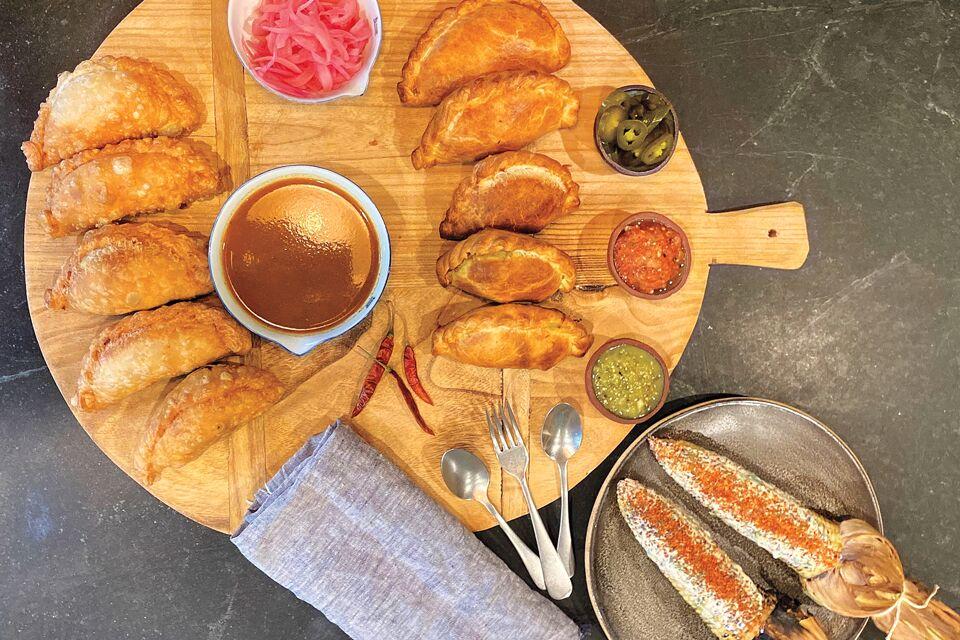 Turnover. Meat pie. Pasty. The savory pastry goes by several names, but it's perhaps best known in its ubiquitous handheld South American form: the empanada.
Jo Buckby grew up in Cornwall, a region on the southwestern tip of England known for its iconic Cornish pasties, characterized by a buttery golden crust and hearty meat-and-potatoes filling. The 
Orinda mother of two has missed them desperately since moving to the United States two decades ago and toyed with the idea of introducing them to the East Bay—but always figured the pasty's size and richness were a poor match for health-conscious Californians. Then inspiration struck on a trip to Argentina.
"Every country has its version of a handheld pie, but I just can't imagine a more perfect version than the empanada," she says. "And I thought: That's it! I started experimenting in making something similar to what you find in Argentina in that it's hand-crimped and baked, but my crust is the crust of the Cornish pasty. I took two time-honored handheld pies and evolved them into this one product."
Everyone's Empanadas was born. Buckby began crafting her unique hybrid pies, which come in nine traditional Argentinian flavors often featuring—in true California style—premium local ingredients. For example, the ham in her jamón and queso pie is Snake River Farms Kurobuta black pork, house-smoked for 10 hours, while the lamb merguez sausage is sustainably sourced 
from Victorian Farmstead Meats in Sebastopol. All are encased in Buckby's flaky golden Cornish pasty crust, made with European-
style artisan flour and European butter, and served with a side of homemade chimichurri sauce.
The response was immediate and enthusiastic. Buckby formalized the business in November last year, operating out of the shared-use Lafayette Kitchen and offering empanadas for pickup every Thursday. Within a half year she was cranking out upward of 600 a week for more than 70 customers, and soon outgrew her space. In May, Buckby signed a lease at the larger Oakland Food Hall ghost kitchen in the Fruitvale neighborhood, where she hopes to ramp up production and tap into the expanded Berkeley/Oakland market.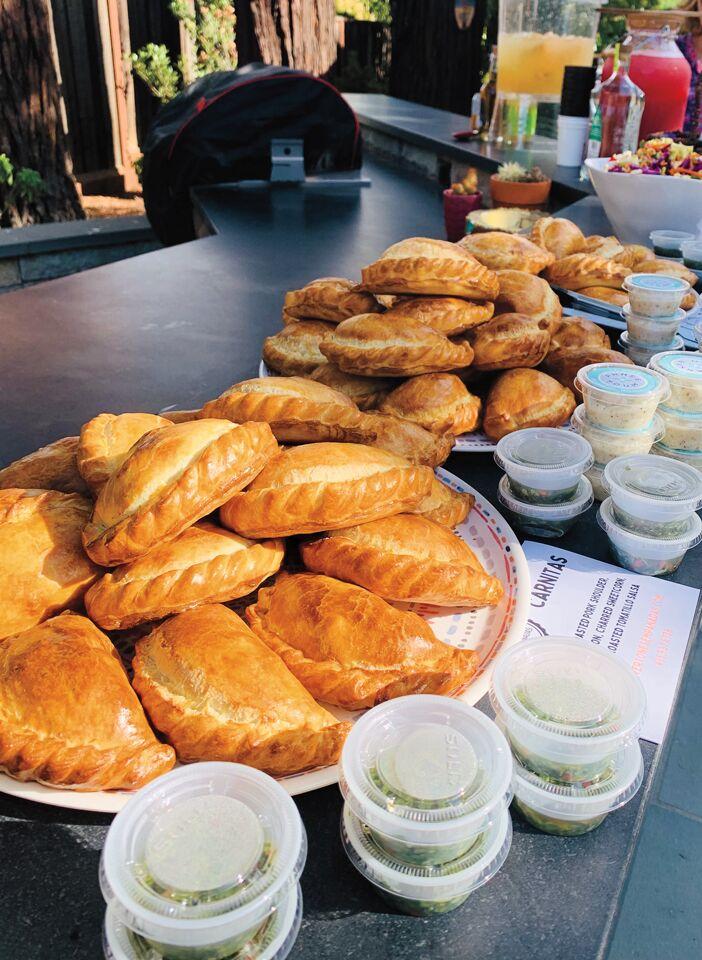 Her heart, however, remains in Lamorinda. While delivery at her new kitchen does not extend beyond the Oakland hills, Buckby 
plans to supply a limited quantity of empanadas to Diablo Foods. Her ultimate goal, she says, is to use the new venue as a proving ground and stepping stone to open a brick-and-mortar restaurant in the Lafayette area.
"It's always been a dream of mine to open a pie shop," she says. "Oakland is exciting, but I really miss my customers in Lafayette—they've been so enthusiastic and supportive."
For now, Everyone's Empanadas are available for delivery and pickup in Oakland and its surrounding areas. Keep an eye out for an expanded menu of items, which just might include a traditional version of her hometown pie.
"I grew up on Cornish pasties; they're one of the most delicious things I've ever eaten," she says wistfully. "I've been in California for 21 years, and not a day goes by that I don't think about eating one."
Take a Trip Through South America—One Empanada at a Time
CRAZY EMPANADAS
Style: Colombian
This food truck, which parks in various locations in 
Livermore and San Ramon throughout the week, serves chicken and steak empanadas in the style most common in Colombia and Venezuela: deep-fried with a thicker corn crust. facebook.com/crazyempanadas.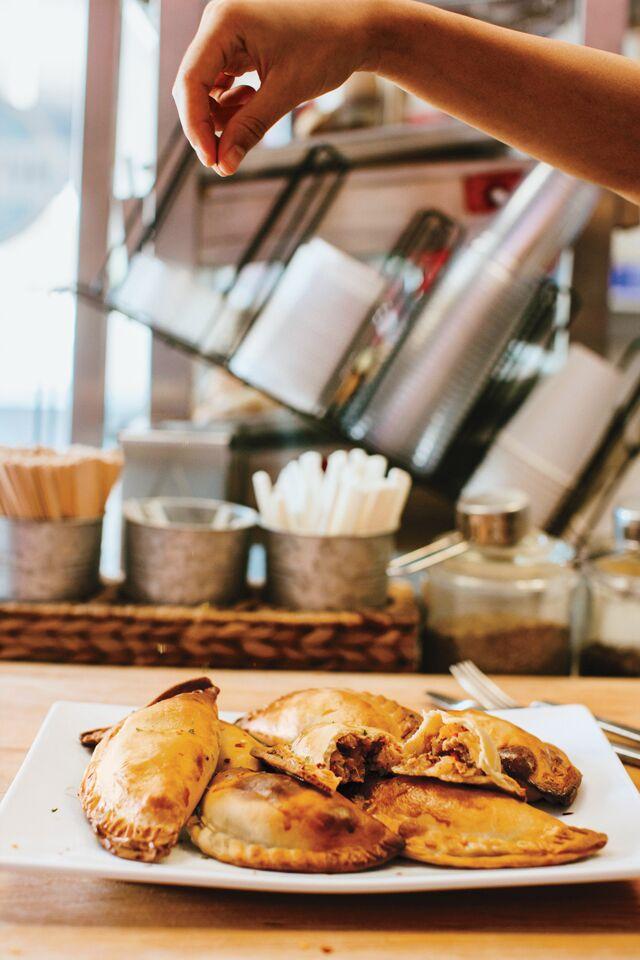 JAVI'S COOKING
Style: Argentinian
Oakland chef Javier Sandes offers a range of empanadas, both meat and vegetarian, differentiated by pastry folding patterns common in Argentina. javiscooking.com.
MOOMIE'S
Style: Peruvian
This Emeryville café's homemade baked empanadas feature meats simmered in traditional Peruvian amarillo chili and savory-sweet Panca chili sauces. moomiescafe.com.
PAULISTA BRAZILIAN KITCHEN AND TAPROOM
Style: Brazilian
In Oakland's Glenview neighborhood, this eatery 
offers a half dozen empanadas, including ones sporting Brazilian-style roast chicken or hearts of palm and 
the Romeo and Julieta with guava and queso fresco. 
paulista510.com.
SABORES DEL SUR
Style: Chilean
Her Walnut Creek restaurant was a casualty of the pandemic,
but Chilean-born chef Guisell Osorio still has seven styles of empanadas out of Lafayette Kitchen, including cheese and shrimp, and steak marinated in Chilean spices. saboresdelsursf.com.