Given all that 2020 has thrown at us, it's no surprise that East Bay diners returned en masse to the solace of their favorite comfort fare. We spoke with local purveyors about five trending foods that have helped boost our spirits—and our waistlines—during the pandemic. With our Dig In! virtual event series, we are also visiting a few other chefs and watching as they get cooking in their kitchens. Look for the videos below. We invite you to join for the next episode here.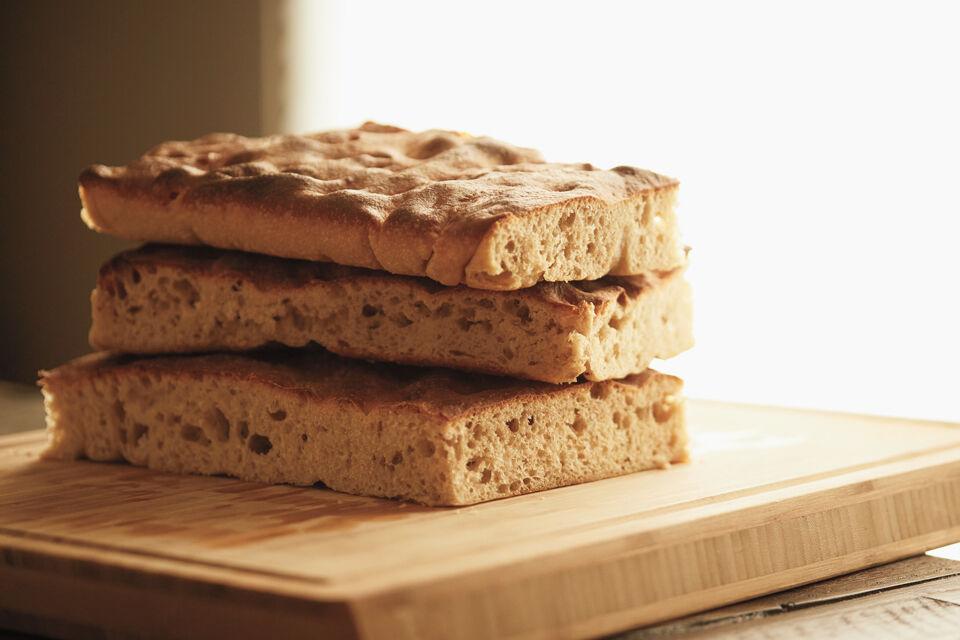 GRAIN TRUST
BREAD
From a starter of crusty sourdough dipped in olive oil to whole-grain slices framing a hearty sandwich, bread is a satisfying element in many meals. While carb-phobic diets and gluten allergies may have motivated some people to drop the dough, general love for bread has increased in recent months, with one-third of 
Americans citing bread and pasta as comfort foods in a national study. Making homemade bread also took off during the health crisis, with yeast joining toilet paper and Clorox wipes as a hard-to-find item on grocery store shelves.
"The pandemic is totally out of our control, but baking bread at home became a way to block what was happening outside and focus inside," says Iliana Berkowitz, owner and founder of As Kneaded Bakery. "It's proof that even in these dark times you can still create something that gives you light and hope."
Berkowitz began selling flour, yeast, and sourdough starter online during the initial months of the pandemic; she continues to offer her popular loaves out of her two-year-old San Leandro bakery, and at grocery stores such as Whole Foods in Oakland and Berkeley and the home decor shop, Whim House, in Danville.
"You can make bread with very few ingredients, and it's one of the purest foods," says Berkowitz. "There can be so much variety with just a few tweaks in those ingredients. It's a science project."
As for new bakers, "Don't be afraid to try [and don't] pour a lot of emotional energy into perfection," she advises. "Learn and take notes. And always remember your local bakery is here if you don't like how your bread turned out," she concludes with a laugh. —Rachel Orvino
Focaccia by As Kneaded Bakery
Ingredients
Whole-wheat "sponge"
125 grams whole-wheat flour
125 grams water
1 gram instant yeast

--
600 grams white bread flour
250 grams whole-wheat flour
2 grams instant yeast
18 grams salt
500 grams water
180 grams olive oil

Directions
Mix the "sponge" before making the final recipe. (Use a small kitchen scale for measurements.)
Using the dough hook on your stand mixer, mix all sponge ingredients together on low speed for 4 minutes. Transfer sponge to a lightly oiled container. Leave out at room temperature for 8 to 12 hours.
The next day, place all ingredients including sponge in a stand mixer with the dough hook. 
Mix for 3 minutes on a low speed, followed by 5 minutes on medium-high. The dough should have 
a tacky, flexible feel. Move dough to an oiled bowl.
Leave at room temperature for 1 hour.
Give the dough a series of turns, picking up 
¼ at a time and folding the dough upon itself.
After 4 turns, flip the dough upside down, so your turns are tucked underneath the dough.
Cover the bowl loosely with a tea towel, and move to the fridge for 6 to 12 hours.
To bake: Generously add olive oil to a rimmed half-size sheet pan, and plop the dough on the oil; turn the dough so there is oil on both sides.
Let the dough sit in a warm place for 30 minutes, then stretch it lightly every 30 minutes. When the dough stretches easily all the way to the corners of the sheet pan, dimple the dough by pressing your fingers directly down into it.
Preheat your oven to 400°F.
Allow another 30 minutes for the focaccia to rise in the sheet pan.
Once the dough has a light and airy feel and has grown to fit the entire half-size sheet pan, it is ready to bake.
Sprinkle the top with any ingredient you 
fancy: green olives, parmesan, red pepper flakes, anchovies, Maldon salt, or go plain!
Bake at 400°F for 20 minutes, until the top color is amber brown.
Remove from oven and give a final brush 
of olive oil.
---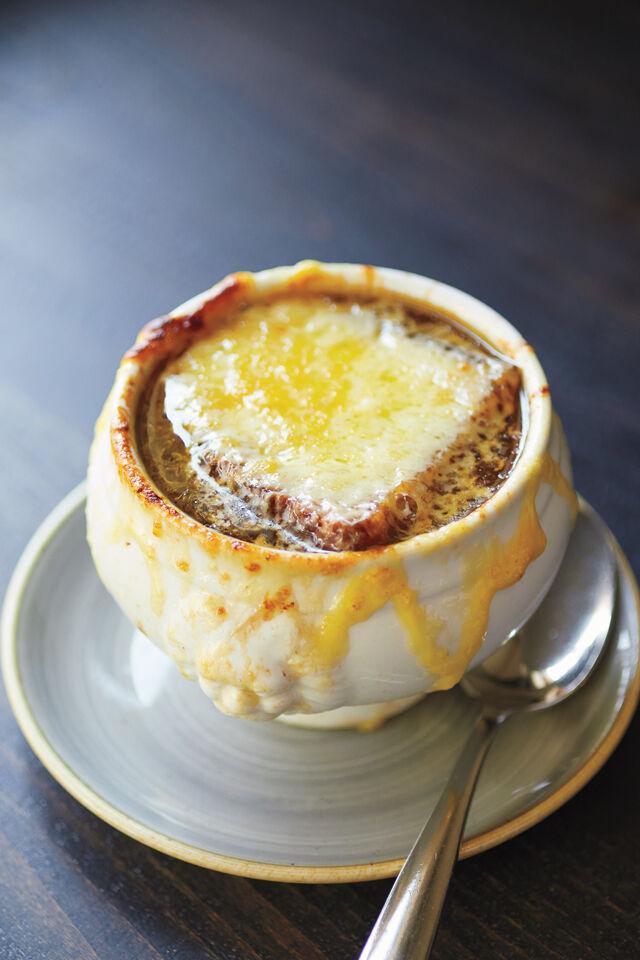 GRAB A SPOON
SOUP
Chicken noodle, tomato bisque, minestrone—the list goes on. There are endless types of soups that are time-tested to bring comfort during challenging times. And with the rainy season upon us, a warm bowl of reviving broth filled with all your favorite ingredients is more appealing than ever.
"Nothing is better than a one-pot meal. You can make it hearty, light, or heavy," says Esin deCarion of Esin Restaurant and Bar. "Just [add] a salad and some bread on the side, and you're set for dinner."
Since the 1998 debut of their flagship Danville eatery, Esin and her husband, Curtis, have offered caramelized onion soup (along with other daily soups such as butternut squash and clam chowder). And to this day, the dish—a vegetarian version of French onion soup—remains popular.
"It's not the classic recipe that follows the French method of using veal stock," she explains. "We make it using vegetable stock to have options for people with different diets."
Without the veal stock, Esin's version is on the lighter side. However, this famously rustic soup still features Gruyère cheese and croutons to go along with its signature caramelized onions simmered at length in a heated bowl—all of which results in a meal that's 
plenty filling and comforting.
When Contra Costa County was allowed to resume indoor dining, the couple, who also own Danville's Revel and Lafayette's Social Bird, opened their doors the same day. Before that, they operated via patio 
dining and takeout. Though the year has been challenging, they've continued doing what they do best—serving delicious food and providing top-notch service.
While nothing can replace the elegant experience of dining at 
the restaurant, there's a home-
cooking option for those who want 
to stay cozy inside. Save it for a 
rainy day. —Gabby Vanacore
Caramelized onion soup by Esin Restaurant and Bar
Ingredients
2 tablespoons olive oil
2 tablespoons butter

2 large sweet onions such as Vidalia, peeled and thinly sliced
1 large red onion, peeled and thinly sliced
1 tablespoon kosher salt
2 cups red wine
¼ cup brandy
6–7 cups vegetable stock
1 teaspoon balsamic vinegar
Toasted sourdough bread
1 sourdough bread
¼ cup extra virgin olive oil
1 teaspoon sea salt
Directions: Cut the bread into ¾-inch-thick slices, trim to fit into soup bowls if necessary, and brush both sides of the bread with olive oil. Place the slices on a baking sheet, and sprinkle sea salt. Bake at 325°F degrees until bread is toasted and golden brown, around 10 to 12 minutes.
Directions
In a large saucepan, heat oil and butter on 
medium heat. Add onions and salt. Reduce heat and cook, stirring occasionally, until onions are soft and golden brown, about 45 minutes.
Increase heat and add wine and brandy; stir
to scrape browned bits from pan. Cook to reduce the wine and brandy until almost evaporated.
Add vegetable stock and cook until almost boiling.
Reduce heat and continue simmering until the mixture reduces slightly and has a more soup-like consistency, around 25 minutes.
Add balsamic vinegar and taste to adjust seasoning.
To serve: Preheat the broiler. Transfer hot soup to oven-proof soup bowls, making sure onions and liquid are divided evenly.
Top with toasted sourdough bread and 2 slices of Gruyère cheese over the bread. Place the soup bowls under the broiler and broil until cheese is bubbling and golden.
Adds Esin: "The recipe can be made vegan without using the cheese and butter. And there's a lot of really great vegan cheeses out there."
---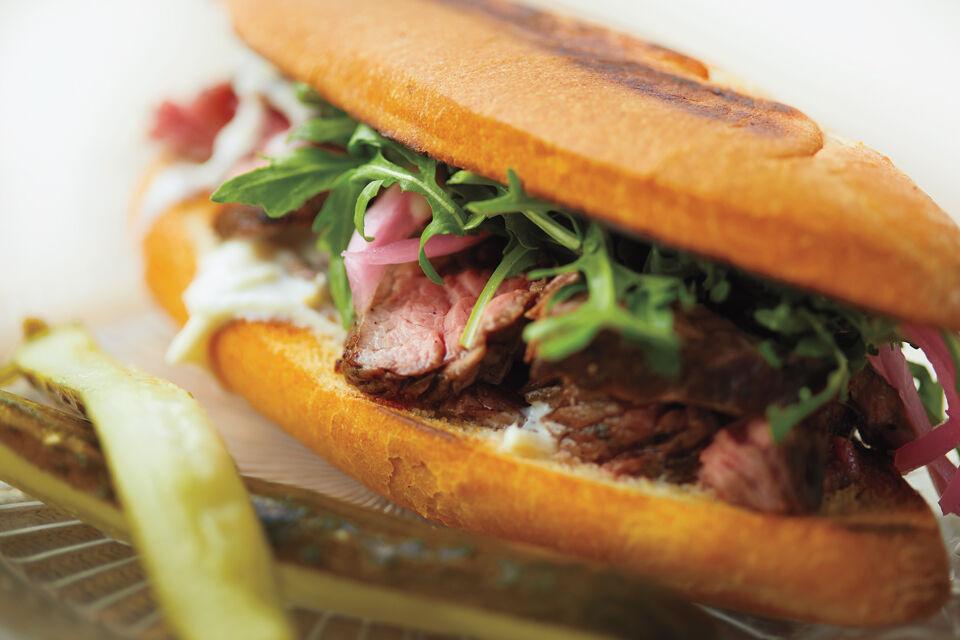 COLD-CUT CLASSIC
SANDWICHES
You know it's a trend when Chez Panisse is doing it. As the new pandemic reality set in this spring, Alice Waters's fine dining mecca joined a surprising number of sit-down restaurants in pivoting to an age-old lunch staple: the humble sandwich. Which, not coincidentally, is the exact name that Fred and Elizabeth Sassen, owners of the popular Oakland restaurant Homestead, dubbed their pop-up sando operation that's been operating for lunch take-out service on Piedmont Avenue since April.
"The original idea was to throw something together 
temporarily that would get 
us through shelter-in-place—something familiar and 
economical," says Elizabeth Sassen. "It lends itself well to takeout, and I think what people wanted was something they know and can relate to. I'm the same way: If I'm feeling uncertain or stressed out, I'm like, 'Let me 
just get a sandwich.'"
The couple's menu is 
inspired by the kind of easy, overstuffed offerings familiar in Italian-style delis, for which there was a huge void after 
north Oakland's iconic Genova
Delicatessen closed in April 2016. Unlike Genova, the 
Sassens don't provide a sprawling deli spread filled with dozens of cheeses and cold cuts, but instead concentrate their A-list cooking chops on six immaculately 
executed sandwiches, including an Italian cold cut, classic 
roast turkey, and a revelatory spin on a roast beef sub featuring achingly tender slices of 
herb-rubbed bavette steak, horseradish crème fraîche, and garden-fresh arugula on an Acme roll. —Ethan Fletcher
Steak sandwich from the Humble Sandwich by Homestead.
Ingredients
6 ounces bavette steak
Salt, pepper, and olive oil throughout, to taste
Soft French roll (we are using an Acme 
Torpedo roll)
2–4 tablespoons horseradish cream (recipe below)
¼ cup loosely packed arugula
A few slices pickled red onions (recipe below)
Horseradish cream
3 tablespoons crème fraîche or sour cream
1 piece horseradish, (1-inch cube, peeled and grated)
Salt and pepper to taste
Directions: Mix to combine. Add salt and pepper.
Pickled red onions
1 red onion
½ cup hot water
½ cup champagne vinegar
Salt to taste
Directions: Peel and thinly slice the onion, place in a pint-sized container. Add salt and hot water, then add vinegar. The onions should be covered in liquid. Let sit overnight before use.
Directions
Bring the steak to room temperature, and rub lightly with salt, pepper, and olive oil. Preheat 
a cast-iron skillet over medium-high heat.
Sear the steak a few minutes on both sides until medium rare, or desired doneness (it might get smoky, so open a window and turn your exhaust vent on). You're looking for the pan to be hot enough to get a nice brown and crusty sear on each side without fussing with it and without it overcooking. Too hot will get you a cold black-and-blue center, which, if that's your thing, power to you; if it's too cool, the steak will steam and you won't get that nice sear.
Once the steak is seared, set it aside to rest about 10 minutes before slicing.
Slice the roll in half and toast both the cut side and the crust. Use what you have, whether it's a large toaster, broiler, or a griddle. We are using 
a cast-iron griddle for ours.
Spread with 1–2 tablespoons horseradish cream on each piece of bread. Thinly slice your steak across the grain and arrange on the bottom piece of bread.
Gently toss the arugula with the pickled 
onion, a pinch of salt, and a slick of olive oil. Place on top of the steak and top with bread; press and slice diagonally across.
---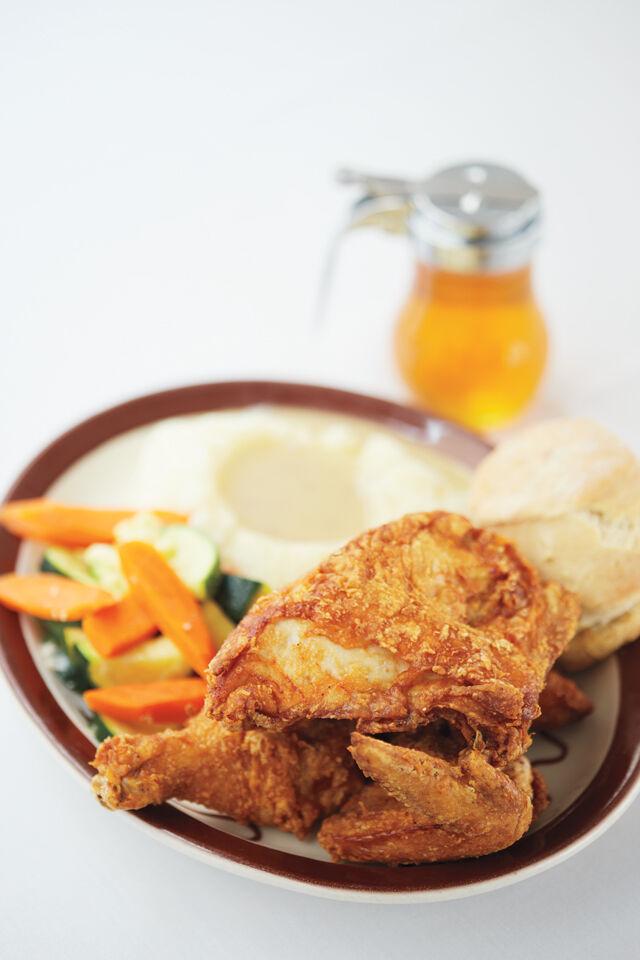 CRISPY PERFECTION
FRIED CHICKEN
Long before the Caldecott Tunnel had four bores, patrons would drive for miles to eat Casa Orinda's fried chicken. The 
Casa, which celebrated its 89th anniversary in September, is well known by locals for this signature dish. Even outside of Orinda, those in the know sing the chicken's praises—in fact, Chez Panisse's Alice Waters has reportedly claimed that Casa Orinda serves the Bay Area's best fried chicken.
"I've owned the Casa Orinda for 40 years, and the fried chicken has always been one of our best sellers," says John Goyak, an Orinda resident. "We sell a ton of it."
One secret to the Casa's chicken is its fried skin, which provides 
a crumbly coating to the tender
meat. "The chicken is crisp, moist, and not greasy," says Goyak, 
adding that the entrée is complemented by mashed potatoes and fluffy biscuits made from cream.
Another secret is the recipe's spice rub, a formula that the Casa's chefs have perfected over the decades. Good luck getting that exact combination from Goyak; his lips were sealed tight when we inquired about it.
In addition to having mastered the recipe, the Casa provides the ideal setting for comfort food dining. Entering the comfy space is like going back in time to an upscale eatery in the Old West—the cowboy decor and friendly dining rooms are conducive to family meals.
Of course, COVID-19 has thrown a curveball to the restaurant scene, and the Casa is no exception. The coronavirus caused the Casa to close from March to August. Still, when the restaurant reopened in a tented space in its parking lot, the regulars returned en masse; even more phoned in with to-go orders.
"Take-out business has been great and very steady, with more and more chicken out the door 
Friday through Sunday," says Goyak. —Peter Crooks
Fried chicken by Casa Orinda
Ingredients
1 3-pound chicken, cut into 8 pieces
3 cups buttermilk
3 tablespoons kosher salt
2–3 teaspoons black pepper
1½ cups all-purpose flour
3 cups neutral oil, such as peanut or canola
Directions
In a large bowl, toss the chicken pieces with buttermilk, 2 tablespoons salt, and a dash of black pepper. Cover and place in the refrigerator for at least 2 hours.
In another large bowl, mix together the flour, 
1 tablespoon salt, and 2 teaspoons pepper.
Place a rack on a large baking tray. Using your hands, toss the chicken pieces in the flour mixture, making sure each is entirely coated.
Heat the oil on medium-high in a large, deep skillet or Dutch oven. The oil should come up high enough so that the pieces are half submerged.
When the oil is hot—ideally around 
350°F—shake off any excess flour from 
the pieces and put them one by one in 
the skillet, skin side down, with plenty of 
room between the pieces. Cover with a close-fitting lid and cook for anywhere from 
7 to 15 minutes.
Check after 5 minutes or so to see the 
color. You want a rich golden brown. When the color is right, turn the pieces and put the lid back on and cook for another 5 to 15 minutes. The timing is never exact, or rarely the same from dish to dish. Once the color is right, move the chicken pieces to a rack to drain.
---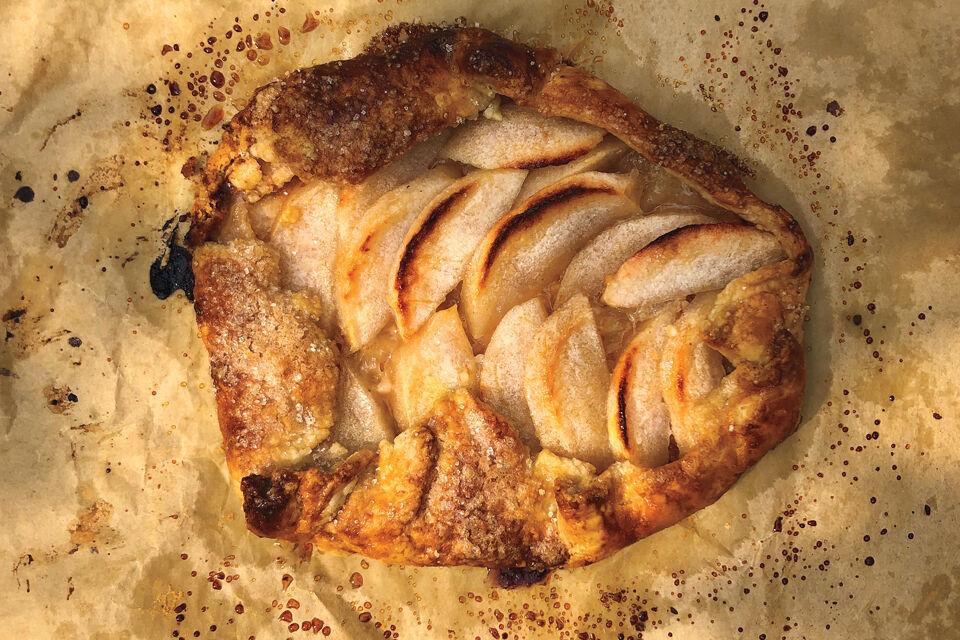 SWEET SPOT
DESSERT
Desserts may be the ultimate feel-good food, so it's no surprise that chefs and home cooks alike focused on making sweet indulgences during the pandemic.
"Desserts have always been a source of comfort for me," explains baker Marykate McGoldrick, "and they're a way for me to share comfort with the world."
McGoldrick, the former pastry chef at Oakland's much-missed Camino restaurant, loves the idea of bringing joy to people through a satisfying, but never cloyingly sweet, confection. In fact, her 
favorite cakes often contain healthier ingredients than most desserts, with seasonal fruit, buckwheat, and sesame being her go-tos. Sesame, in particular, figures so prominently in 
McGoldrick's cooking that she's naming her new enterprise—
Sesame Tiny Bakery, set to open 
in Berkeley later this year—after it.
Clearly, McGoldrick is not the only one to draw pleasure from desserts during the pandemic. Baking has become such a popular pastime that grocery stores have routinely sold out of flour. One reason for this increased fascination with desserts, says McGoldrick, is that they're often associated with cherished memories. They can evoke a time when we felt safe and cared for, and those emotional connections can be sustaining during uncertain times.
"What's been popular lately are things like apple tarts and slices of cake," she says, "because people say it reminds them of their childhood." And, she notes, you don't have to overdo it; sometimes you only need a few bites to experience the joy of dessert. "You can close your eyes and enjoy something delicious for a moment," she says. "And everyone needs that." 
—Deborah Kirk
Apple Tart by Marykate McGoldrick
Ingredients
6–7 tart apples, about 1½ pounds
1 lemon
3 tablespoons cold water plus 1 tablespoon apple cider vinegar (or sub all water)
Dough
¾ cup all-purpose flour plus ¼ cup rye flour
4 ounces unsalted cold butter
½ teaspoon salt
Peel and core syrup
½ cup sugar
1 cup water
Glaze
1 egg, beaten in a small bowl to brush tart
Extra sugar for tart
Directions
To make the dough, mix together the flour and salt.
Cut the butter into rough 1-tablespoon size pieces and toss half into your flour. Break up the butter pieces into the flour with your hands, breaking up and blending into the flour until you have large, pea-size clumps. Repeat with remaining butter until the butter is in small and large pea-size clumps; some bigger clumps are OK.
Turn this out onto a cutting board or clean counter, make a well, and slowly drizzle in half the water. Using a bench scraper, toss and cut in water as dough slowly comes together. Drizzle in the remaining water while still using a bench scraper to form a shaggy mass. If this seems scary it's really not, but you can also do all of this in your bowl with a wooden spoon. You might need more or less water depending on the flour and the temperature of the day.
Shape into a shaggy rectangle. Adding only a tiny amount of flour to keep things moving and not sticking roll your dough and fold up as you would a letter, repeat this two or three times, just until your dough comes together, smooths out a little (but is still a little rough), and you can see sheets of butter forming in your dough. Stop, form again into a rectangle, wrap tight in parchment, and chill at least 2 hours in your fridge or overnight. 
"The key to a flaky dough is to keep things cold and not to overwork the dough," explains McGoldrick.
Meanwhile, about an hour into chilling the dough, peel and core the apples and reserve them in a small pan to make your syrup. You'll use it toward the end of baking. Cut apples into ¼-inch half moons, and toss in a bowl with the juice from the lemon as you go. Save a squeeze of lemon for your syrup.
To make the syrup, put the peels, cores, sugar, water, and a tiny squeeze of lemon into a small pot over medium heat, stirring occasionally and letting the mixture simmer and cook down until the liquid becomes just a little syrupy and you can drizzle it with a spoon. Turn off heat, let sit, and strain when cool.
Roll out your dough until it's 1/8-inch thick and roughly an 11-by-13-inch rectangle. Use parchment or Silpat to line your sheet tray; place dough on top and chill for 10 minutes. Arrange apple slices however it pleases you to fill the tart, leaving a 1- to 1½-inch border all around. Fold over, and brush borders with beaten egg, and dust the entire tart with sugar; go heavier on the crust and sprinkle the apples. Chill in the freezer for 20 to 30 minutes. While chilling, preheat oven to 375°F.
Bake tart for 20 minutes; rotate and bake for 10 minutes more. Pull out tart, brush apples with syrup, and bake 5 minutes more or until apples are golden and crust is nice and toasty brown. Cool tart on rack before cutting. Serve with whipped cream or ice cream.