Unprecedented. It's 
a word you'll hear a
lot if you spend any amount of time speaking with restaurant and bar owners working their tails off to adjust to the challenges presented in the wake of the COVID-19 pandemic.
Like the Greek mythological 
figure Sisyphus, eternally pushing a boulder up a hill only for it to roll back again, industry professionals have struggled 
to adapt to the shifting rules and regulations imposed by health officials since March. Stuck with preordered groceries after the sudden initial shutdown order, they started selling staples like olive oil, flour, and even toilet paper (remember that shortage?). Denied in-person dining, they switched to takeout, overhauling their menus overnight to emphasize to-go-friendly
 fare while learning the minutiae of portable food containers and delivery app surcharges.
 Finally allowed to operate out-
doors, they ad-libbed alfresco 
dining areas on sidewalks, parking spaces, and long-
ignored back patios and side alleys. And they did this while being forced to either lay off longtime employees or navigate the byzantine fine print of federal Paycheck Protection Program loans, attempting to renegotiate expensive leases
 with often unsympathetic landlords, and scrambling to procure scarce PPE so as not 
to endanger the lives of their staff and customers.
"It's just crazy," summarizes food industry vet Enzo Rosano,
 owner of the Italian eateries 
Locanda Positano, located in 
Lafayette, and Locanda Ravello 
in Danville. "I've never seen anything like it. For everyone in the industry, COVID has been like a punch in the face."
Rosano, however, also exe
mplifies the scrappiness, fight,
 and adaptability that seem to be encoded in the DNA of those who voluntarily choose to make their careers in the 
volatile, rough-and-tumble Bay
Area restaurant world. When the shutdown order hit in March, he made the decision 
to close down for a few weeks for safety reasons, laying 
off more than 80 employees. 
Unable to sit idly at home, 
Rosano, with the help of some 
family and friends, began
 cooking meals for those who 
had been most impacted 
by the pandemic such as 
seniors, hospital workers, and
 police officers. Fueled by positive press from these acts of
goodwill and the capital he'd
 built over years serving the
 community—and assisted by 
the fact that his restaurants 
are blessed with large patios—
he reopened both locations 
in April and has managed 
to maintain steady business.
Not only that, but he's doubled
 down by moving forward with 
plans to open Locanda Amalfi 
in downtown Pleasanton and a wine bar concept in Livermore in the near future.
"It's been very challenging—
no one was prepared for 
anything like this—but we've been very, very lucky to have 
received support from the 
community," he says. "And for our business, we were very strong and healthy, so we just keep working hard—instead 
of 60-hour weeks, it's been 70-hour weeks. We made things work. When you are pushed to do something, you just do it, because there's no other way around."
Every chef, every owner, has been forced to navigate his or her own uniquely demanding path. It was perhaps especially jarring for Alamar chef-owner Nelson German, who had just launched his second project, the 
high-profile cocktail bar Sobre 
Mesa in downtown Oakland, less than two weeks before the shutdown.
"I'll never forget it: We'd just had the best nine days of service [at Sobre Mesa] you could ever have—we were crazy busy each night, everything was smooth, people were really 
enjoying the place, we had cel
ebrities and local city officials 
in, it was just really dope," he 
remembers. "We went from that 
to having to close and lay off all 
our staff. I was in shock."
After making the decision to temporarily shut down Sobre Mesa, German pivoted Alamar to takeout. The low point came in April when nightly revenue at the restaurant, staffed solely 
by German, his wife, one other
 cook, and a dishwasher, bottomed out at $500.
"There was just no way to survive like that," he says. "But because we have a few years on us, we were like, 'OK, let's keep trying something else until we find something that works.'"
Things began to turn around when Alamar was picked by leading Bay Area chef Daniel 
Patterson to participate in the LEE Initiative, a program that 
turns restaurants into relief centers to help laid-off industry workers. Subsequently, he
began working with World
 Central Kitchen, José Andrés's 
nonprofit that taps kitchens to 
provide meals for those in need
 after natural disasters. German,
 who is of Afro-Caribbean descent, also benefited from a push to support Black-owned businesses in the wake of the Black Lives Matter movement. As a result, Alamar is now 
doing better than before the pandemic. In addition, he 
reopened Sobre Mesa for dinner and cocktail service—
and he hopes that everyone can come out of the pandemic stronger.
"One silver lining for me was being able to help out others during the crisis," he says. 
"That was huge for me personally. I love this industry; it's my career and my passion. There have been so many who have supported us, donated to us. I've met so many new people, and to be able to build that kind of unity within the industry was huge for all of us. Once we do get to reopen, it will be a different landscape, but I hope that feeling and tradition will stay alive."
German, admittedly, is one of the lucky ones. Restaurateur Rodney Worth has experienced more than a decade of success and growth in the Danville area and beyond. But once the shutdown hit, he permanently shuttered his
 Worth Ranch in San Ramon 
and the Little Pear in 
Blackhawk Plaza, circling the
wagons around his original 
two locations, the Peasant and 
the Pear and the Peasant's 
Courtyard. He revamped the menus to be more takeout friendly, but the transition has
 been rough.
"The first couple of weeks were like a disaster," he says. "We just weren't used to the 
to-go model—we have a more mature clientele at Peasant 
and the Pear in particular who 
want to sit inside—so we had 
a hard time figuring it out."
Business has very slowly 
improved, but Worth's struggles highlight the difficulties 
faced by fine dining and 
sit-down restaurants versus 
more casual concepts geared 
toward to-go service. Some, 
like Elizabeth and Fred Sassen
at Homestead in Oakland and 
Kevin Weinberg at Walnut
 Creek Yacht Club, invented
 out of whole cloth completely
 different dining models—mostly
 sandwiches and soup—to serve as a bridge until they could reopen in a more normal 
capacity. Others, like Peter
 Chastain of Walnut Creek's 
Prima Ristorante, took it as a
 cue to bow out gracefully 
after decades in operation.
 And many others have fallen somewhere in between, struggling to find footing on 
unstable grounds.
That's been the case with Worth, who has labored to 
renegotiate the lease terms at 
the Peasant and the Pear with 
his landlord (a problem, unf
ortunately, echoed by many others). He's now exploring 
moving the entire operation 
to a new Danville location, somewhere more affordable 
with expanded outdoor seating options. Despite calling the past year "easily the most 
challenging I've ever seen," Worth, like so many other restaurateurs in the East Bay, remains ferociously optimistic and committed to doing whatever it takes to survive these unprecedented times.
"I think the lifelong industry people will figure it out," he says. "It's survival mode, but restaurant people, man, we're used to being quick on our feet. We'll adapt."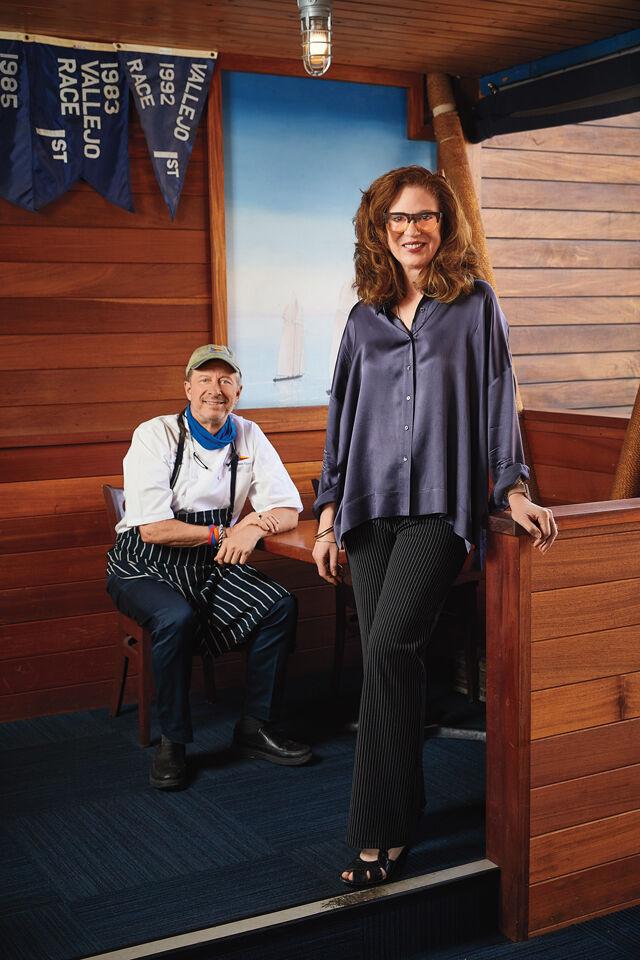 Running the Club
ELLEN MCCARTY AND KEVIN WEINBERG, WALNUT CREEK YACHT CLUB
When Ellen McCarty and Kevin Weinberg opened Walnut Creek Yacht Club in 1997, they aimed to replicate the spirit of an exclusive club, where customers were always embraced and presented with premium service.
"We wanted to create a fun, welcoming place, where you felt as if you were always treated like a member in your own private club," says McCarty.
That approach, along with fresh seafood and a friendly bar scene, drew a loyal clientele of regulars who kept coming back during the past 23 years, through good times and bad.
"The economic collapse of 2008 was tough," says Weinberg. "We had just expanded and 
reopened with a bigger place, then lost 30 
percent of our business. It was tough coming back from that, but we did."
McCarty and Weinberg were faced with their greatest challenge in 2020, when the coronavirus pandemic threw a series of curveballs at the restaurant business. When the shelter-in-place was ordered in mid-March, chef Weinberg turned the restaurant's food inventory into his signature clam chowder and pepper pot soups. The Yacht Club's loyal customers took frozen quarts of soup home right away.
Then, McCarty and Weinberg devised a take-out menu that was up to the standards of their restaurant.
"It took some patience and creativity to get to where we are, with our fairly extensive menu. It's not easy to keep up the same standards as dine-in," says McCarty. "We feel like we have done some very good menu engineering, and feel good about sending our food out the door, instead of placing it in front of you in our dining room."
Walnut Creek Yacht Club enjoyed a big lift when outdoor dining was approved in June. McCarty and Weinberg made creative adjustments to the restaurant's parking lot and sidewalk along Locust Street, as well its outdoor area on Bonanza Avenue. As soon as the restaurant reopened, the regulars came streaming in—at a safe distance, of course.
"We've heard many people say, 'This is our first time going out to eat [since the COVID-19 shutdown],'" adds Weinberg. "Others say, 'We are so glad you are open. It makes it almost normal to be back here.'" wcyc.net. —Peter Crooks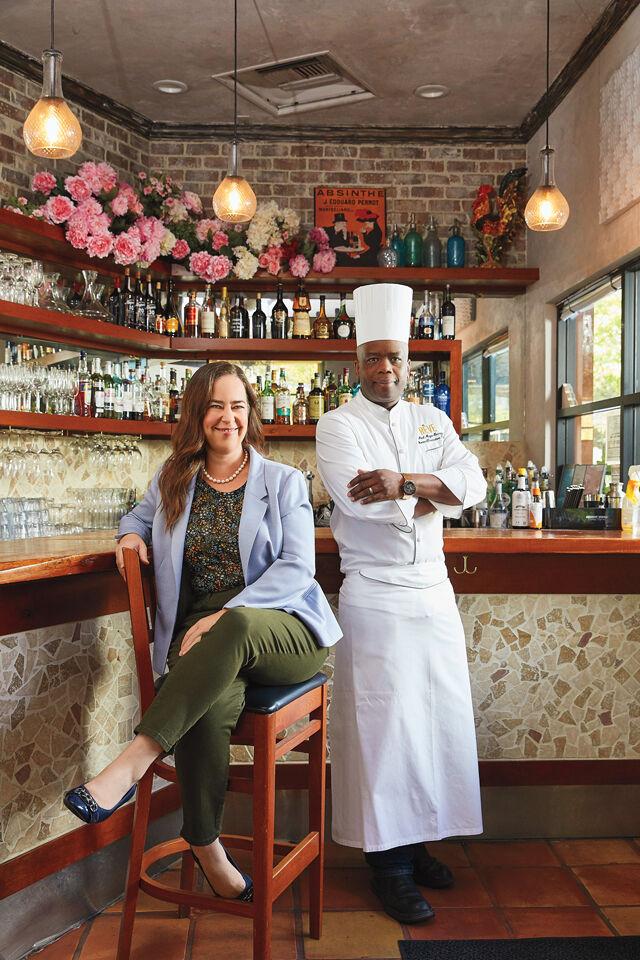 Dream Takeout
PAUL MAGU-LECUGY AND LAURA MAGU, RÊVE BISTRO
Like so many beloved East Bay eateries, Lafayette's Rêve Bistro adapted to life under COVID-19 shelter-in-place orders by pivoting rapidly to a takeout format. Executive chef Paul 
Magu-Lecugy began by removing certain favorites from the menu that are better eaten soon after preparation. "The French do not believe in takeout, so this was really hard for Paul," says Laura Magu, the restaurant's co-owner and Paul's wife. "We rarely allowed takeout before—only if a customer begged—but when it's all you can do, you make it work the best you can."
Rêve Bistro also began offering family meal packages, grouping entrées together at a lower price with the hopes of creating a communal dining experience off-site. "We love sitting down as a family and eating a meal," says Magu. "Family meals were a way for us to share our meals with our guests so they feel like they're not getting takeout, but more of a well thought-out dinner someone lovingly prepared for the family."
The couple has maintained their roots in the community over the course of the shutdown, giving delivery free of charge to the housebound, lending the Gold Coast Chamber Players space at the restaurant to stream performances, and improving their patio when they could welcome guests again. The pandemic has forced the pair to think creatively. "We didn't intend on opening a takeout place. We wanted that neighborhood French bistro," says Magu. "We've celebrated
 so many birthdays, anniversaries, a few wedding proposals, and even a last meal out for someone who knew she was dying. Those meals are etched in our hearts, and we think about them with every dish we serve. It's just a totally different business."
Nonetheless, the Rêve Bistro team aims to provide customers with a feeling of security. "We hope to give people a sense of escape—that they come to Rêve and feel like all is right with the world," says Magu. "Even in takeout, a lot of love and pride goes into each dish, and we hope it's tasted." revebistro.com. —Emilie White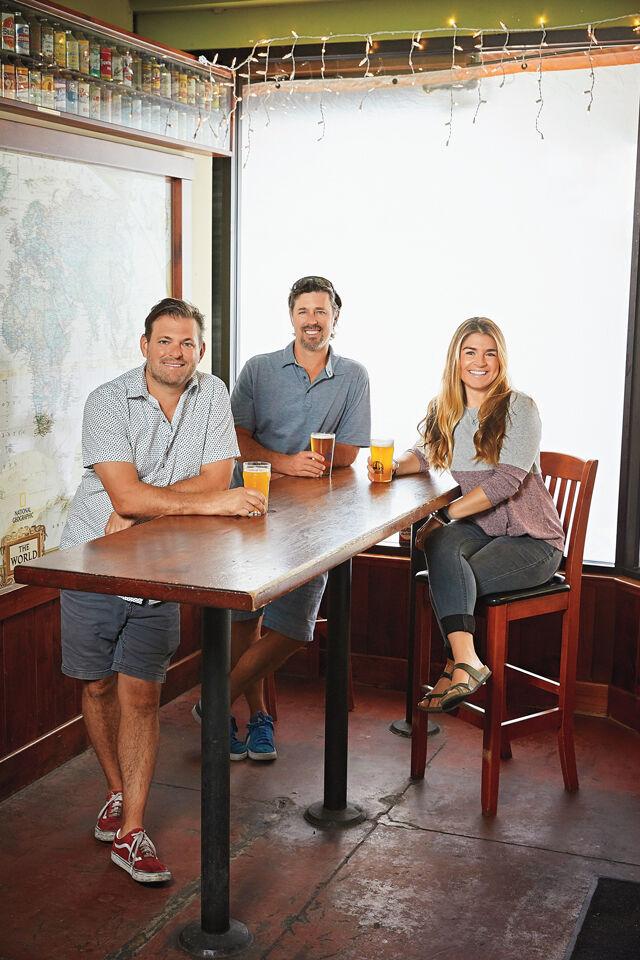 Keep on Trucking
MIKE, RON, AND BROOK WITHERSPOON, FIRST STREET ALEHOUSE
As the COVID-19 shelter-in-place orders went into effect in the East Bay, Ron 
Witherspoon of Livermore's First Street Alehouse received a phone call from the president of U.S. Foods, a culinary distributor. "He said, 'Ron, I have a problem, and you have a problem. I have a warehouse full of food, and that's going to go bad,'" Witherspoon remembers. "It was actually his idea to put a refrigerated truck behind the restaurant and sell groceries out of it."
With the assistance of a loyal customer, Witherspoon; his wife, Brook; and his brother, Mike—the team who've led the alehouse since 2000—set up an online ordering system and placed selections directly into customers' trunks when they arrived. "There [were] a lot of people who didn't want to go to grocery stores, and you could drive up and not even get out of your car. It was a win-win for everybody," says Witherspoon. "They would tip my employees like crazy. It was really cool."
The truck was in use for about two and a half months, but the Witherspoons continue to offer grocery options along with their full menu for pickup and DoorDash delivery. The team also gave food to the homeless through the Tri-Valley's Monthly Miracles organization at the start of the shutdown, and eventually reopened the restaurant for outdoor dining. "We're being very safe here. We're separating our tables, we have very strict policies on masks, and we're sanitizing everything," says Witherspoon. "We have lots of signage; we made everything as touchless as possible."
Still, for a community gathering place that so values family, the closures have hit hard. "We do get a lot of appreciation from customers who come in and say, 'Thank you for providing
a safe place for us to go during this time, where we still feel comfortable, and [allowing] us to get out and at least have some sense of normalcy,'" says Witherspoon.
"We're really appreciative of our customers, too," he adds. "It's a crazy time, but the fact that people are trusting us to be safe and coming in and supporting us is saving us." firststreetalehouse.com. —E.W.
PLEASANTON DOWNTOWN ASSOCIATION
It takes a village.
The Pleasanton Downtown Association (PDA) represents more than 600 businesses, says executive director Tiffany Cadrette, every one of which has struggled since the shutdown. Restaurants, which play a huge role in bringing 
the community together, have been no exception.
"We have such a mix of really awesome family-owned restaurants that make up the downtown," she says. "But between the pandemic and the wildfires, they're really struggling right now. So we're trying our best to support them."
Like other smaller city agencies in the East Bay, the PDA realized the importance of creating outdoor communal spaces, both for restaurants to be able to expand into and for residents to be able to comfortably walk around. When the green light came for outdoor dining, they started a Weekend on Main, in which traffic is blocked off and Main Street is turned into a pedestrian walkway every Friday afternoon until Sunday evening.
"We're trying to create a space where people can feel safe," says Cadrette. "Our restaurants are able to expand their patios and table capacity, which has been huge for them."
The PDA will also be rolling out a new campaign to support small businesses and is continuing its annual events virtually.
"We'll do all we can," she says. "These restaurants are so important to the community." pleasantondowntown.net.
COMMUNITY KITCHENS
Offering a lifeline for neighborhoods and restaurants in need.
When Maria Alderete and her husband launched Luka's Taproom 16 years ago, it was one of the new generation of restaurants that helped spur the dining 
and drinking renaissance that blossomed in uptown 
Oakland. But the restaurateur admits than when it 
comes time to eat out personally, her taste is a little 
more old-school.
"I've got to be honest, I mostly eat on the east side 
of Lake Merritt, at the mom-and-pop restaurants that 
have been around for 20 years or more," she says. "For me, a big part of what makes Oakland so amazing is our diverse food scene."
And those are the kinds of places she hoped to preserve when she founded Community Kitchens. Started shortly after the pandemic hit, with financial and logistical help from local nonprofits and corporations, the program provides meals to food-insecure communities by partnering with under-the-radar independent eateries like Holy Land in Lakeshore, El Huarache Azteca in east Oakland, and Gum Kuo in Chinatown.
Those in need get a free meal, while cornerstone neighborhood restaurants receive a financial lifeline during the pandemic. Sounds like a win-win. ckoakland.org.
DIABLO FOODS
Neighborhood grocers step up.
When the pandemic hit, going to the grocery store—once practically the dictionary definition of a mundane task—was transformed overnight into an undertaking fraught with uncertainty.
"At the beginning, everyone was very tense and scared," remembers Connie Stokes Collier, vice president of Lafayette's Diablo Foods. "It's been stressful. You're constantly worried about your employees and if everyone is OK."
Fortunately, one of the region's longest-running independent groceries immediately responded to meet the needs of the situation and its customers—the kind of quick pivot that's enabled it to stay in business for more than 50 years. Among the many changes that Diablo Foods enacted—along with the constant mask-wearing and sanitizing—was to limit the number of shoppers inside the store to 30 at a time. It hasn't been easy on their bottom line—"business is down, no question"—but Collier has never second-guessed the decision.
"We'll keep doing what we're doing. The customers really appreciate it—we've gotten many, many thank-you notes. They feel safe in the store and that makes me happy, because I know that we're doing the right thing." diablofoods.com.
HOW TO HELP
What's the best way to 
support your favorite local restaurants? The Golden 
Gate Restaurant Association put together a list of best practices.
Keep patronizing through takeout, delivery, and outdoor dining—Tablehopper, Eater, the San Francisco Chronicle, and others have comprehensive lists detailing who is open and in what capacity.
Contribute to GoFundMe 
campaigns for local individual restaurants, which are mainly focused on generating money for employees. Support your favorites!
If you're not yet comfortable eating out or getting takeout, buy gift cards or merchandise.
Support the national Restaurants
 Act of 2020, which would establish a $120 billion Independent Restaurant Revitalization Fund. Go to saverestaurants.com/take-action.
Obey all state and county 
COVID-19 rules and regulations, including wearing masks, washing hands, and respecting social distancing.
Remember to be patient—these new guidelines for 
restaurants to follow are hard for 
everyone. For more information, 
go to ggra.org. —E.F.